Milwaukee Bucks Trade Rumors: Should the Defending Champions Make a Move at the NBA Trade Deadline?
The Milwaukee Bucks proved to have a championship roster last season as Giannis Antetokounmpo and Co. led the franchise to its first NBA title in half a century.
The organization decided to run it back with most of that same roster in 2021-22. Since then, Milwaukee has also decided to try and bolster its lineup with some in-season moves as it looks to add some veteran depth along the fringes.
General manager Jon Horst has shown in the past he's not afraid to make a trade or two if he feels it's necessary — but are there more deals to be had for the Bucks? Or is standing pat as the NBA's trade deadline approaches the right call?
After a slow start, Milwaukee has returned to championship form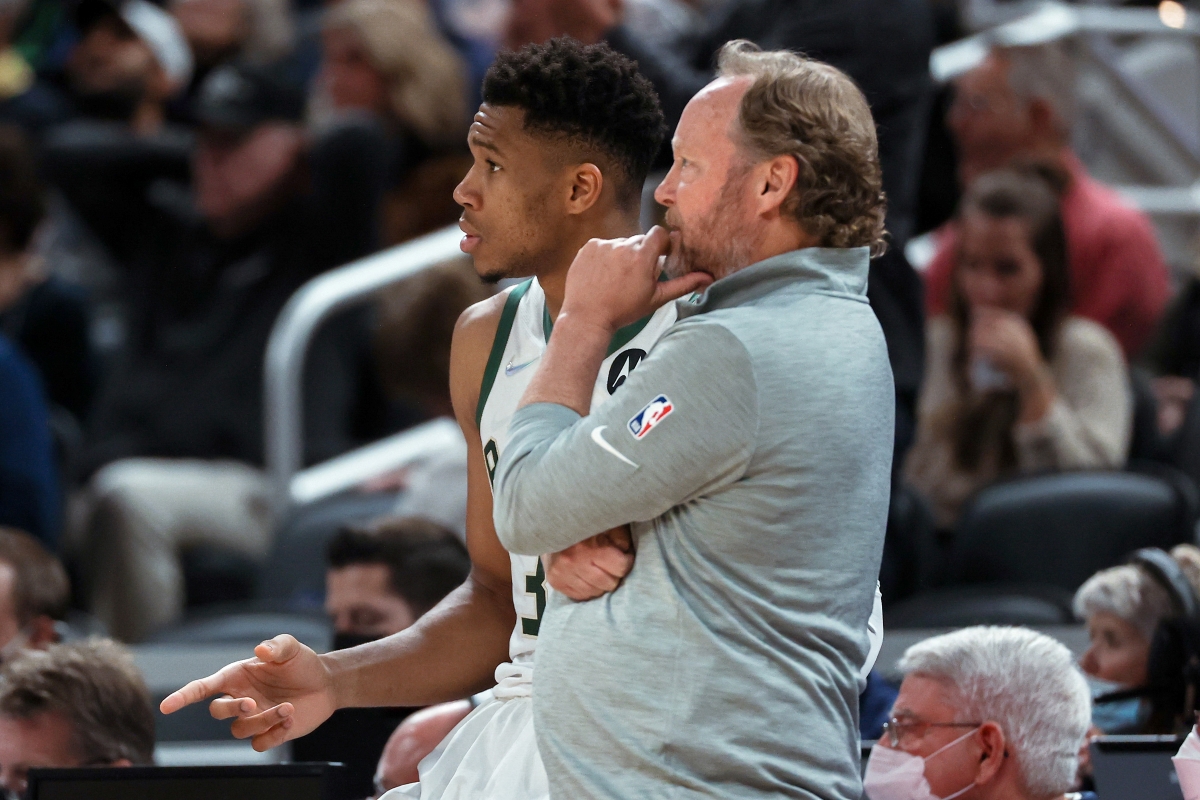 The Bucks began the season 3-4 during the month of October. The team dealt with illnesses and injuries to two of its Big Three in Jrue Holiday and Khris Middleton.
Holiday only played two of those seven games in October. Middleton missed eight games after a positive Covid-19 test once Holiday returned.
Since both re-entered the lineup alongside Giannis, Milwaukee is 22-10. Once their core players got healthy, the Bucks had a winning percentage of .714 in November. They had the fourth-best record in the NBA that month, were eighth in scoring, and fourth in defensive rating.
From Nov. 1 until now, Milwaukee has won the third-most games in the league, is fourth in scoring, and tied for fourth in defensive rating.
The Bucks are rounding into form as one of the NBA's best teams. And Horst shouldn't mess with any of that.
The Milwaukee Bucks' roster doesn't need any altering at this year's NBA trade deadline
The defending champions added Grayson Allen during the offseason, and he's become a regular starter for head coach Mike Budenholzer. Since the year began, the team has also brought in DeMarcus Cousins and Wesley Matthews on non-guaranteed contracts, according to Spotrac.
Starting center Brook Lopez has only played one game thus far in 2021-22. Cousins has provided solid depth at that position, playing nearly 17 minutes per game and averaging 8.7 points and 5.5 rebounds.
Donte DiVincenzo, who started the entire regular season last year at the two-guard spot, just returned from an injury suffered during the 2021 playoffs. In his stead, Allen has played in 36 games while averaging 11.9 points on 38.9% shooting from three. He's only turning the ball over 0.6 times a night.
Then Milwaukee brought in Matthews as added insurance behind Allen and Pat Connaughton. Since signing with the Bucks, the veteran has played in 11 games and averaged 16.7 minutes a night. Wes isn't taking a significant number of shots but has been efficient, shooting 51.1% from the field and 41.9% from three.
Milwaukee can now legitimately go five deep (six including DiVincenzo) in the backcourt and four deep in the frontcourt. And all that includes a two-time MVP franchise centerpiece.
The team's Big Three is once again whole. There's no reason the Bucks need to add or subtract any more pieces. The roster is set, primed, and ready.
Giannis Antetokounmpo and the Bucks are ready for another title push
Since November, Milwaukee has been one of the best teams in the NBA, statistically and in the win column. The team just needed to get healthy and has done that, for the most part.
Jrue, Khris, and Giannis carried the Bucks during last year's playoffs. All three are working up a lather and getting their groove back.
With the added depth of Matthews and Cousins and the return of a healthy DiVincenzo — coupled with the roster Milwaukee's already put on the floor this year — the Bucks are ready to put their best healthy foot forward and make a run at consecutive NBA Championships.
All statistics courtesy of NBA.com.