Milwaukee Bucks Trade: Serge Ibaka Just Provided the Defending Champions a Massive Boost in Their Title Defense
The Milwaukee Bucks headed into this year's NBA trade deadline in search of a backup point guard and big man help. They've accomplished the latter by acquiring veteran Serge Ibaka in a four-team trade with the Sacramento Kings, Los Angeles Clippers, and Detroit Pistons.
Milwaukee has been missing starting center Brook Lopez since the first game of the season. Giannis Antetokounmpo and Bobby Portis have been managing most of the minutes in his stead, so Ibaka will be a significant source of depth.
Adding the 12-year veteran to fill that role is a major boost to the Bucks' chances at repeating as NBA champions.
The Milwaukee Bucks consummated a trade to land Serge Ibaka from LA
According to ESPN's Adrian Wojnarowski, the Bucks brought in Ibaka, two future second-round picks, and the always fun "cash" while sending Donte DiVincenzo to Sacramento and Rodney Hood and Semi Ojeleye back to the Clippers.
DiVincenzo has long been considered Milwaukee's best trade asset. But he's also in the final year of his rookie deal, and the two teams didn't reach an agreement on an extension before this year's deadline. He was likely on his way out the door at the end of the season.
Ojeleye and Hood were brought in on one-year deals to fill depth but didn't find much consistent playing time. Hood appeared in 39 games, playing less than 15 minutes a night and averaging 3.3 points.
Ojeleye only saw action in 20 games and averaged 2.9 points.
Bringing in a player who will fill a definite need in exchange for two bench guys and someone who most likely won't be around next year is a solid trade for general manager Jon Horst.
What will Ibaka provide for Milwaukee?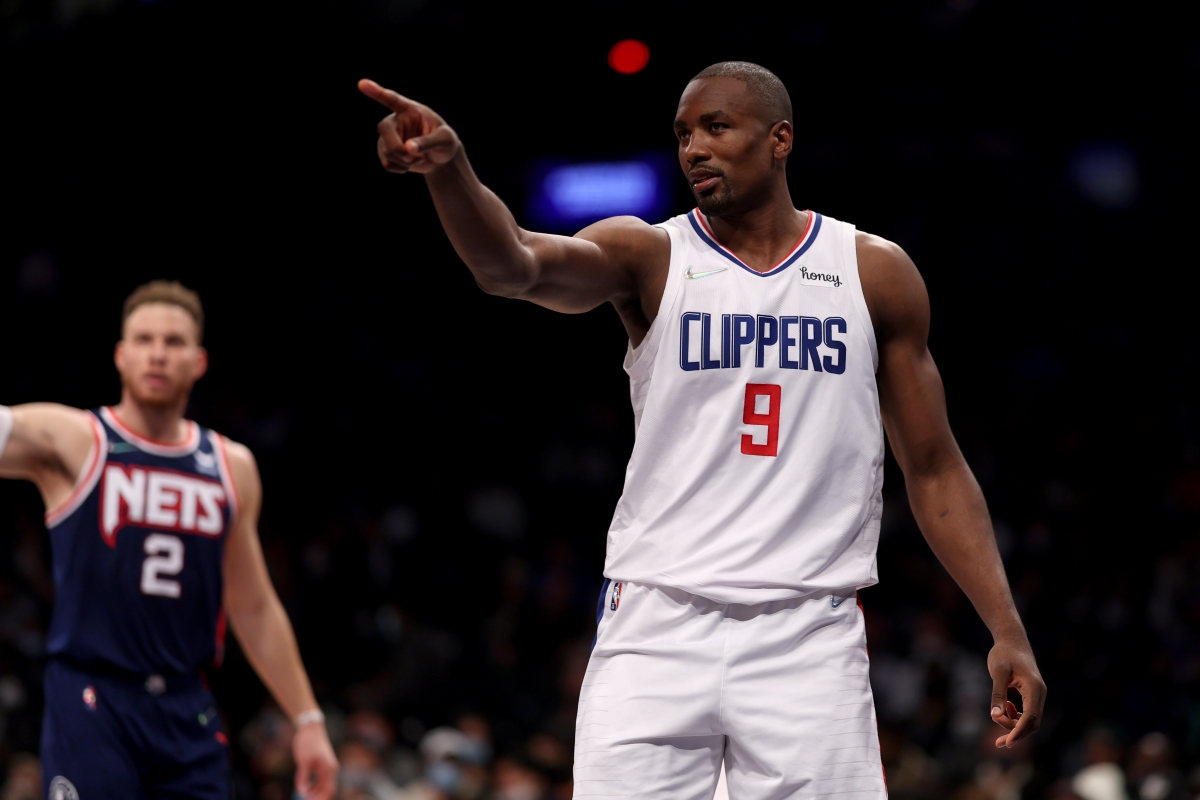 Serge is 32 years old and going on 900 games played during his NBA career. He's getting a little long in the tooth, but he's exactly what the Bucks need right now as they push for another championship.
Giannis and Portis have soaked up the majority of Milwaukee's minutes at the 5. Sandro Mamukelashvili has made some brief appearances and DeMarcus Cousins played 17 games for the franchise before moving on.
Adding Ibaka into the mix gives head coach Mike Budenholzer more options, first and foremost. Serge has experience playing either forward or center, as do Antetokounmpo and Bobby Buckets. Bud now has three interchangeable pieces in the frontcourt.
An NBA Champion with the 2019 Toronto Raptors, Ibaka has played in 35 games this season, starting 10 and averaging 15.4 minutes. He's been part of a Clippers big man rotation that also included Ivica Zubac, Amir Coffey, Isaiah Hartenstein, Nicolas Batum, and Marcus Morris Sr.
Air Congo is averaging 6.6 points and 4.3 rebounds on 49.0% shooting and 38.7% shooting from three on 1.8 attempts per night this year. But he'll step in and immediately play more minutes and get more opportunities in Milwaukee.
The three-time All-Defensive Team member is getting older, less productive, and hasn't played more than 55 games in a season since 2018-19. But each of those downfalls matters less as a rotation member with the Bucks.
Lopez rewrote his career in Milwaukee as a stretch five and Ibaka is in the same mold. He'll be asked to play mostly drop coverage defensively (he's led the league in blocks twice in his career) and spot up at the three-point line offensively.
Beyond that, he won't be called upon to do much more. Even at his advanced age with declining athleticism, Serge has shown to be capable of accomplishing both tasks.
The veteran big man gives Giannis and Co. a key piece to a second straight title run
Milwaukee is in 100% win-now mode. Before the 2020-21 season, the franchise added Jrue Holiday in a blockbuster trade, and Horst brought in PJ Tucker around this time last year.
Both players proved to be crucial pieces as the Bucks won their first championship in 50 years.
Milwaukee's triumvirate of Antetokounmpo, Holiday, and Khris Middleton will be hoping Ibaka is this year's version of Tucker, someone who will fit in and provide a spark to help the team lift another Larry O'Brien Trophy come July.
All statistics courtesy of Basketball Reference.
RELATED: Jrue Holiday Can Now Add Another All-Star Snub to His Growing Resume as One of the NBA's Most Indefensibly Underrated Players