The Milwaukee Bucks Just Warned the NBA That Their Title Defense Begins Now
The Milwaukee Bucks have had a revolving door on their bandwagon thus far in 2021-22. Sometimes Giannis Antetokounmpo and his squad are healthy and "ready to repeat," other times, they're banged up or not playing well and "just don't seem like the same team."
But the thing about the NBA is that it's a long, drawn-out, 82-game season. Every team ebbs and flows, but the more experienced teams can ebb most of the season and then flow when they need to. That's also known as "flipping the switch."
Well, within a span of 48 hours, the Bucks have sent a warning to the rest of the NBA: We've flipped our switch. Be ready.
The Milwaukee Bucks beat the East's top team, the Miami Heat, on March 2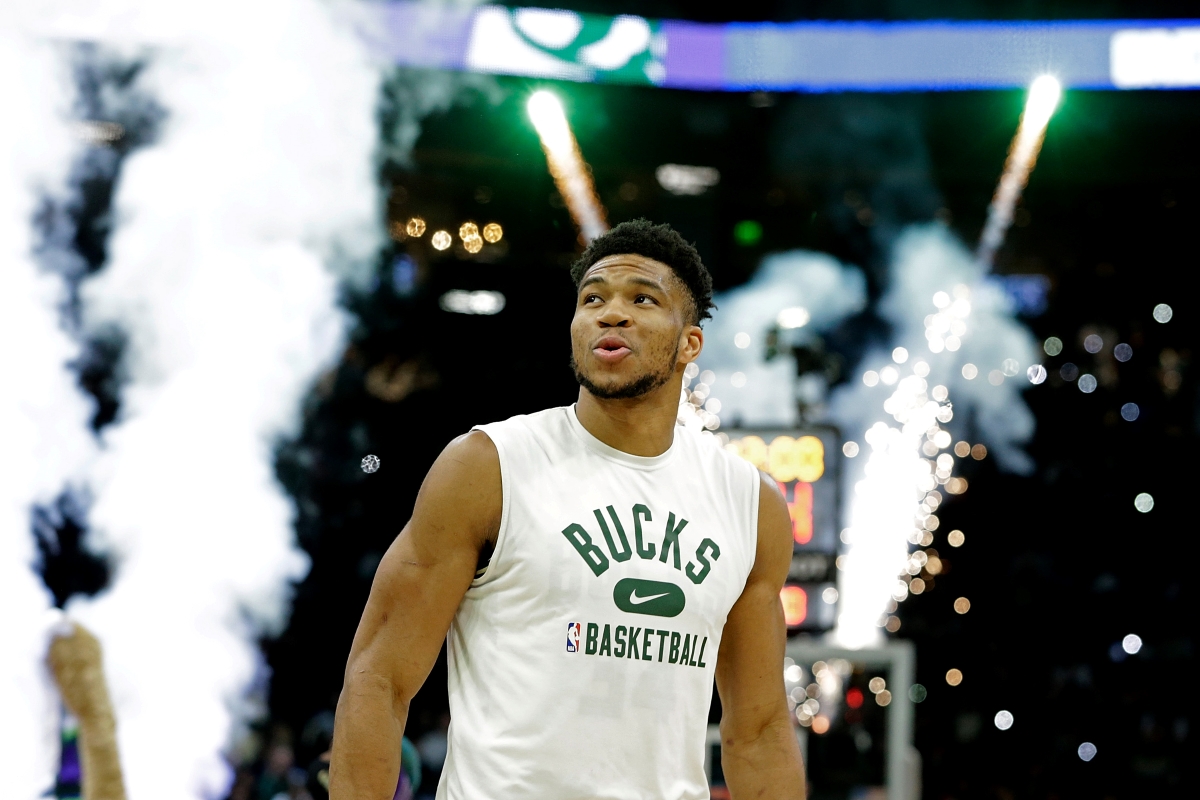 Despite a three-point shooting barrage from the Miami Heat that would doom most teams, Milwaukee responded down the stretch to come back and beat the top team in the Eastern Conference standings.
Miami was on a four-game winning streak and had won eight of its last 10 games heading in. Gabe Vincent, Duncan Robinson, and Tyler Herro combined for 16 three-pointers as the Heat shot 47.7% from deep as a team and knocked down 21 threes overall.
But the Bucks closed things down when it mattered most.
Milwaukee finished the final seven minutes on a 21-6 run. During that stretch, the Heat had more turnovers than made field goals and didn't convert a single shot from deep, per CBSSports.
Herro — who had a game-high 30 points in his native Milwaukee — had two points and three turnovers in that same span.
Meanwhile, Antetokounmpo, Khris Middleton, and Jrue Holiday combined for 79 points. Giannis also finished the win with 17 rebounds, while Holiday added 11 assists.
Unbeatable defense and production from its Big Three equaled a Milwaukee win over the conference's No. 1 team.
The Bucks just jumped to third in the standings with a win over the Chicago Bulls on March 4
Two nights later, Milwaukee made the short trip south the Chicago to face the Bulls, who headed into the matchup a half-game ahead of the Bucks in the East.
After the night was over, another fourth-quarter comeback now has Milwaukee ahead of Chicago in the standings.
The Bucks entered the fourth quarter with a seven-point deficit after blowing a 14-point first-half lead. But Jrue took over late, scoring 16 points in the final period.
Holiday finished the night with 26 points, eight rebounds, and five assists on 10-of-20 shooting and 3-of-4 from three. He continued to make his case as one of the NBA's most underrated players and the Bucks' most important.
Giannis did his thing as well, finishing with a game-high 35 points to go along with 16 boards, five assists, two steals, and a block. Middleton added a 22-6-7 stat line.
But Milwaukee had to deal with DeMar DeRozan and Zach LaVine, who dropped 29 and 30 points, respectively. Nikola Vucevic added 19 points and nine boards. The Bulls shot 50% from the floor as a team.
But just like they did two nights previously, the Bucks found a way to close the game out in the fourth quarter with stifling defense and key contributions from its Big Three.
The defending champs are returning to last year's playoff form
Milwaukee used that exact recipe to win last year's championship, and it's beginning to show up again at just the right time. The Bucks are now one game behind the James Harden-Joel Embiid (and Tyrese Maxey, yikes) Philadelphia 76ers and two back of Miami.
Milwaukee also got good news on the Brook Lopez front — its starting center will begin to participate in contact drills and five-on-five scrimmages, per ESPN. Lopez hasn't played since the season opener.
And as they're prone to do, both Antetokounmpo and Holiday reiterated that, despite two significant wins, there's plenty more work ahead.
"We got to keep it up," Antetokounmpo said after the Chicago win via ESPN. "If good things are going on, you got to keep waking up the next day and keep learning something new, keep evolving, keep improving."
"We can't really dwell on this win," said Holiday after the win over the Heat. "We accept it, and we love it, but these games are not stopping."
Milwaukee has matchups with the Phoenix Suns, Golden State Warriors, and Utah Jazz coming in the next eight days. As Jrue said, the games are not stopping.
But neither are the Bucks.
All statistics courtesy of NBA.com.
RELATED: The Memphis Grizzlies and 4 Other Legitimate NBA Championship Contenders No One Is Talking About