The Milwaukee Bucks All Went to Vegas After They Won the 2021 NBA Championship, Except for Giannis Antetokounmpo: 'Giannis Doesn't Care About This S***'
To the victor go the spoils. Isn't that supposed to be the saying? The Milwaukee Bucks were the victors – they won the 2021 NBA Championship, the franchise's first in half a century. So they should get the spoils. Which most of them did. The team's title celebration continued through the night, into the following day, and eventually made its way to Vegas. They all did. Except for Giannis Antetokounmpo.
The Finals MVP had an argument to get most of those said spoils. But Giannis is a different kind of superstar. He's always been willing to share credit that usually belongs to him. And his teammates are well aware of that fact.
So well aware of it, actually, that they knew before they even boarded a plane The Greek Freak wouldn't be accompanying them to the Vegas portion of the championship celebration.
The Milwaukee Bucks won the 2021 NBA title on the broad shoulders of Giannis Antetokounmpo
The 2019-20 Defensive Player of the Year and two-time MVP wasn't alone in bringing Milwaukee a championship. Khris Middleton carried the Bucks for more than a handful of stretches – without Khash's heroics, the team would have been eliminated by Kevin Durant and the Brooklyn Nets.
Jrue Holiday was responsible for locking down the likes of Trae Young, Chris Paul, and Devin Booker along the way as well.
But as Antetokounmpo goes, the Bucks go. The future Hall of Famer secured the franchise's first Larry O'Brien Trophy since Lew Alcindor was in charge with an epic 50-point, 14-rebound, five-block Game 6. By the time it was all over, he had made some of the most memorable plays in NBA Finals history.
The Alphabet was undoubtedly deserving of the Bill Russell MVP Award. But instead of rushing to grab his trophies or going to party on The Strip with his teammates, he had somewhere more important to be.
The Greek Freak admitted his life revolves around only two things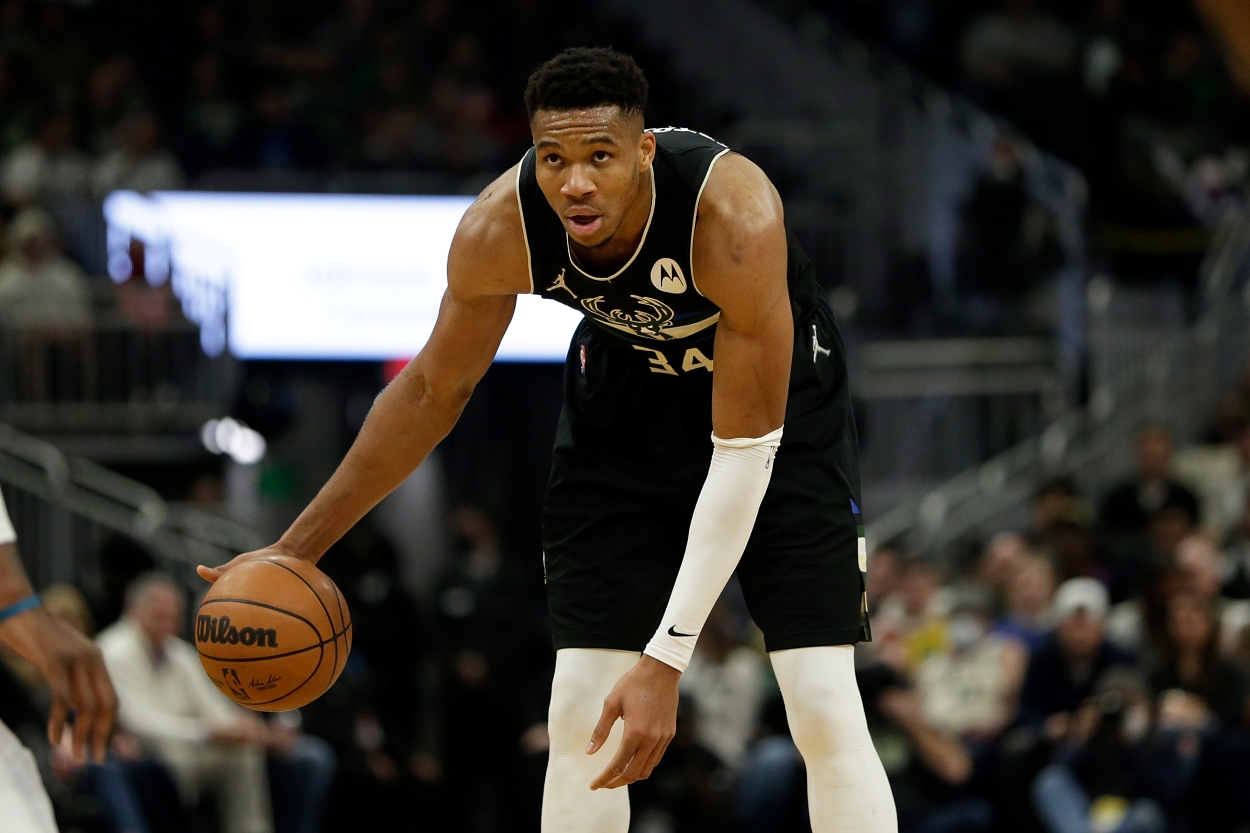 Basketball and family. That's what Antetokounmpo has always been about. Even after accomplishing what he set out to do more than eight years ago, that's still all he's about.
As he explained to Zach Baron of GQ, his teammates don't even really know their franchise centerpiece. He comes to work (a lot) but then goes home.
"They understand," Antetokounmpo told Baron about his team's trip to Vegas. "They be like, 'Giannis doesn't care about this s***.'"
There's not a lot of free time spent with his on-court family. That's reserved for the people who were with The Greek Freak when he was not yet the Freak.
If you asked them if they really know me: 'No.' I'm about work, and then I dip. I go back home to enjoy my time with my family, and then I do it again, over and over again. I don't have time to go for dinners and stuff. I don't have time to go and mess around and go out. I don't do that.

Giannis Antetokounmpo on his off-court life
It took Middleton – the Robin to Giannis's Batman – five years to know his teammate "even 50 percent," Baron wrote.
A few weeks after the trip to Vegas, Antetokounmpo flew home to Greece to celebrate with his brothers and show off his trophies. That was it, he said.
"It's over with. The championship is over with," he told Baron. "Over with. Now, I'm working. In order for me to get better, I leave this championship b******* stuff in the past."
The goal for Milwaukee now is a second consecutive title
The Bucks have been decimated by injuries to start 2021-22. They're just 8-8 through the first month of the year.
Middleton has only played eight games, missing a chunk of time after testing positive for coronavirus (COVID-19). Holiday missed the start of the year and has only played 10.
Center Brook Lopez has only played once. Even sixth man Bobby Portis, who developed into a cult hero in Wisconsin, has only played 11 games.
Grayson Allen is one of the team's only regular starters to play in every game. Jordan Nwora and Pat Connaughton are the only other two Bucks who have yet to miss time. Even Giannis hasn't been immune – he missed a game in Boston in which Milwaukee lost 122-113 in overtime.
Barely more than a dozen games in, there's plenty of time for the Bucks to get healthy. Eventually, a team that returns almost every key piece of last year's championship squad will get familiar.
In the meantime, Antetokounmpo will continue to do his thing. He'll continue to work.
Like Sportscasting on Facebook. Follow us on Twitter @sportscasting19.