The Milwaukee Bucks Just Won an NBA Championship With Giannis Antetokounmpo but Will Reportedly Still 'Lose Quite a Bit of Money' This Upcoming Season
One of the biggest — if not the biggest — complaints Milwaukee Bucks' fans have had the past few years is the team governors' hesitancy to go into the NBA's luxury tax. That reluctance played a part in the trade of former Rookie of the Year Malcolm Brogdon, who was sent to the Indiana Pacers for draft picks. But now that those majority governors helped bring home the organization's first NBA title in 50 years (on the back of Giannis Antetokounmpo), maybe it's time to pony up and pay the tax to keep a championship team's core together. It appears that's finally happening and the governors are set to lose "quite a bit" of money this upcoming season.
Does this matter to fans? No. Does it matter to the players? Not really. Both of those groups' main focus is winning back-to-back titles. But clearly, that extra money matters to those who run the organization.
The Milwaukee Bucks are preparing to face a hefty luxury-tax bill after winning the 2021 NBA Championship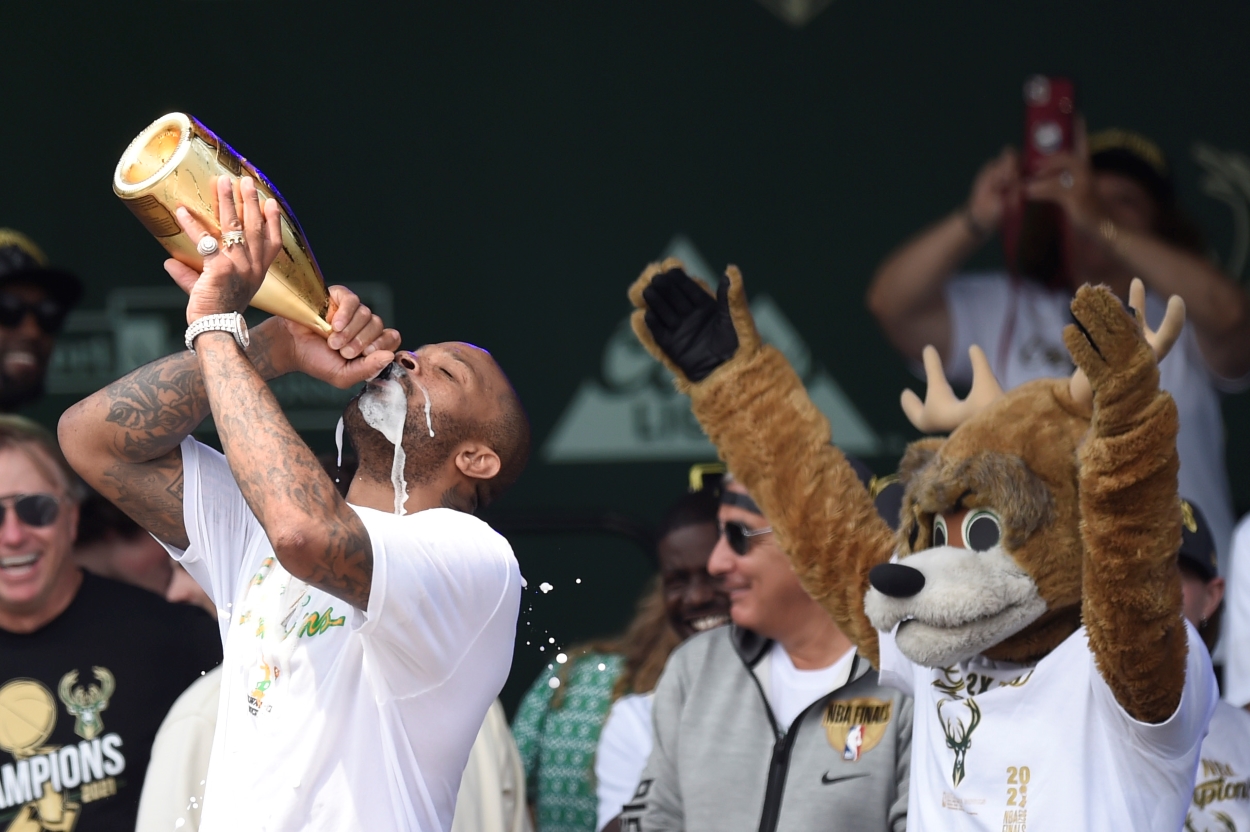 Antetokounmpo helped bring the Bucks the 2021 title after deciding to re-sign with Milwaukee on a five-year, $228 million max extension. The Greak Freak is due almost $52 million in the last year of his contract (a player option) in 2025-26.
Khris Middleton was the team's second-leading scorer and its most crucial piece outside of Antetokounmpo. Khash signed a deal to stay in Milwaukee for five years and $177.5 million.
The Bucks had the best record in the NBA two years running from 2018-2020, but the team didn't get over the hump and win a title until it traded for point guard Jrue Holiday. The franchise then extended the 31-year-old with a four-year, $135 million deal.
Those three will make up 65.6% of the team's salary next season.
Championships aren't free, and the team's majority governors are finally willing to pay the price
Milwaukee has four majority governors: Marc Lasry, Wes Edens, Jamie Dinan, and Mike Fascitelli. (Aaron Rodgers, despite buying into the franchise, is not a majority governor.) In an interview with The Athletic (h/t Yahoo Sports), Lasry admitted that the luxury tax plays a big part in the team's finances:
"Look, we're a small-market team. It's expensive. I mean, for us, this year we're going to lose quite a bit of money.

"(The tax is) what we're going to lose. You'll make it up. You'll make some of it up as you move along in the playoffs, obviously, and that factors in. You're like, 'Well look, I know I'm going to lose 'X (amount of money),' but if we get to the playoffs, it starts going down.' But yeah, it's real money for us."

Mac Lasry on the Milwaukee Bucks' luxury tax situation
Not having fans in arenas for most of last season due to the coronavirus pandemic (COVID-19) is financially affecting all 30 teams. According to the same Yahoo article, Milwaukee is going to have about a $42 million luxury-tax payment this season. That's a significant amount of money.
Although, it is important to keep in mind that Lasry and Edens bought the franchise for $550 million in 2014. According to Forbes, the Milwaukee Bucks were worth $1.625 billion in February 2021 — before they won an NBA Championship.
But as Lasry added:
"At the end of the day, the goal is that you want to keep winning a championship, so you're going to spend the money."

Lasry on the importance of winning a championship at the expense of franchise revenue
It's easy to spend someone else's money; but finances play a part in every pro sports organization
Whether fans like it or not, money talks. Some governors are willing to spend extra for championships and some are not. In this case, Lasry, Edens, and Co. have made it clear, at least this year, they're willing to pay for the chance at another title. Whether that remains the case in the future has yet to be determined.
The Bucks have Antetokounmpo, Middleton, and Holiday locked up long-term. The rest of the pieces on the roster will slide in wherever needed.
But Championships cost money. If the franchise wants to win more, it will have to pay more.
All statistics courtesy of Basketball-Reference and salary information courtesy of Spotrac.