Milwaukee's Khris Middleton Would Have Missed out on Joining Michael Jordan and Scottie Pippen in Basketball Lore Had It Not Been for His Wife's Insistence
Khris Middleton won the 2021 NBA Championship alongside friend and teammate Giannis Antetokounmpo. The Greek Freek gets all the accolades, but the Milwaukee Bucks wouldn't have won their first title in half a century without Middleton's contributions.
The question of whether the Texas A&M product was good enough to be the second piece on a championship team always lingered in NBA circles. That was, at least, until July.
But a Larry O'Brien Trophy wasn't the only hardware Middleton brought home this past summer. As a matter of fact, he brought home three life-changing gifts in just a matter of weeks.
He was a few words shy of missing one of them, however.
Khris Middleton was a key piece of the Milwaukee Bucks 2021 championship team
Antetokounmpo gets most of the credit, and perhaps rightfully so, but Middleton is consistently an underrated member of one of the best teams in the NBA. Generally, he's just an underrated player in the league entirely.
His two-time MVP teammate understands Khash's importance to the Bucks, though. And looking back at Middleton's playoff stats, one can begin to see why.
The Robin to Giannis's Batman averaged 23.6 points, 7.6 rebounds, and 5.1 assists during last year's playoff run. He shot 39% from deep on 7.6 attempts per game.
Seemingly every time the Bucks and Antetokounmpo were struggling, Middleton stepped up. When Milwaukee had its collective backs against the wall in the Eastern Conference semifinals against Kevin Durant and the Brooklyn Nets, it was the former second-round pick who had the ball in his hands during crunch time.
Middleton averaged more than 28 points in the Bucks' four wins against the Nets and posted a double-double of 23 points and 10 rebounds in the Game 7 clincher.
Middleton and teammate Jrue Holiday joined Michael Jordan and Scottie Pippen in a rare historic category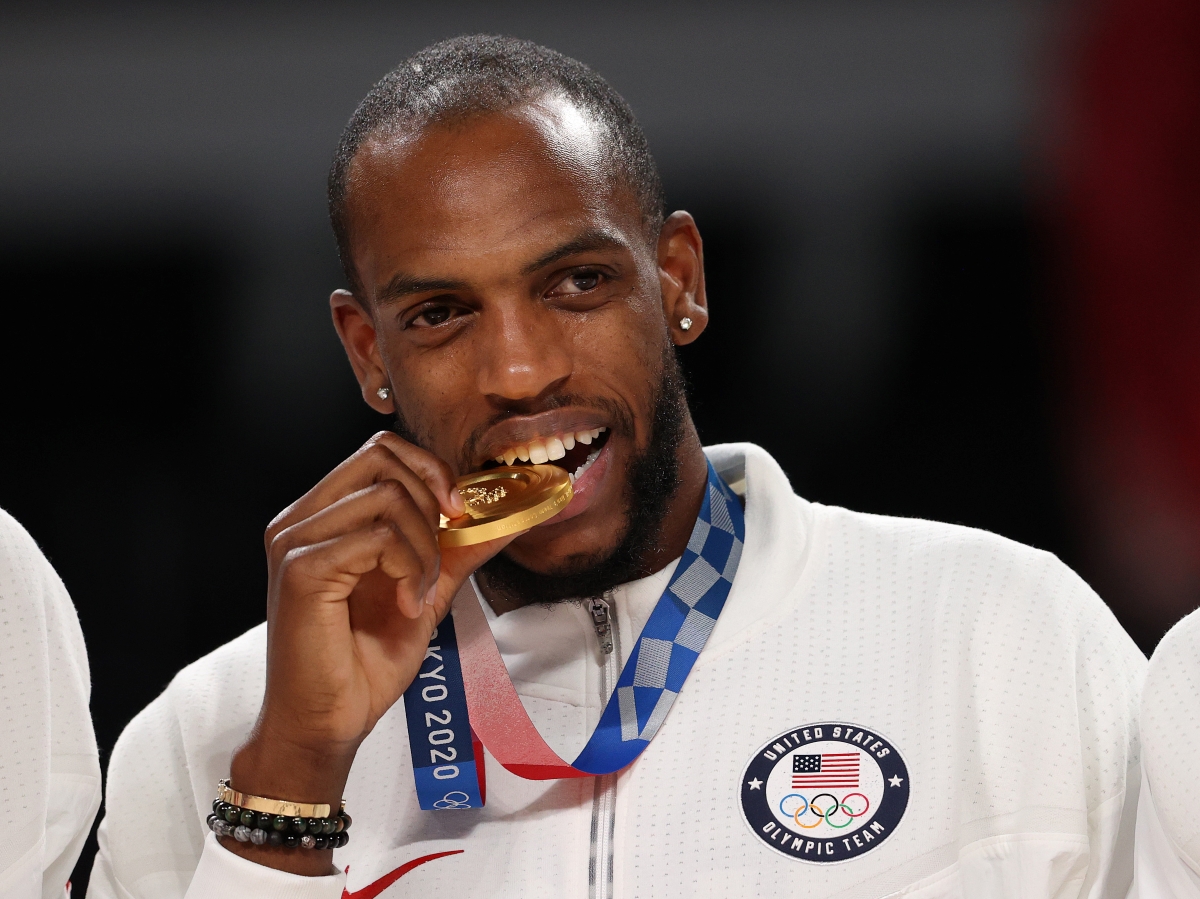 Middleton won an NBA championship on July 20. Understandably, the Bucks' celebration raged on until the early morning of July 21.
Just a few hours later, he took his wife to the hospital, and his son — his second child — was born on July 21. He left the hospital the next day for the Bucks' championship parade, went back to see his family, and then went home and packed his bags to leave for Tokyo on July 23.
When he won gold with Team USA, he and Holiday became just the second pair of teammates — along with Michael Jordan and Scottie Pippen — to win an NBA title and an Olympic gold medal in the same season.
In a piece on The Athletic, Middleton described the gamut of emotions he ran through during those two days. He also explained how he thought about skipping the Olympics altogether before his wife insisted he go:
"Being a part of an Olympic team is one dream for my professional career, and then also becoming a father again, which is another dream, so you have two dreams, but you have to be away from one — it's just weird to try and put it all into words.

"I was thinking about not doing it, a little bit. It's a newborn child, your son, you want to be a part of that first couple weeks and first couple months, don't want to miss a thing. (My wife) kept telling me that everything will be fine, they'll be here when I get back. Go over there and live out one of my dreams and when I come back everything is going to be fine."

Khris Middleton on making the decision to play in the Olympics days after the birth of his second child
Middleton's wife was right. Both she and the kids were waiting for their gold-medal-winning husband and father when he returned state-side.
Khris Middleton had a summer to remember
It was a rollercoaster journey for the two-time All-Star, but he accomplished four life-changing feats in a matter of days. He won an NBA championship, witnessed the birth of a child, traveled to the Olympics, and won a gold medal.
That's a dream career for some players. For Middleton, it was a dream summer.
But without his wife insisting he go to Tokyo, he would have missed out on representing his country in the Olympics and winning gold.
He also would have missed out on becoming a part of rare NBA history and putting his name alongside some of the greatest players of all time.
All statistics courtesy of Basketball Reference.
RELATED: Draymond Green, Khris Middleton, and the Second-Round NBA Draft Picks That Have Been Most Valuable to Winning Championships