A Mind-Blowing Lamar Jackson Stat Will Be a Thing of NFL Legend and Lore for Many Years to Come
Baltimore Ravens (4-1) quarterback Lamar Jackson is very good at the game of football. Stop me if you've heard that before. That fact was perhaps never more evident than on Monday Night Football against the Indianapolis Colts (1-4) to end Week 5.
The Ravens were down 22-9 at the start of the fourth quarter, and frankly, the game wasn't even that close. Jackson found Marquise Brown for a touchdown with under a minute to go in the third quarter. Before that point, all the Ravens were able to produce on offense was a field goal.
What happened in the fourth quarter and in overtime has propelled Jackson into the NFL MVP conversation yet again. It was a virtuoso performance made more impressive by the fact that Jackson has been playing so well in 2021 that he's actually been more productive than some teams.
Hold on to your hats.
Lamar Jackson is a total yardage legend
Dual-threat quarterbacks are nothing new in the NFL, but Jackson has taken the position to another level because of his proficiency as both a runner and a passer. He's basically a video-game character playing against full-grown NFL defenders.
Take the running ability of Michael Vick, but then match it with a Howitzer for an arm and you've got Jackson.
So far in 2021, he's completed 67.1% of his passes for 1,519 yards and eight touchdowns. Throw in his 341 yards and three touchdowns on the ground and you start to see why he's been so special.
If you're bad at math, that's 1,860 yards of total offense in five games. That's better than 18 teams as a whole so far this season.
Putting Jackson's total yardage takeover into context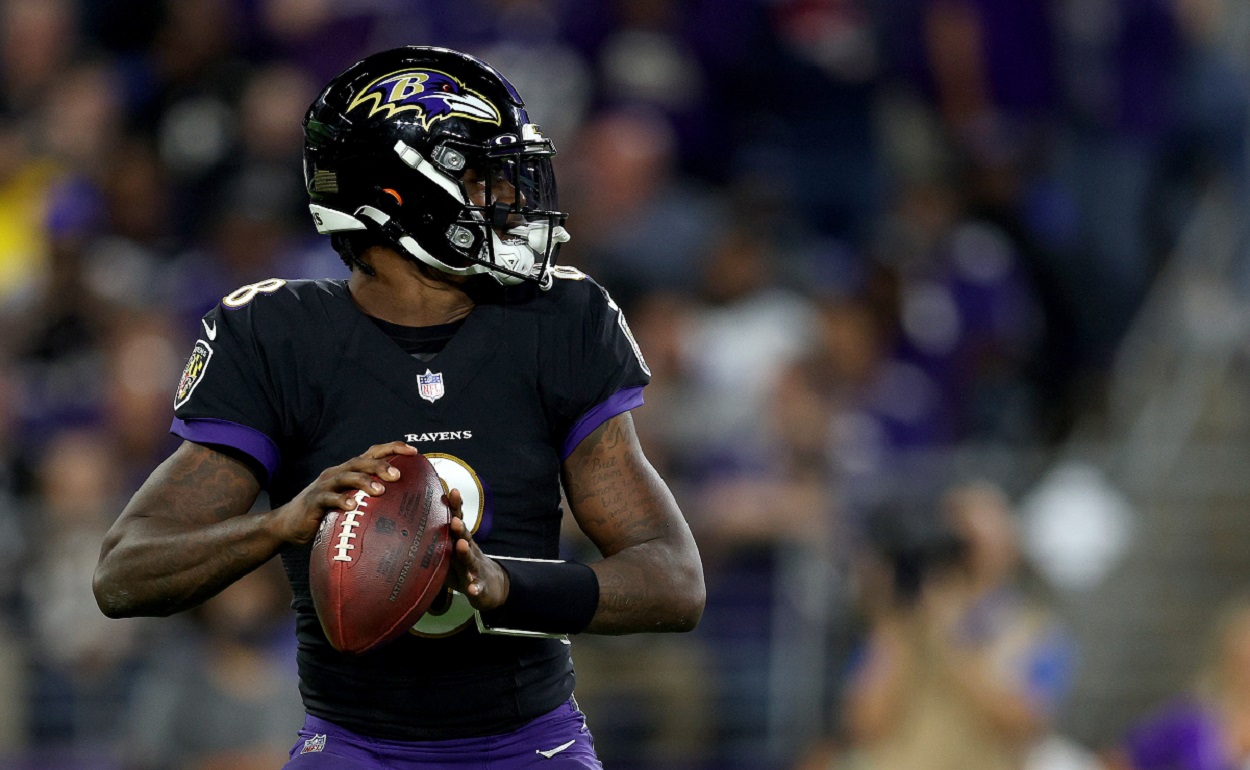 Jackson's numbers speak for themselves, but when you really flesh out what he's done, it goes from impressive to absolutely breathtaking. To reiterate: 18 teams have fewer total offensive yards than Jackson has on his own.
A few of those teams aren't surprising. The Detroit Lions (0-5) and Jacksonville Jaguars (0-5) are in an endless spiral of doom, and the Houston Texans (1-4) are right there with them at the bottom of the barrel. Houston got shut out against the Buffalo Bills in Week 4, so it's safe to say the Texans aren't that good at offense. The New York Jets (1-4) are also on the list, but they are terrible as they break in new quarterback Zach Wilson.
The average reader of this article may be able to outperform those teams offensively.
What's really impressive is when you put Jackson's numbers up against the Green Bay Packers (4-1) or even the Seattle Seahawks (2-3).
Green Bay's offense is drawn up by Matt LaFleur, a noted offensive-minded coach, and run by Aaron Rodgers. Davante Adams is lighting it up for the Packers, and they've got an elite running back in Aaron Jones.
The Seahawks, though not as good as the Packers, are quarterbacked by Russell Wilson, who's also known as a prolific dual-threat quarterback. Wilson can hurt defenses on play-action rollouts and even just as a pure scrambler, and he has an offense that features standout receivers like Tyler Lockett and DK Metcalf.
Both the Packers and Seahawks are consistently among the top teams in the NFC. Still, Jackson has outperformed both offensively through five games.
Jackson's 'Monday Night Football' performance was historic
The Ravens ended up beating the Colts in overtime by a score of 31-25. At one point in the second half, Baltimore found itself down 19 points, which just underscores how magical Jackson's performance was.
He finished the game with 442 yards (a franchise record) and five touchdowns, but 335 of those yards came in the second half and overtime. According to ESPN, Jackson became the first quarterback in NFL history to complete 85% of his passes while throwing for 400-plus yards. He also impressively came away with the highest completion rate in NFL history in a game with 40-plus passes. Jackson hit on an incredible 37 of 43 passes for a completion percentage of 86%.
It was a legendary performance from Jackson. The stuff of lore. The scary thing for the rest of the NFL?
There's still a ton of season left.
Stats courtesy of Pro Football Reference
RELATED: Ravens' QB Lamar Jackson's Passion Prompted Him To Accomplish Something So Great That Absolutely No One Can Criticize Him For