A Mind-Boggling Stat Proves Stephen Curry Is Undeniably the Greatest 3-Point Shooter in NBA History
Is Stephen Curry the greatest 3-point shooter of all time? Maybe. Cases can be made for players like Ray Allen and Reggie Miller. Three-point specialists like Kyle Korver and JJ Redick can be tossed into the conversation. Even Curry's Golden State Warriors teammate Klay Thompson has an argument.
But it's time to officially put the argument to rest. Steph has (another) shooting record that nobody will ever touch.
He's boldly taking shooting where no player has gone before.
Stephen Curry has been an offensive force in 2021-22
Steph is second in the league in scoring through 12 games, just one point per game behind Kevin Durant (who's played one more game than Curry).
Last year the Davidson product had himself in the MVP conversation, scoring 32.0 points per game despite Golden State missing the playoffs. Curry was the only reason the Warriors even had a shot at a play-in game or the postseason.
Steph leads the league in 3-point attempts per game with an average of 13.3 in his age-33 season. He's shooting 40% from deep, the best mark of anyone in the NBA attempting more than eight threes per night, according to NBA.com. (Grayson Allen of the Milwaukee Bucks is hitting 43.0% on 8.8 attempts).
The two-time MVP has the Warriors out to the best start in the league. Golden State is 11-1 through the first three-and-a-half weeks. The team leads the NBA in scoring (116.2 points per game), is second in field-goal percentage (47.3), and rebounding (38.0 per game), and fifth in 3-point percentage (36.7).
Golden State is also toward the top of the league in multiple defensive categories. The Warriors are the best and most complete team in the league, and as usual, Curry is leading the charge.
Steph hit nine 3-pointers for the 36th time in his career in a win over the Bulls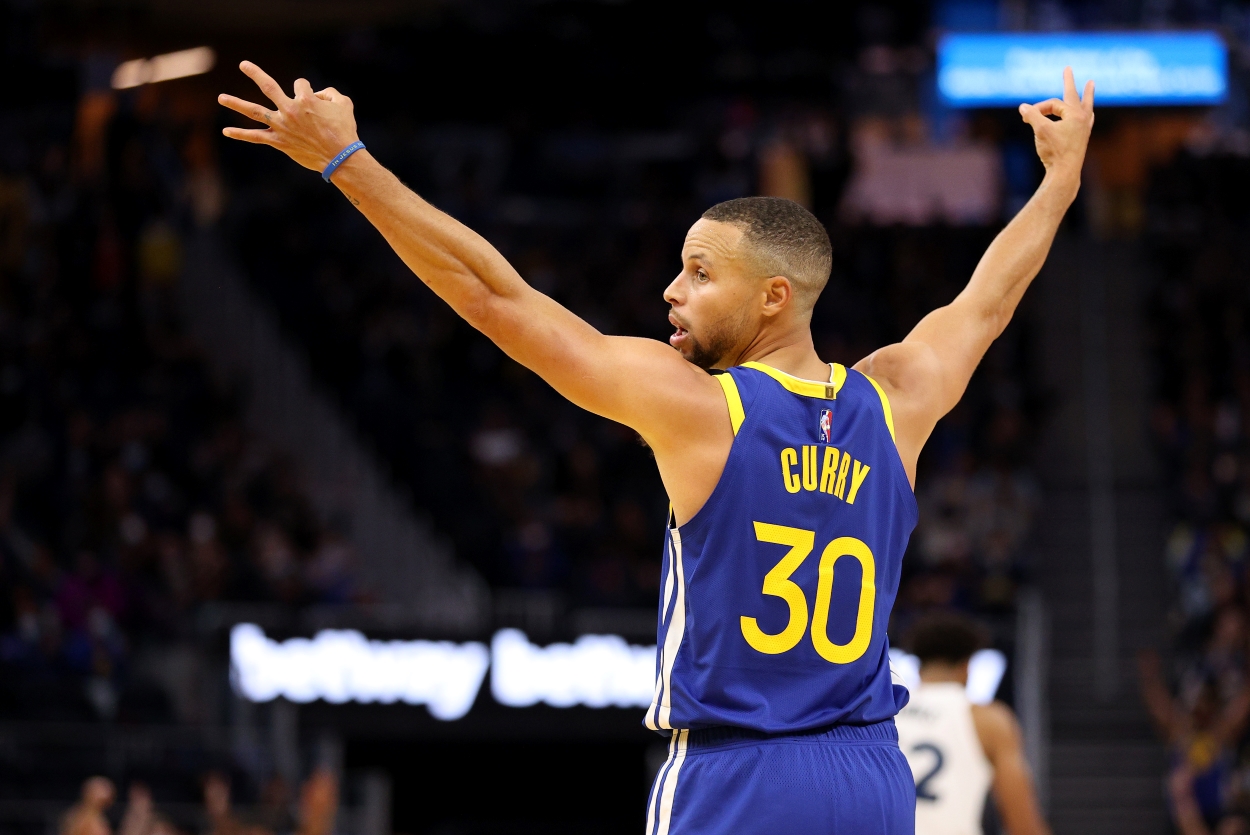 The Warriors routed one of the best teams in the Eastern Conference on Nov. 12, beating the Chicago Bulls 119-93.
Steph had a game-high 40 points in the win, only four days removed from dropping 50 and 10 assists in a win over the Atlanta Hawks to set another NBA record.
The Baby-Faced Assassin lived up to his moniker, drilling nine 3-pointers in the win over Chicago. That marked the 36th time in his 12 NBA seasons that Steph has hit at least nine threes in a game.
The Brooklyn Nets' James Harden and Portland Trail Blazers' Damian Lillard are runners-up in that category. They've made nine threes in a game nine times each.
Curry has 27 more games with nine 3-pointers than anyone else in league history.
In fact, if you add up the next five players on that list — Harden (nine), Lillard (nine), fellow Splash Brother Thompson (seven), JR Smith (five), and Kobe Bryant (four), Steph still has more games with nine threes than all of them combined.
If the two-time scoring champion isn't already considered the most-excellent shooter from deep in NBA history, he definitely should be now.
It's time to officially call Chef Curry the greatest 3-point shooter of all time
A quick look at the stats proves this case is closed.
Steph is the active leader in threes made (2,896.) In his career, he trails only Allen's 2,973. It's a safe assumption that Curry will soar past Allen's record when all is said and done.
He's seventh all-time in 3-point field goal percentage (43.2) while also third in attempts (6,700).
The Human Torch led the league in threes in seven of his first 11 seasons and five straight between 2012 and 2017. He also led the league in 3-point attempts each of those same seasons and has been top-10 in 3-point percentage eight times.
Steph changed the league when he started spacing the floor with the ability to fire off a quick-release triple from 30-feet away. The NBA hasn't been the same since.
It's time to officially accept him as the greatest 3-point shooter in league history.
All statistics, unless otherwise noted, courtesy of Basketball Reference.