What if the Minnesota Timberwolves or Utah Jazz Selected Giannis Antetokounmpo Over Shabazz Muhammad in 2013?
Every saga has a beginning. But, at face value, the story of how the Milwaukee Bucks selected Giannis Antetokounmpo in the 2013 NBA draft really isn't that interesting.
Antetokounmpo went 15th overall in a weak draft class, and he's easily grown into the best player of those selected. However, what if he went one pick earlier and one of two teams took their chances on an intriguing prospect from Greece?
The Timberwolves picked Shabazz Muhammad over Antetokounmpo in 2013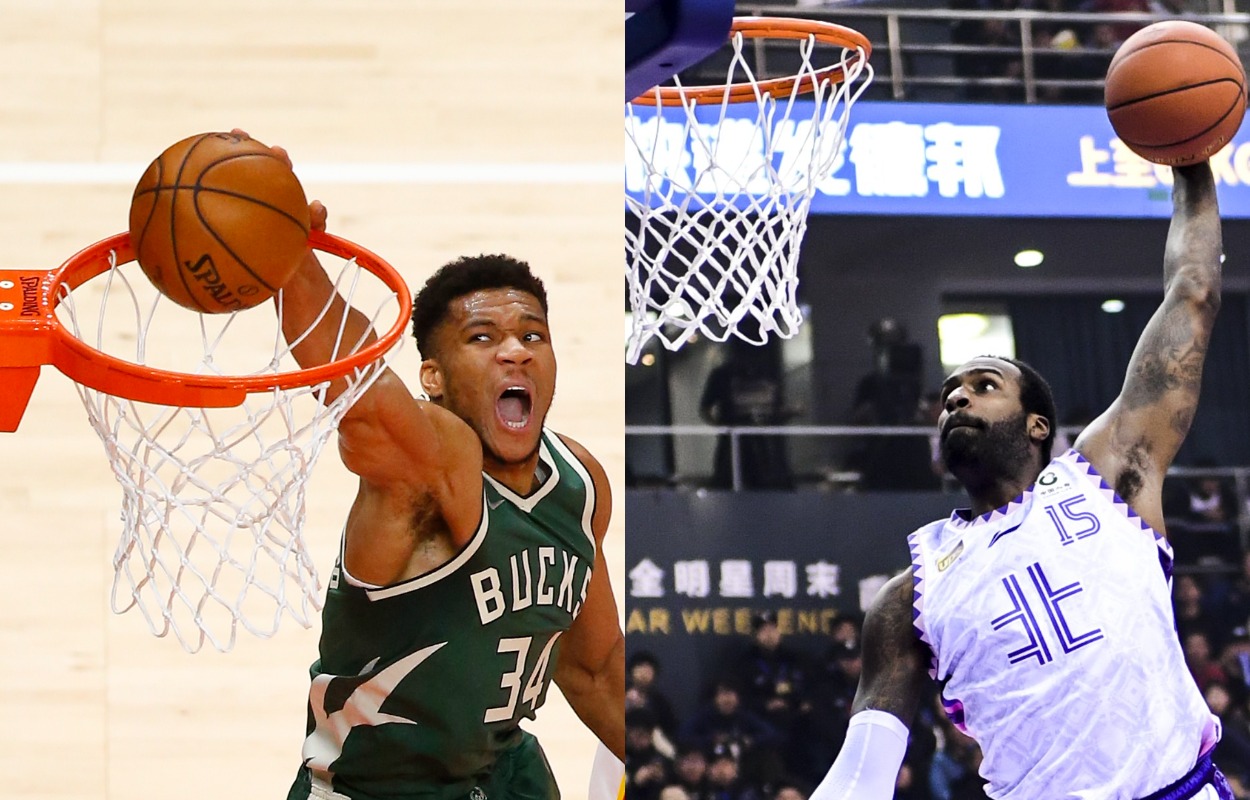 Let's go back to June 2013, when the Cleveland Cavaliers shocked the world by selecting UNLV big man Anthony Bennett with the first overall pick.
Several picks later, the Minnesota Timberwolves and Utah Jazz pulled off a draft-night trade. The Jazz traded up to No. 9 and selected Michigan point guard Trey Burke, who they hoped would fill the void created after the team traded Deron Williams to the Nets two years earlier.
The Timberwolves traded down to No. 14 and selected UCLA swingman Shabazz Muhammad. An All-American in high school, Muhammad had a reputation as a dangerous shooter, which the Timberwolves desperately needed. However, it was clear after his lone year in college that he likely required more seasoning, especially on defense.
The Bucks, as we know now, selected Antetokounmpo one pick later. Burke is now a backup on the Dallas Mavericks, while Muhammad last played professional basketball in China in November 2019.
What would have happened had the Jazz selected Antetokounmpo instead?
Let's pretend the Jazz never traded up to select Burke and instead drafted Antetokounmpo over Muhammad with the 14th overall pick for the sake of conversation. Andy Larsen, a Jazz beat writer for The Salt Lake Tribune, once suggested this idea on Twitter.
Remember, the Jazz also drafted Rudy Gobert in 2013. And despite his foolish behavior at the start of the coronavirus pandemic, it is indisputable that Gobert is among the greatest defenders of his generation.
The idea of Antetokounmpo and Gobert teaming up in Utah sounds like the makings of a dynasty, right? Well, don't expect the Jazz to start taking down Stephen Curry and the Golden State Warriors just yet.
After Antetokounmpo played his rookie season under Larry Drew, the Bucks hired Jason Kidd as the franchise's next coach. According to the NBA's official website, Antetokounmpo made it clear in 2018 how much Kidd helped him grow as a player.
"[Kidd] trusted me. He put the ball in my hands. He pushed me to be great."

Giannis Antetokounmpo
Kidd is among the greatest point guards in modern NBA history. Does Quin Snyder, who took over after the 2013-14 season, do the same thing? With respect to Snyder, how much does his lack of NBA playing experience impact Antetokounmpo's development?
This is the tricky part of a what-if scenario, especially with a younger player. As fun as a duo of Antetokounmpo and Gobert sounds, the lack of Kidd — assuming the Jazz still hire Snyder — means the talented forward likely never becomes the Greek Freak as we know him.
Timberwolves fans shouldn't get too excited about this idea
Unfortunately for Jazz fans, we don't see Antetokounmpo becoming a star in Utah the way he did in Milwaukee. But at least they'll get off better than Timberwolves fans in this scenario.
The coaching and lack of Kidd still present an issue in Minnesota, but so does the Timberwolves' overall organizational structure. It's easy to see the team losing patience with Antetokounmpo's development and eventually including him as a secondary piece in a trade.
For example, remember the Timberwolves' decision to trade point guard Mo Williams and second-year guard Troy Daniels to the Charlotte Hornets in February 2015? Maybe it's Antetokounmpo, and not Daniels, who starts playing for Michael Jordan.
If the Timberwolves selected Antetokounmpo, it's not unrealistic to think he'd eventually become a very good player, if not a star. But don't sound so confident about him accomplishing that feat with an organization that constantly traded young players.
The Bucks won the 2013 NBA draft, and they're on pace to win a championship with Antetokounmpo leading the way. Jazz fans at least have the duo of Gobert and Donovan Mitchell. Timberwolves fans…well, enjoy Alex Rodriguez, we guess.
Like Sportscasting on Facebook. Follow us on Twitter @sportscasting19.