The Minnesota Vikings Will Be Better off Without Jim Harbaugh and His Odd Brand of Coaching
The Minnesota Vikings almost hired Jim Harbaugh. Instead, the two sides met for nearly 10 hours, and new general manager Kwesi Adofo-Mensah decided to send Harbaugh slinking back to Ann Arbor with hat in hand.
While expected new head coach Kevin O'Connell is certainly an unknown because this will be his first head coaching gig, the Vikings will be better off not bringing the Harbaugh circus into town.
Jim Harbaugh is an old school and odd coach
It's not breaking news to say that Harbaugh is a somewhat odd character. He has a quirky and sometimes even abrasive personality, but that's arguably what has made him endearing as a college football coach, where spectacle and bravado are king. From having a sleepover at a recruit's house to critiquing chickens for being a nervous bird, Harbaugh has a strange personality that probably rubs his superiors the wrong way, but it plays well on the recruiting trail. 
Harbaugh's gravitas and quirkiness, plus the Michigan brand, has led to the Wolverines having much success in recruiting since he took over in 2015
The problem for a coach like Harbaugh in the NFL is that personality only gets you so far. NFL coaches in 2021 are expected to be part schematic geniuses and part analytics gurus. Press conferences about milk don't play as well when you've got a major divisional game coming up against the Green Bay Packers and you haven't beaten them in a few seasons.
Philosophy-wise, Harbaugh is also a bit too old school for today's NFL. The league is currently all-in on analytics and the passing game, and young and innovative coaches are spearheading that movement.  Meanwhile, Harbaugh's preferred offense looks like it was in style when the players were still wearing leather helmets. It works at Michigan and in the Big Ten, where pounding the football and tradition is important. 
It wouldn't work in the NFL. 
Harbaugh has been underwhelming for the Michigan Wolverines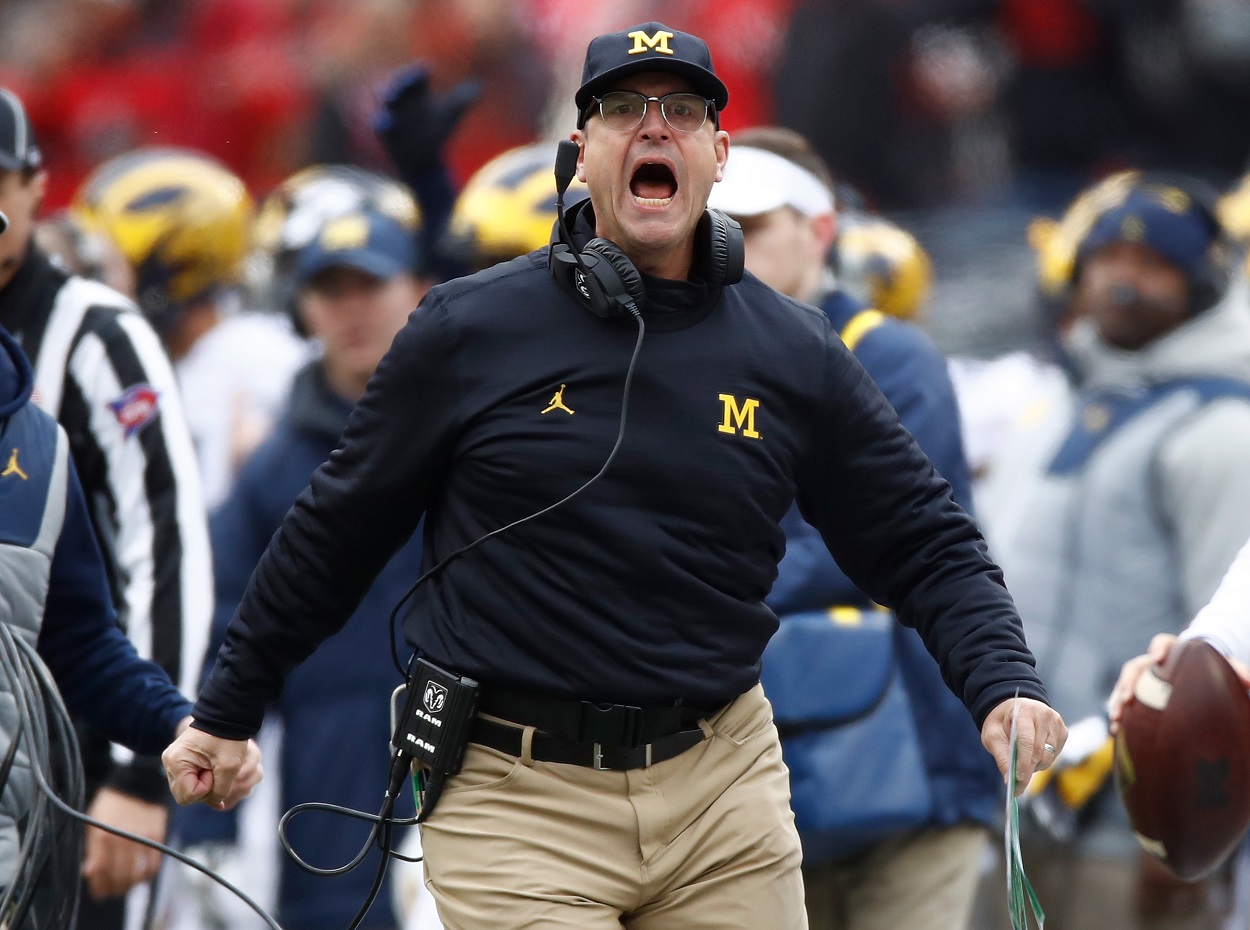 Harbaugh is a big name who has had some success in the past, so he gets a lot of press. With that said, he's honestly been underwhelming during his time as head coach at Michigan, and the numbers back that up.
The Wolverines hired him to be the savior of the football organization. He was a Michigan man. He played for Bo Schembechler. He was their quarterback and then went on to play in the NFL.
The expectation upon his hiring was that Harbaugh would quickly have Michigan competing not just for Big Ten championships but also national championships. The Wolverines won the Big Ten this past season and made it to the College Football Playoffs, but that conference championship, and the win over Ohio State, were the first big wins of significance in Harbaugh's time in Ann Arbor.
Sure, he's 61-24 overall, but he's had a hard time getting his team prepared for big games against ranked opponents, especially on the road.
Even with the win against Ohio State, Harbaugh is still just 1-5 against the Buckeyes. This past season's win was his first against Michigan's biggest rival. Speaking of rivals, Harbaugh is only 3-4 against the Michigan State Spartans. That includes a 0-2 record against new MSU head coach Mel Tucker.
To top it off, Harbaugh is only 1-5 in bowl games at Michigan. He's 2-6 overall in bowl games as a head coach at the college level.
He comes with a ton of hype, but he hasn't gotten the job done at Michigan outside of this past season. Why would things change back in the NFL with Minnesota?
Kevin O'Connell makes more sense for the Minnesota Vikings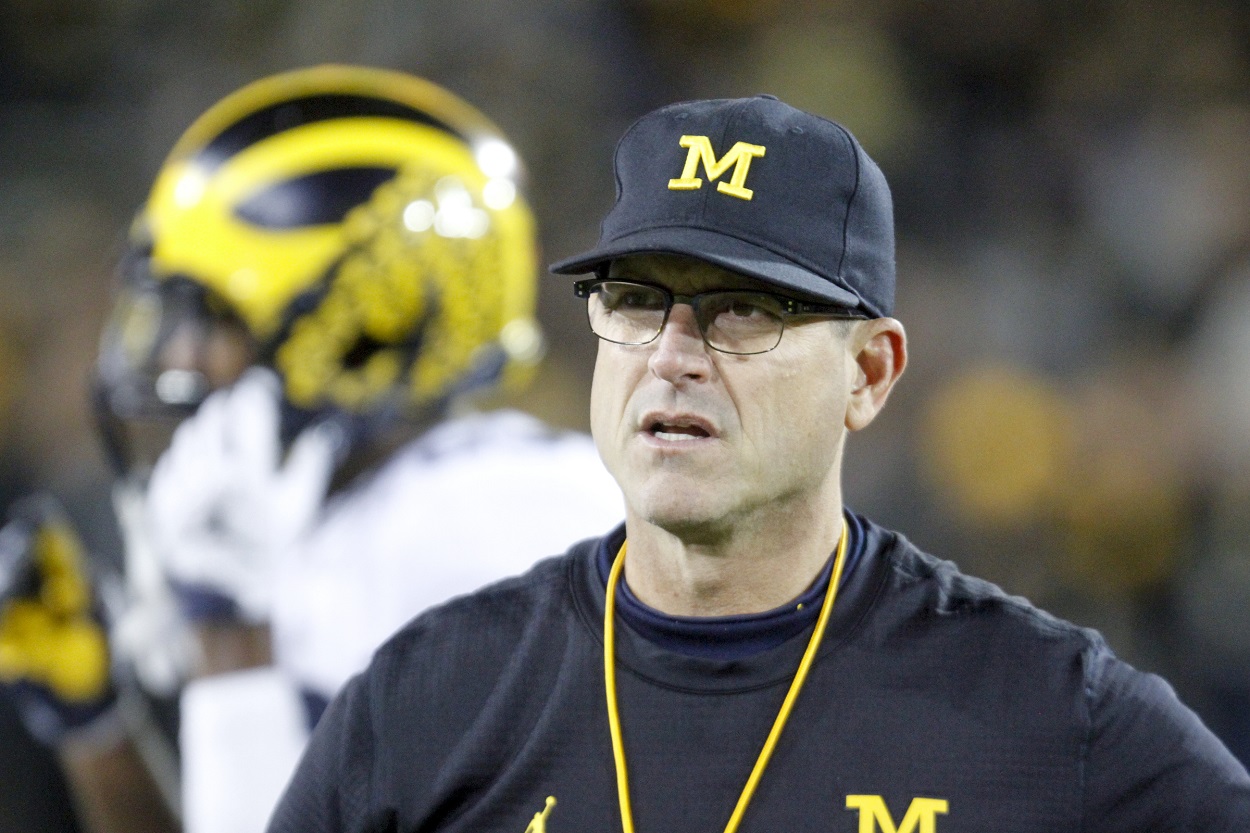 O'Connell has no experience as a head coach, and his experience as a play-caller is somewhat questionable. He's spent the past two seasons as the offensive coordinator under Sean McVay with the Los Angeles Rams. That means that while yes, he's been a big part of the Rams offense, he has been playing second-fiddle to McVay, who calls the plays. He did have a stint as offensive coordinator for Washington in 2019, but his offense was literally the worst in the league, scoring just 16.6 points per game.
On the plus side, O'Connell hasn't yet been officially named because he's about to coach in the Super Bowl. Having that kind of experience in a new head coach will undoubtedly be invigorating for the Vikings. There's also no doubting the fact that the league has been trending toward the offensive side of the football for years now, and it may be at its peak.
McVay is about to coach in his second Super Bowl in just five seasons, and he'll be going up against Zac Taylor and the Cincinnati Bengals. Taylor is a young, offensive-minded coach who was actually McVay's quarterback's coach in 2018. Matt LaFleur of the Green Bay Packers was McVay's offensive coordinator in 2017, and he's had historic success with the Packers in his first three seasons. The Denver Broncos just hired his assistant, Nathaniel Hackett, as a first-time head coach. He's been Green Bay's offensive coordinator for the past three seasons. 
Do you need more examples?
The Arizona Cardinals hired Kliff Kingsbury for his offensive chops alone. Kevin Stefanski was an offensive coordinator before he took over in Cleveland. Andy Reid's success has been undeniable with Patrick Mahomes and Kansas City Chiefs. Reid is old school, but he's one of the original offensive masterminds of the NFL.
There's no doubt the NFL is all about offense right now, and O'Connell is in the mold of coaching hires that have worked recently.
On the other hand, Harbaugh would be going in the complete opposite direction. The Vikings would be zigging while everybody else was zagging. That can sometimes be an effective strategy, but all the trends suggest that having a young, offensive-minded head coach who's aggressive, hungry, and innovative will get you further along than sticking with the old guard.
It's a gamble, for sure, but hiring a new coach is always a risky proposition. The greater risk for the Vikings would have been employing a quirky and somewhat ineffective head coach with a history of burning his bridges.
The Vikings made the right move by not hiring Harbaugh.
Stats courtesy of ESPN and Pro Football Reference. Contract information via Spotrac
RELATED: Jim Harbaugh Shuts the Door on an NFL Return Once and for All After Vikings' Mishap, But Can We Buy It?