The Minnesota Vikings Are Secretly Considering a Major Change That Would Completely Transform the Entire Organization
No more than four years ago, and the Minnesota Vikings were nearly on top of the NFL mountain.
They made it to the NFC Championship with Case Keenum at QB in 2017. They had an elite defense and two franchise wide receivers in Stefon Diggs and Adam Thielen.
Fast forward to 2021, and things are beginning to unravel at the seams.
The Minnesota Vikings are coming off three straight disappointing seasons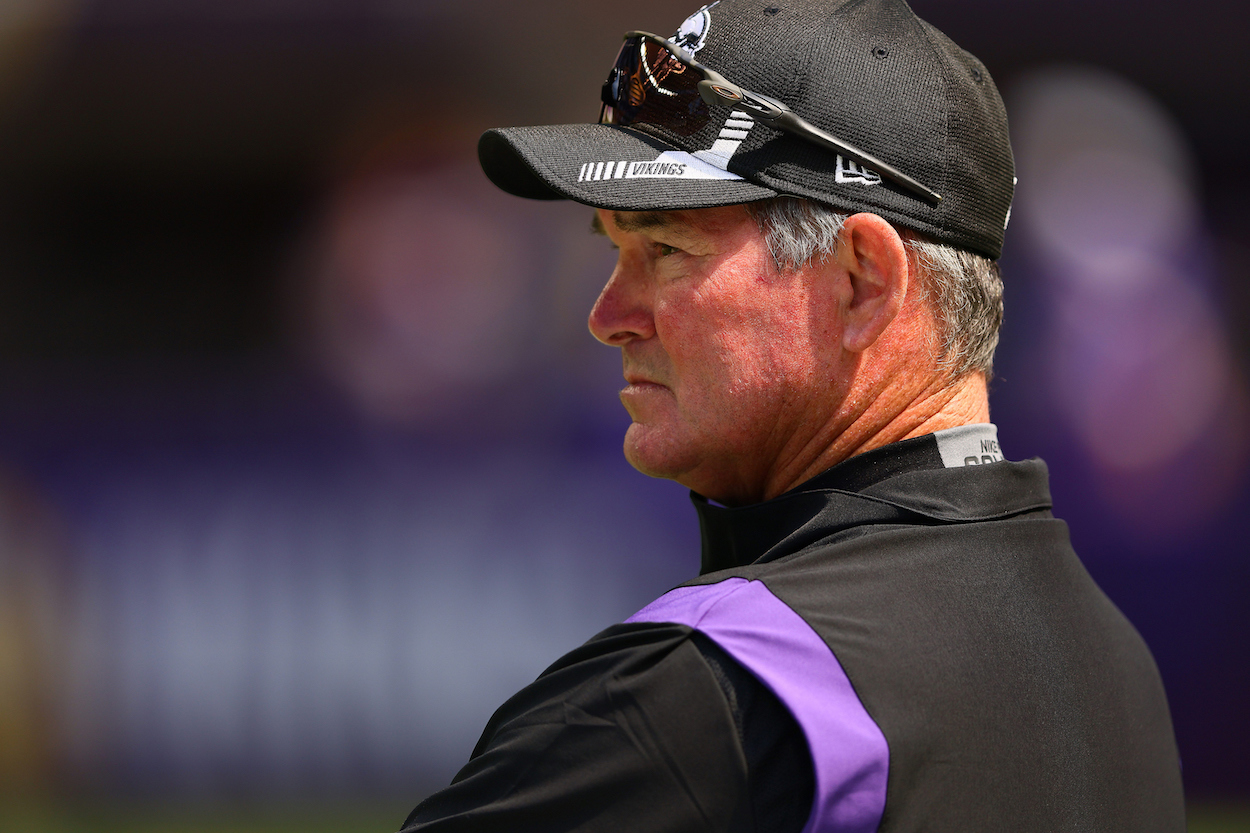 While the Vikings went 13-3 in 2017, they've yet to come to close to replicating such great success on the football field since. They missed the playoffs in 2018 and 2020 and were blown out by the San Francisco 49ers during the 2019 Divisional Round. Each season contained its own respective issues and struggles, but a common theme persisted throughout.
There are doubts about Kirk Cousins being a franchise quarterback, and there are doubts about Mike Zimmer being a good coach.
According to at least one NFL reporter, one of these aspects will be changed at the end of the season should the Vikings miss the postseason for the third time in four years.
Mike Zimmer is on the hot seat
CBS Sports' Jason La Canfora went on record following the Vikings' Week 1 loss. He claims that ownership is beginning to convey the message that "major changes" will occur should they fail to crack the postseason:
The Vikings' overtime loss to the Bengals last Sunday only heightened some of the tension in that organization, with ownership having conveyed to some associates their expectation that the club be a playoff factor this season to fend off major changes.

The Wilfs, who own the team, have pondered significant changes in the past, and seriously considered parting ways with head coach Mike Zimmer even after a playoff appearance two years ago, sources said. It is not lost on those within the organization how significant this season is to maintaining job security there.

Jason La Canfora via CBS Sports
It's still early into the 2021 NFL season. However, this is obviously not something you want to be seeing if you're Zimmer. Most Vikings fans have been frustrated with Zimmer for a few years. Now, it sounds like ownership is too.
What next for Zimmer and the Minnesota Vikings?
For the Vikings to be successful moving forward, they're going to have to find a way to recapture some of their past magic from 2017 and 2019. Utilizing Dalvin Cook on offense is a great way to take pressure off Cousins. The team's defense will also have to find ways to be more productive.
As things currently stand, the Vikings' secondary looks like a pretty serious problem (Pro Football Talk). A potential midseason trade could be in order to fix such an issue.
Leaning on second-year wide receiver Justin Jefferson — like they did last year — should be another priority.
Regardless, Zimmer and the Vikings are feeling the pressure. If the veteran head coach cannot start producing, this Vikings squad will undergo some serious change in the offseason.
All stats courtesy of Pro Football Reference.