Mitchell Trubisky Finally Shares His Heartwarming Reaction to Winning the NVP Award
Mitchell Trubisky has had an interesting NFL career thus far, to say the least.
Initially drafted No. 2 overall in 2017 to be the Chicago Bears' franchise quarterback, Trubisky experienced a few up-and-down years. The Bears made the playoffs twice with Trubisky at QB but failed to make it past the Wild-Card Round both times. With Justin Fields the new man in Chicago, Trubisky was relegated to taking a backup role with the Buffalo Bills.
Despite failing to earn a second contract with the Bears last year, Trubisky managed to win a trophy of sorts during his final game there. A trophy that he's proving to be a good sport about.
Mitchell Trubisky reveals his thoughts on winning the Nickelodeon Valuable Player award
For the first time in NFL history, the league partnered with Nickelodeon to present a kid-friendly viewing experience of last year's Bears-Saints playoff game. The TV broadcast of the game included cameos from popular Nickelodeon characters and featured slime being shot out of virtual cannons.
It was a chaotic viewing experience for someone used to regular football. However, kids being introduced to the sport for the first time likely got a kick out of the spectacle. Plenty of NFL fans expressed their entertainment with the production by way of social media as well.
As the game began nearing a close, it was revealed that an "NVP" would be awarded. The "Nickelodeon Valuable Player" — awarded to a player voted on by the fans.
Despite the Bears falling to the Saints 21-9, Trubisky ended up winning the award. As goofy as the whole experience likely felt to Trubisky (especially after losing the game and costing himself a shot at a second contract with Chicago), the veteran QB proved to be a good sport.
Mitchell Trubisky put the NVP trophy on his mantle
Appearing on an episode of "Pardon My Take," Trubisky talked about winning the NVP award and how he was surprised to learn that it was an actual real-life trophy.
For what it's worth, most NFL fans watching the game were also surprised to learn that a neon orange Nickelodeon blimp was being handed out to the losing quarterback.
With all of that said, Trubisky proved to be a good sport about the situation. He liked the overall design of the trophy and claims he put it on his mantle. It's been a rough few years for Trubisky. Seeing him get to display an award in his house is rather heartwarming.
Starting job on the horizon for the NVP?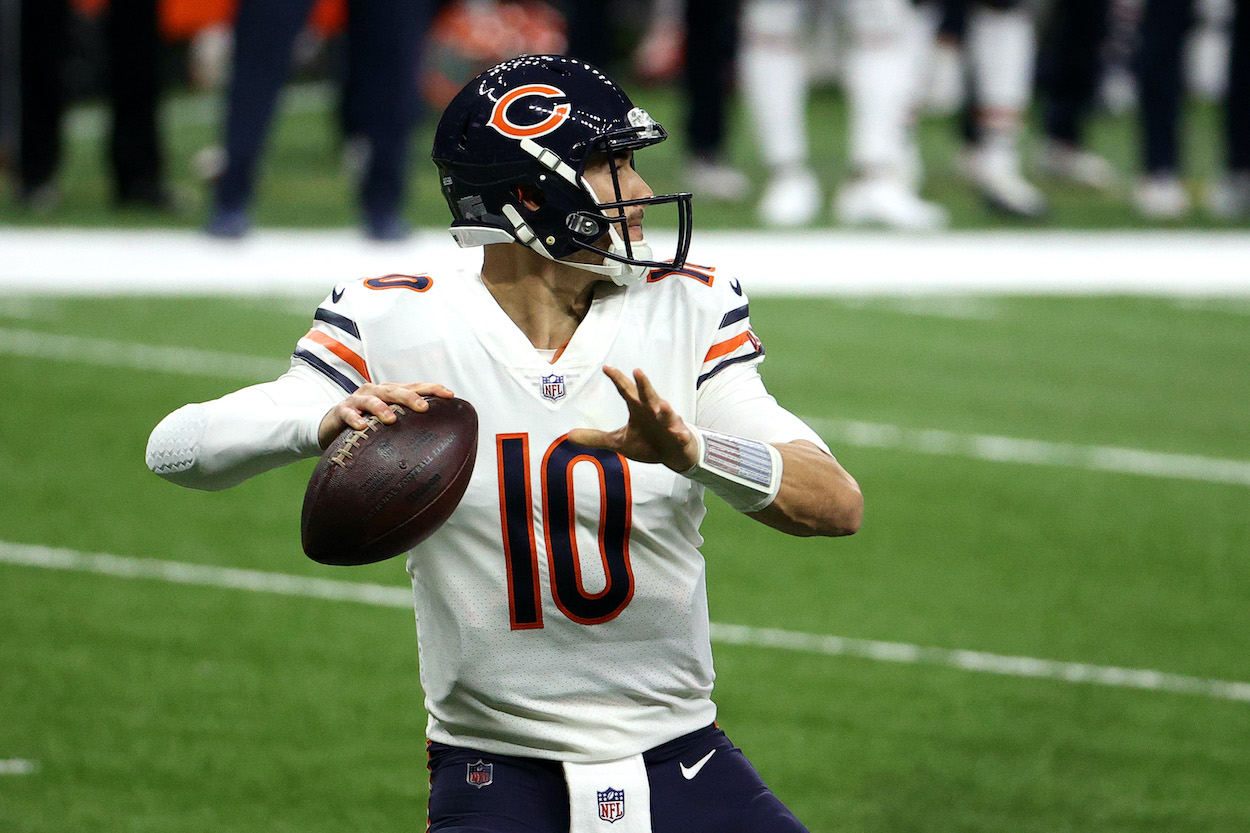 While Trubisky once viewed himself as a franchise quarterback, his new role is far less glorious. He's Josh Allen's backup this season following his decision to sign with the Bills on a one-year deal.
For what it's worth, Trubisky looked strong during his preseason start against the Bears earlier this summer. He threw for 228 yards and one touchdown, going 20-for-28. It was an impressive performance that had some pondering the possibility of Trubisky landing with a new team as a starter next year.
In the meantime, Trubisky will focus on being the best backup he can be in 2021. Time will tell if a team is willing to take a chance on the first-ever NVP next offseason.
All stats courtesy of ESPN.