Why Mitchell Trubisky Isn't the Answer at QB for the Bears
Chicago Bears fans had high hopes for 2019. They already enjoyed a rock-solid defensive foundation led by linebacker Khalil Mack. The offense wasn't outright terrible, aside from Cody Parkey's nightmarish missed field goal. Head coach Matt Nagy's offense-heavy style simply needed developing quarterback Mitchell Trubisky to mature into the force that scouting reports thought he could be.

That hasn't happened. Trubisky never runs the ball when obvious lanes emerge. His passes regularly miss his targets so badly that one questions whether he had any read on their route at all. He seems to lose all awareness of the game from inside the pocket. And across the last two games, every one of these qualities seemed to get progressively worse.

Bears vs. Saints: Mitchell Trubisky's chaotic, disastrous performance
Before breaking down Trubisky's horrific week seven showing, his shoulder injury must be recognized. His dislocated shoulder and labrum tear are a common enough injury that requires rest to recover from. It's possible his performance against the New Orleans Saints was affected by those circumstances.

Whatever the behind-the-scenes facts are, Trubisky wasn't up to taking on the Saints. Oh, and this version of the Saints had Terry Bridgewater at QB instead of the injured Drew Brees.

At first glance, Trubisky's stats from the game aren't terrible: 63% completion rate, 251 yards, two touchdowns in a 36-25 loss. Dig a little deeper, and the seams start to show. Seams that were obvious to anyone who watched the game. It took a massive 54 attempts, averaging a minuscule 4.6 yards per pass, to get those touchdowns. That is as bad as Trubisky has ever been in those categories.

Trubisky needed a triumphant return to get the Bears back on track in 2019. Instead, he had little to offer mentally or physically. He was unable even to help himself, giving up what has to be the silliest sack of the year. Those are signs of a regressing quarterback, not a developing one.

Bears vs. Chargers: Trubisky's slow motion tragedy
Trubisky managed to pounce on Saints fourth-quarter defensive breakdown and throw two quick, futile touchdowns. How much of that was on the Saints? Does Mitchell Trubisky deserve credit for keeping the fight going and correctly reading weaknesses in his opponent?

The Bears' clash against a team on a three-game losing streak in the Los Angeles Chargers gave us the answer.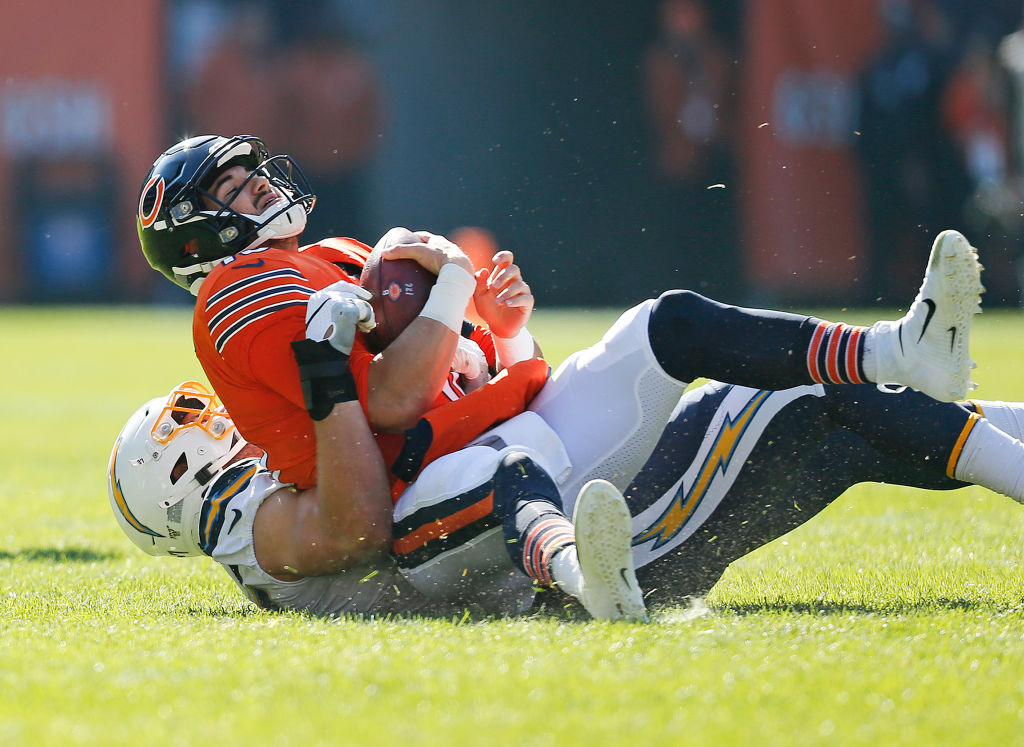 Trubisky showed all of the same problems he did against the Saints, magnified by everything happening against a lesser team. He got sacked four times, often due to poor footwork and reactions on his own part. He fumbled in a crucial fourth-quarter moment, setting up the Chargers to tie the game late. Five deep pass completions showed why Trubisky is in the NFL right now, but very little else showed the competence expected of a third-year QB.

The Saints are a great team lucky to have a competent backup QB. The Chargers are a struggling squad that should be easy pickings for the Bears. In the end, Trubisky's struggled too much to get anything started at all.
Trubisky's final, successful drive put the Bears in position to win the game with an easy field goal. It isn't on the QB when kicking woes put the bow on a terrible loss. But it is on the QB when repeated and preventable mistakes put the team in that position in the first place.

Drafting Mitchell Trubisky was a mistake unless he dramatically improves
One of the very best games of the NFL season was the Houston Texans 31-24 upset over the Kansas City Chiefs. It was a much-anticipated throwdown between two of the best young QBs in the NFL, Deshaun Watson and Patrick Mahomes. The game was a bittersweet moment for Bears fans because either one of these phenoms could be doing their thing in Soldier Field.

Bears general manager Ryan Pace made a widely-criticized decision to go with Trubisky over both Watson and Mahomes in the 2017 draft. Over here in 2019, the baffled reaction to this choice comes off as prescient. Because even if Trubisky notably improves his game, he remains a bust compared to what could have been for Chicago.

Whatever Trubisky's future brings, his slow development and signs of regression make him a poor complement to a strong defensive component that deserves better.