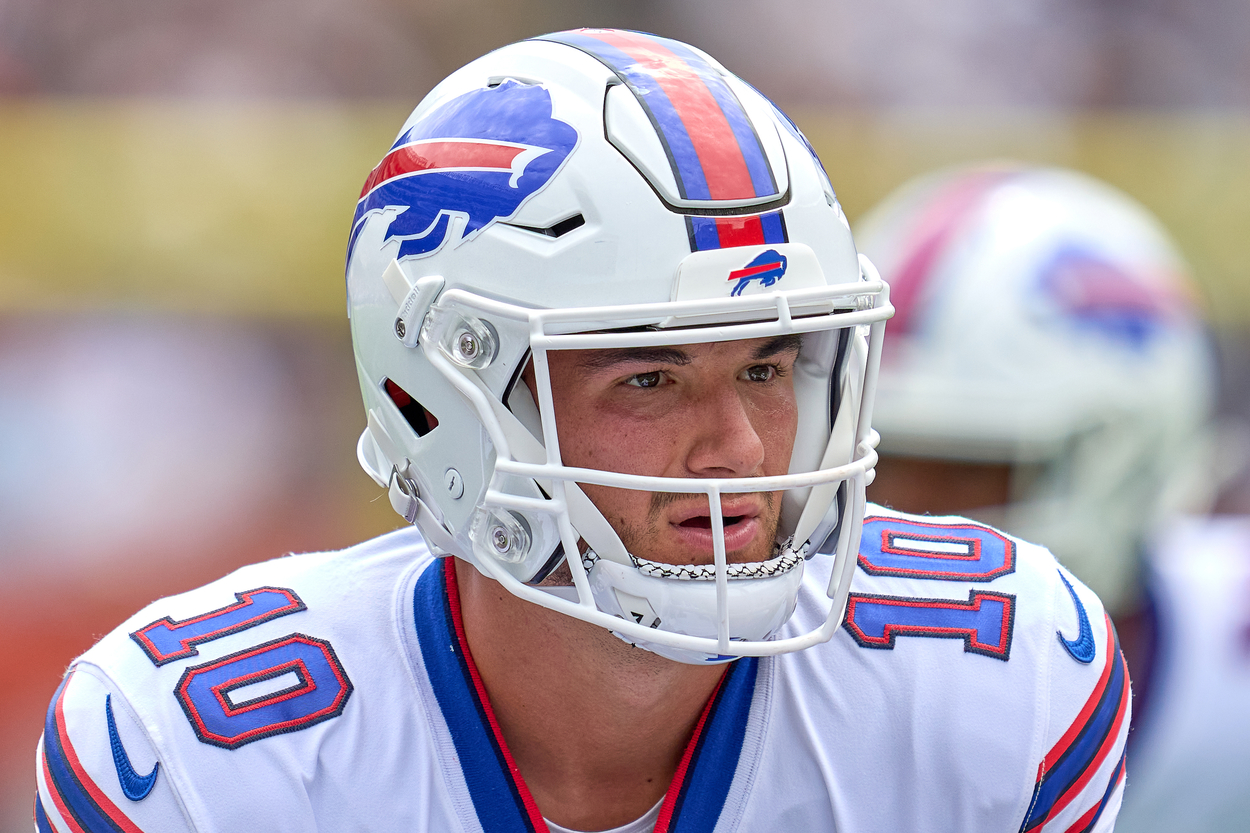 Mitchell Trubisky: Pros and Cons to the Pittsburgh Steelers Officially Signing the Veteran QB
The Pittsburgh Steelers have officially turned to veteran quarterback Mitchell Trubisky as Ben Roethlisberger's potential successor. Was that the right move?
The Pittsburgh Steelers have officially entered the Mitchell Trubisky era.
The six-time Super Bowl champions officially inked Trubisky, who will play the entire 2022 season at 28 years old, to a two-year deal. After spending last year backing up Josh Allen on the Buffalo Bills, the ex-North Carolina standout has an opportunity to restart his career and potentially emerge as Ben Roethlisberger's long-term successor. 
Should the Steelers have signed Trubisky, or would the franchise have been better off going in another direction? Now feels like the perfect time to examine the Black and Yellow's newest investment.
Pros: Mitchell Trubisky still has enough talent and potential to be a successful quarterback in the Steelers' offense
The knock against Trubisky will always be how he went before Deshaun Watson and Patrick Mahomes in the 2017 NFL Draft. In spite of that fact, he won 11 of his 14 starts with the Chicago Bears in 2018 and completed 66.6% of his passes for 3,223 yards, 24 touchdowns, and 12 interceptions en route to earning Pro Bowl honors. He also rushed for 421 yards and three touchdowns on 6.2 yards per attempt in his age-24 season.
If the Steelers get those numbers from Trubisky next season, the organization could have an excellent chance of reaching the playoffs for the second straight season.
For the sake of conversation, let's analyze Trubisky for who he is, not who he's not. In his best moments with the Bears, the North Carolina product was a competent and athletic quarterback who could beat teams with his arm or his legs. He's not Michael Vick or Lamar Jackson, but the Steelers won't need him to fill that role next season.
In his worst moments? Well…
Trubisky's best bet for succeeding is by playing the role of an effective game-manager. The Steelers appear to have a potential franchise running back in Najee Harris, who totaled 1,667 yards from scrimmage (1,200 rushing and 467 receiving) on a league-high 381 touches as a rookie last season. At least, they appear to have a potential franchise running back so long as head coach Mike Tomlin doesn't run Harris into the ground beneath Heinz Field.
Is Trubisky an elite quarterback? Absolutely not. Is he an above-average starter? Nope. Is he competent enough to help the Steelers reach the playoffs? If all goes to plan, yes.
Cons: One must wonder if Nagy and the Bears damaged Trubisky beyond repair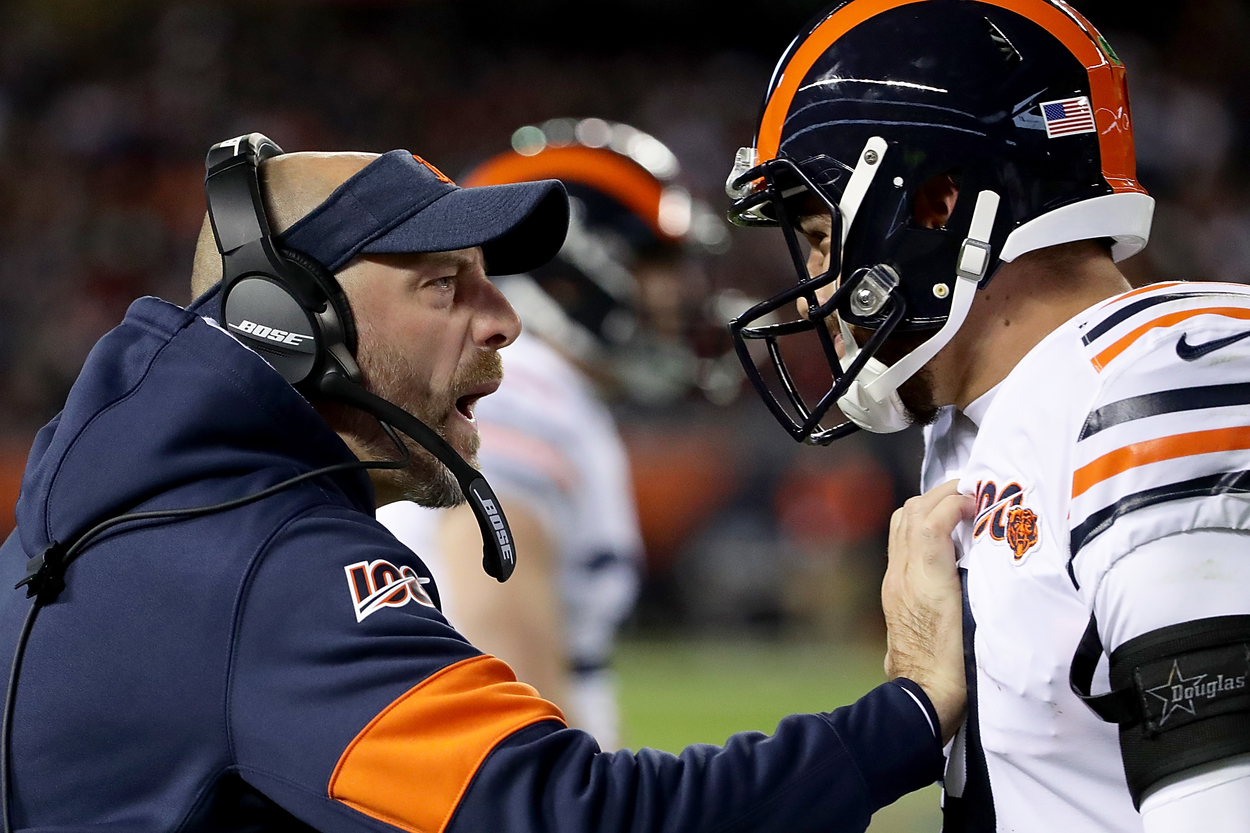 At first glance, Trubisky's final numbers from his Bears career weren't terrible. He went 29-21 as the starter and completed 64% of his passes for 10,609 yards, 64 touchdowns, and 37 interceptions; he also rushed for 1,057 yards and eight touchdowns. What was the wrong problem?
Blame former Bears head coach Matt Nagy.
Now, in fairness to Nagy, we can't ignore Trubisky's propensity for wild throws and misreading defenses. But from the get-go, the relationship between coach and quarterback, which began following the 2017 season, felt like an arranged marriage. There was never any indication that Nagy and the Bears felt comfortable building around Trubisky, even after his solid sophomore campaign.
Trubisky helped Chicago win the NFC North in his first season with Nagy and played well at times in 2019. Yet, the Bears decided they didn't want to pick up his fifth-year option, and they benched him three games into the 2020 campaign. Why?
In spite of Nagy's lack of trust, Trubisky recorded a career-high 67.0 completion percentage, 16 touchdowns, and eight interceptions in 10 games. Had he started all 16 games, he was on pace for 3,288 yards, 26 touchdowns, and 13 interceptions.
Again, those are numbers the Steelers should desperately want Trubisky to post in 2022. For his sake, head coach Mike Tomlin will hopefully be more supportive than Nagy was in their three years together.
Should the Steelers have signed Trubisky during free agency?
The Steelers never appeared as realistic contenders for the likes of Deshaun Watson or Russell Wilson. Trubisky is a stopgap who didn't sign for much and, if we're being honest, probably isn't going to emerge as Roethlisberger's long-term successor.
Truth be told, there's nothing wrong with that reality.
Trubisky is a competent veteran quarterback who fits the team's short-term need for, well, a competent veteran quarterback. Nothing is stopping the Steelers from investing the 20th overall pick on a quarterback and letting that prospect, whether it's the University of Pittsburgh's Kenny Pickett or North Carolina's Sam Howell, sit behind the former All-ACC honoree for a year.
If the Steelers are wise, they'll use the 20th overall selection elsewhere and see which quarterbacks are still available when they prepare to pick 52nd overall. Pittsburgh still needs to address its offensive line and could benefit from adding another young receiver in the draft.
The question here isn't whether or not Trubisky will be the Steelers' starting quarterback in five years. The question is whether or not he's good enough to keep the six-time Super Bowl champions in contention for a playoff berth, and the answer, at least in our eyes, is yes.
Like Sportscasting on Facebook. Follow us on Twitter @sportscasting19.