MLB: 10 Rookies Who Will Impact the Playoff Chase in 2016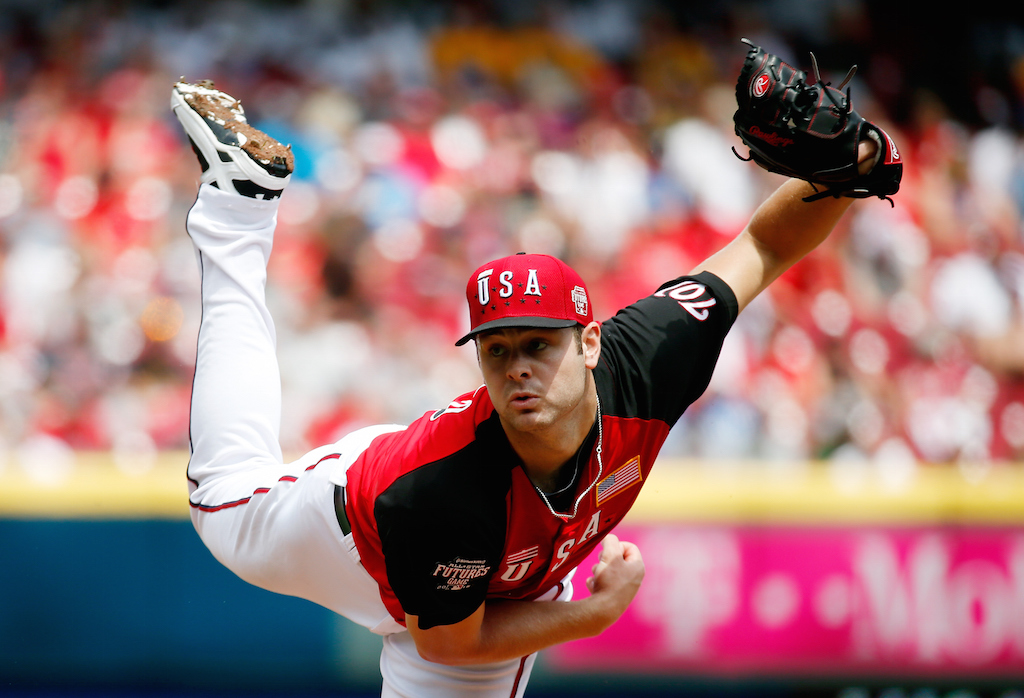 With baseball season now officially underway, fans are filled with hope that their team might be the one standing and holding the World Series trophy in October. There's a lot rolled into that, of course. Some teams are already set and looking like contenders. Some will have to make trades down the road to get better. Some will rely on finding undervalued and underrated players to help carry their team.
Others will call up prospects in the hope of a young, energetic squad surprising everyone and making a run in the playoffs—much like the Chicago Cubs did last season. So who are those kids in 2016? Here is a list of the most likely candidates, among rookies, to be taking a major role on a team with real playoff aspirations.
10. Lucas Giolito, Washington Nationals
Giolito, a 21-year-old starter, might be higher on the list if he had made the Opening Day roster or even if he had a more accurately estimated time of arrival in Washington. Assuming he gets a call sometime around June, Giolito could be an important factor for the Nats. He's Washington's top prospect one of the best prospects in the game, period. He's a monster, standing 6'6" and 255 pounds with a 2.63 ERA and 10.0 K/9 in 51 starts in the minors.
9. Tyler Glasnow, Pittsburgh Pirates
Glasnow, like Giolito, is a starting pitcher that has no official date that he'll make his first appearance for the Pirates. It's going to be a hard-fought battle for playoff positioning in the NL Central, and having Glasnow waiting in the wings to take a rotation spot is a big advantage for Pittsburgh. He's just 22 years old this season, with a 2.07 ERA and 11.8 K/9 in 80 starts in his minor league career. He'll head to Triple-A for a bit while he awaits the inevitable call to the majors.
8. Trea Turner, Washington Nationals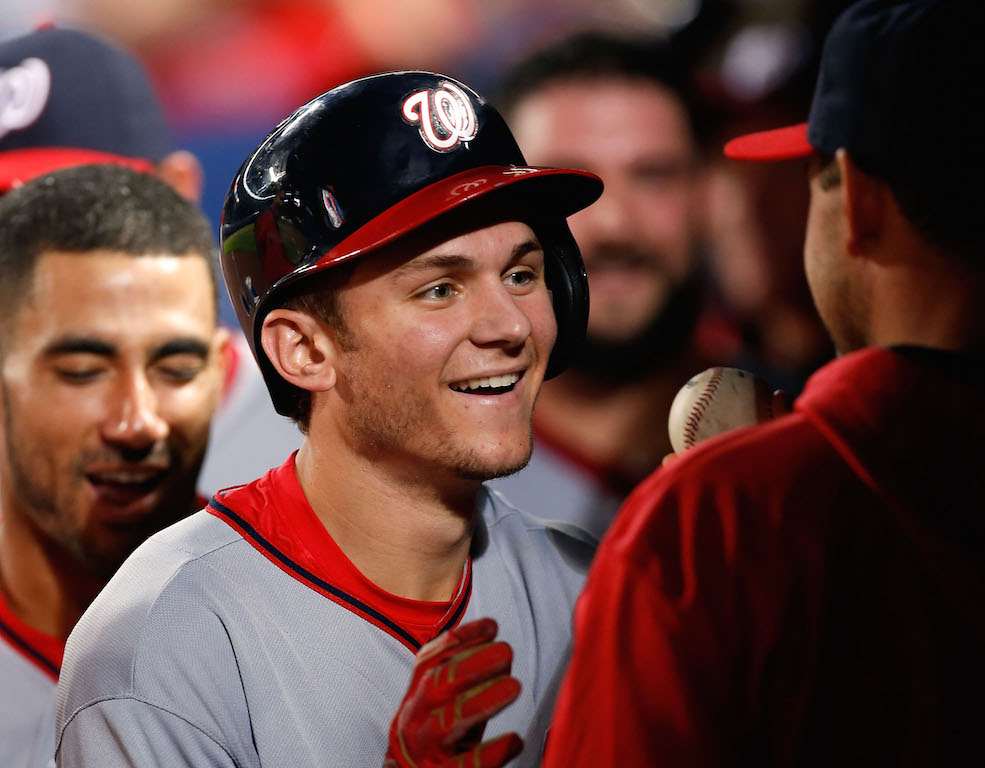 There are a lot that really like Turner's game throughout baseball, and at least one writer at Sports Illustrated took that so far as to predict he'll win the National League Rookie of the Year award. But Turner also isn't on the Opening Day roster, instead beginning his third season as a professional down at Triple-A with Giolito. It's a good bet that he'll be up at some point, but hard to predict what will happen from there—his manager, Dusty Baker, is notorious for playing veterans with aging skillsets over rookies.
7. Seung Hwan Oh, St. Louis Cardinals
Oh probably won't be winning Rookie of the Year, and it's even likely that he's going to be finishing behind guys that are behind him on the list in the voting. But he's definitely a rookie, for all intents and purposes, and he's certainly going to have an effect on the playoff race. The Cardinals signed the right-hander, whose nickname in Japan was 'The Final Boss' to be a set-up reliever for closer Trevor Rosenthal. He's going to play an important role in whatever amount of success the Cardinals have in 2016.
6. Tyler White, Houston Astros
White doesn't have the household name status like Giolito or Turner, but he has a big opportunity heading into the season with the Astros. The young first baseman beat out Jon Singleton for the job on the roster, and it'll be his to keep as long as he hits and plays well enough on defense. White is going to be 25 this season and has hit .311/.422/.489 in 1,249 plate appearances in his career in the minors.
5. Byron Buxton, Minnesota Twins
The Minnesota Twins have several rookies that could make a difference this season, but Buxton is the biggest and brightest of the bunch. He struggled in his debut last year, hitting .209/.250/.326 in 138 plate appearances. The 22-year-old speedy outfielder has been ranked the top prospect in all of baseball the last two years and is widely considered a star in the making. Baseball Prospectus projected him at 4.5 WARP in a full season with the Twins this year, which would be an outstanding season. The Twins won 83 games last year and are hoping that, with internal improvement and help from young kids like Buxton, they'll win even more and be in serious contention in 2016.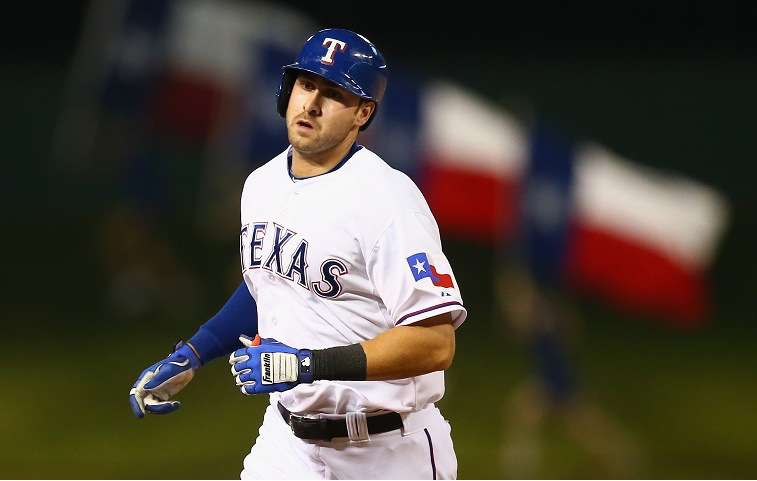 4. Joey Gallo, Texas Rangers
Gallo, like Buxton, is another big name prospect that came up in 2015 but struggled. The powerful third baseman appeared in 36 games last year, amassing 123 plate appearances but hitting only .204/.301/.417 with six homers. Gallo is a big-time strikeout guy, striking out in more than 40 percent of his plate appearances in the big leagues and 37 percent of the time at Triple-A last year. He's also back down at Triple-A, like so many others on the list, but he could come up and make a huge impact on the race in the AL West this summer.
3. Kenta Maeda, Los Angeles Dodgers
Maeda was brought over from Japan by the Dodgers this offseason after two years of rumors and questions about when he'd be in the major leagues and how much it would cost the team that finally brought him over. He, like Oh, is technically a rookie but has played eight seasons of professional baseball overseas. The 29-year-old right-handed pitcher had a career 2.39 ERA in 1,509 2/3 innings pitched, and he's going to be relied upon in the Dodgers rotation with Zack Greinke no longer there.
2. Steven Matz, New York Mets
Matz is still a rookie despite coming up with the Mets last season and posting a 2.27 ERA in six starts prior to starting one game in each round of the playoffs. He's a tall, slender left-handed pitcher with a strong fastball and the potential to be a top-of-the-rotation type of pitcher. The good news for Matz is that the Mets have a ton of pitching, with Matt Harvey, Noah Syndergaard, and Jacob deGrom joining him in the rotation. The bad news is that his contributions could be overshadowed by those great pitchers, but either way he'll have his say in the NL East divisional battle.
1. Corey Seager, Los Angeles Dodgers
Like Maeda, Seager is going to have a major role to play on the 2016 Dodgers. The younger brother of Mariners third baseman Kyle Seager came up last year with the Dodgers and hit a scalding .337/.425/.561 with four homers and eight doubles in 113 plate appearances, making the postseason roster and getting 17 plate appearances in the NLDS against the Mets. Seager is the starting shortstop for the Dodgers this year and they're going to need to him to produce. With questions about their entire outfield and the starting rotation, how Seager performs could mean the difference between the Dodgers winning and losing the NL West.
Follow Ryan on Twitter @RyanDavisBP
Statistics courtesy of BaseballProspectus.com and Baseball-Reference.com.