MLB: 3 Bad Omens for Red Sox Pitching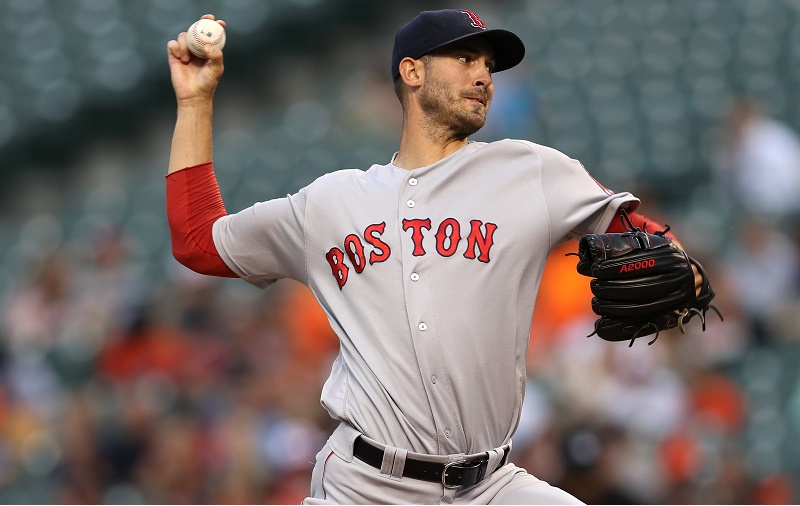 We really like the Boston Red Sox offense. What's not to like? It has plenty of power and speed plus several high-average hitters who are tough to strike out. This group takes their base and passes the baton if a pitcher is avoiding the issue, too. That's not the problem. Red Sox pitching, on the other hand, can become a serious one if six hitters don't end up hitting above .330 this year. (Just kidding, only three were hitting over that mark on June 3.)
In a pair of blowout losses that ended a four-game set in Baltimore on June 2, the Boston staff allowed 24 ER, sprinkled among eight different pitchers, none of whom managed a scoreless outing. Among the victims were the team's No. 2 starter, a key setup man, and a demoted starter trying to find his way in the bullpen. The end result was the Red Sox scored 16 runs in two games and were thumped in both. Here are three omens that are especially troubling for the team's pitching staff.
1. The crumbling rotation
Late May and early June featured the demotion of Clay Buchholz (2-5, 6.35 ERA) to the bullpen and Joe Kelly (2-0, 8.46 ERA) to the minors. This pair started the season as staples and have faded early. David Price, who sports a sterling 7-1 record, has a 5.11 ERA. Rick Porcello (7-2, 4.00 ERA), who was the club's apparent No. 1, has allowed 11 HR in 11 starts, including three in the 12-7 loss to the Orioles.
So far, the team's most reliable starter has been Steven Wright (5-4, 2.45 ERA), the 31-year-old knuckleballer with 12 career wins. This group does not scream "competent," let alone "postseason-ready."
2. Bullpen bombings
With Craig Kimbrel at the back, Carson Smith in the middle, and Junichi Tazawa plus Koji Uehara as needed, the Red Sox 'pen projected to be a huge strength, but it has been hittable through the season's first two months. Kimbrel has two losses and two blown saves in 22 games; Uehara has two losses and a blown save in 21.0 IP; and Tazawa has dealt with his own struggles. (Smith is out for the year following Tommy John surgery.)
As a group, the bullpen is averaging almost 4 BB per 9 IP, worst in the American League. Walking batters in parks like Fenway, Camden Yards, and Rogers Centre is a recipe for disaster, and Red Sox pitching has been bitten in each stadium. We'll see if this group can hold the line as the workload starts to build. The 5.54 ERA between May 20 and June 3 had the club heading in the wrong direction.
3. No place for Clay Buchholz
As a starter, Clay Buchholz has an ugly ERA and high home-run rate. As a reliever, he's skipped the home runs but kept the inflamed (6.23) ERA and bumped up his walk total to about one per inning. There might not be anywhere else to go for Buchholz, who began the season as a critical part of the rotation and now is hardly worth mop-up roles. With Kelly sent down and Eduardo Rodriguez just back from injury, Boston will have to keep Buchholz on as insurance, but this situation may end badly for both sides.
Connect with Eric on Twitter @EricSchaalNY
Stats courtesy of Fangraphs and Baseball-Reference.com.