MLB: 3 Potential Sleeper NL MVP Candidates in 2016
In any year other than 2015, Arizona Diamondbacks first baseman Paul Goldschmidt would have run away with the National League Most Valuable Player award. The problem was, one left-handed swinging right fielder playing in the nation's capital was out to prove that his No. 1 overall draft pick status was no fluke. That man is Bryce Harper and last year he was no ordinary baseball player; he was a monster.
If all goes according to plan, both Goldschmidt and Harper should be right at the top of the board of candidates for the honor again this season, but there are certainly some other players worth mentioning as worthy adversaries. After recently looking at three potential sleeper AL MVP candidates in 2016, let's move onto the NL side now.
1. Anthony Rizzo, Chicago Cubs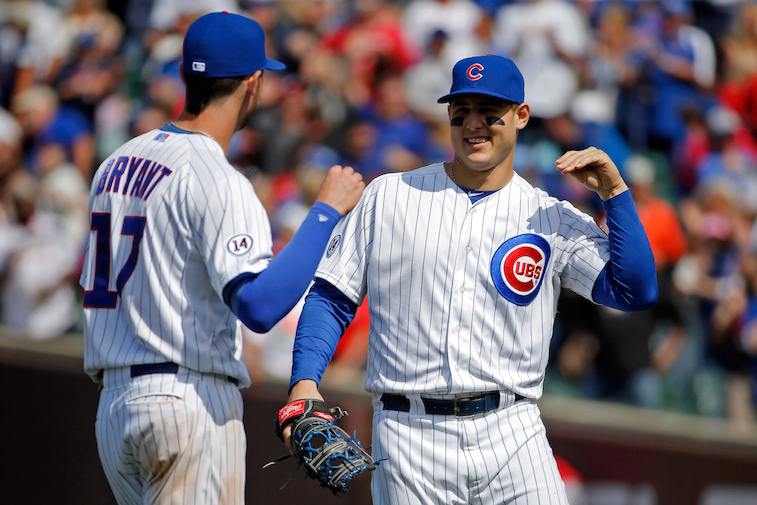 Of the three players on this list, Chicago Cubs first baseman Anthony Rizzo is probably the most likely to garner the hardware. At 26 years old, the big lefty is quickly approaching his prime years and is coming off of his best season yet, as he made his second All-Star team and finished fourth in the MVP vote. The dangerous Cubs lineup should only be better this season, enabling Rizzo to continue to rack up the offensive numbers.
For the second time in his full three big league seasons, Rizzo played in 160 games, proving his durability and consistency. He was a monster across the board, scoring 94 runs, hitting 31 home runs, and collecting 101 RBI. His 17 stolen bases were an added bonus and quite a surprise, as he had just 16 career thefts entering 2015. For the third straight season, Rizzo both cut down on his strikeouts and increased walk total, showing tremendous patience and maturity at such a young age. Given the surrounding talent in the Chicago starting nine, it would be easy to overlook Rizzo, but in our mind, he's got the best shot on the roster to earn the NL's most prestigious award for a position player.
2. Joey Votto, Cincinnati Reds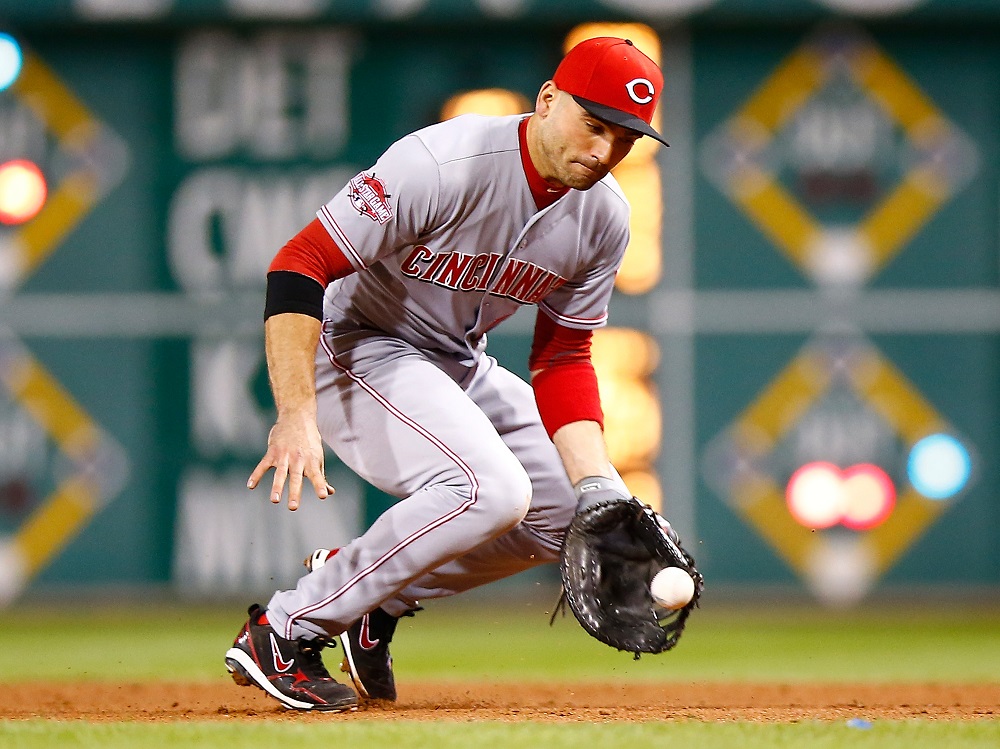 Is there such a thing as having too good of an eye? We don't think so, but if there was, Cincinnati Reds first baseman Joey Votto would be exhibit A. Votto's 29 homers and 80 RBI last year were relatively low for a typical MVP candidate, and a lot of the credit to those totals can be attributed to his tremendous plate discipline. Sure, the 32-year-old struck out 135 times, but that figure doesn't look nearly as bad when you lead the league in walks by a wide margin with a mammoth 143 free passes. Votto also bounced back huge from a lost 2014 season in the batting average department, ranking inside the top 10 with his .314 mark.
Unsurprisingly, the third place finisher in the 2015 NL MVP voting posted a sick .459 OBP (.001 off Harper's league lead) and joined Goldschmidt and Harper as the only players in baseball with an OPS at 1.000 or above. Although Votto will enter 2016 coming off of one of his best regular season outputs, he still is on the wrong side of 30. His injuries in 2012 and 2014 will also surely cause some to dismiss his chances at a repeat year, but his track record make him an easy selection for this post.
3. Starling Marte, Pittsburgh Pirates
Pittsburgh Pirates left fielder Starling Marte is certainly the sleeper of these sleepers, as he only has three major league seasons under his belt and has never finished with MVP votes, but he has the potential to get there. He made a significant jump in performance from his rookie year in 2013 to 2014, and an even bigger one last season. Marte set career-highs in nearly every important offensive category (153 G, 633 PA, 84 R, 166 H, 30 2B, 19 HR, 81 RBI) and notched 30 steals for the second straight campaign. On top of that, he earned his first career Gold Glove too.
Marte's inclusion in the best outfield in MLB and playing next to former MVP Andrew McCutchen will probably take some of the attention away from him, but his overall ability speaks for itself. Look for another big jump for Marte in 2016.
Statistics courtesy of Baseball-Reference.com and ESPN.com.
Follow Victor on Twitter @vbarbosa1127.