MLB: 3 Reasons This Astros Team is No Contender
This year's trendy AL pick is getting beaten up. Here are 3 things Houston has to change to make October.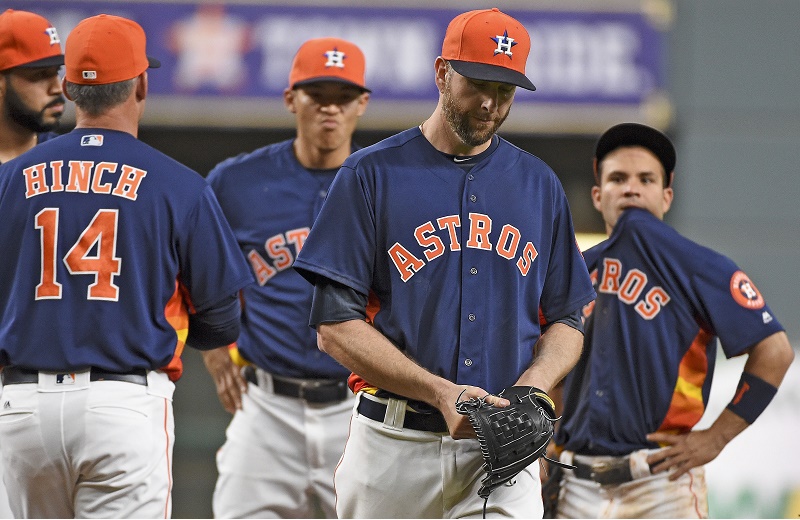 Who's picking the Houston Astros to win the AL West? How about the World Series? You may have seen both predictions from writers on Sports Cheat Sheet, and they weren't even labeled "bold" or "outside-the-box." Considering the 'Stros are the worst team in the American League through 20 games — yep, worse than those lowly Twins — we felt it was time for another take on Houston.
We'll start with the usual preamble about how much more season there is to go (142 to play!), so on and so forth. You can have a terrible month, the kind in which you go 6-14 and everyone from your Cy Young winner to your badass new reliever gets bludgeoned and still make the postseason. You can have your starters sport a 5.27 ERA after 20 games, even. (For the sake of the Red Sox, another hot pick on this site, let's hope so.)
Heck, your hitters can even lead the world in striking out, as Houston's have, and come out OK on the other end. But something's gotta give here, people. This Astros team is going nowhere unless they improve in three major areas.
1. It's the rotation, stupid
A starting five of Dallas Keuchel, Collin McHugh, Mike Fiers, Scott Feldman, and Doug Fister is enough to keep a GM (let alone a fan) tossing and turning at night. Start with velocity: no one in this rotation is averaging a pitch over 90 miles per hour in 2016. While that isn't a death knell per se, hitters certainly have felt comfortable beating up on the soft stuff coming from the 'Stros starters, who currently rank 26th in ERA.
The drubbings dealt to Collin McHugh (1-3, 7.56 ERA) and Doug Fister (1-3, 5.56 ERA) are especially troubling. Starts by Mike Fiers (5.73 ERA) have left the impression the right-hander got off easy, so there isn't a ton of hope there, either. Even Keuchel has taken a pounding. Will the return of Lance McCullers (possibly in May) cure these ills? We don't see how they would. McHugh and Fiers need to turn their seasons around or this rotation must be considered a flop.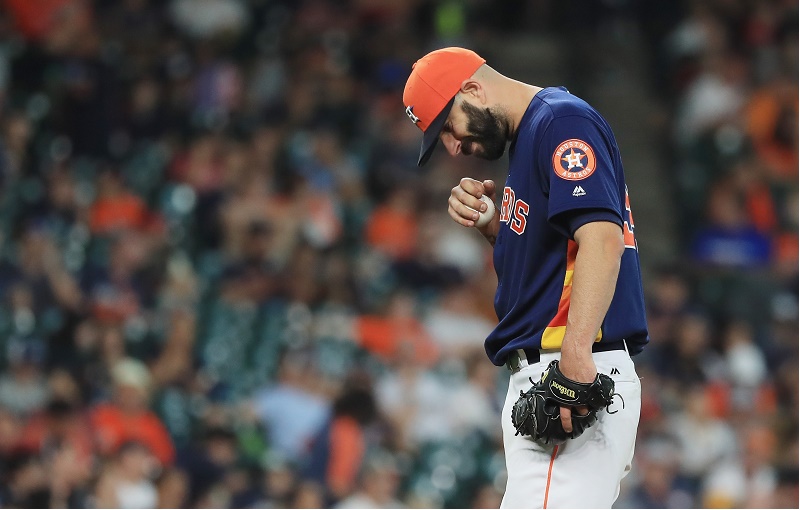 2. The bridge is broken
If your rotation averages 5.1 IP per game (yep, Houston's does), you need a full stock of strong bullpen arms to take close games into the late innings. Astros management thought it had one in Ken Giles, for whom it traded four arms, including Vincent Velasquez, to the Phillies in the offseason. Giles has been terrible in his first nine games. We'll set aside his 0-2 record and 8.31 ERA for now; the 13 H and 3 HR in 8.1 IP are even more worrisome.
Prior to this season, Giles allowed 3 HR in a career 115.1 IP. He's already matched that on April 26. Josh Fields (7.71 ERA) and Tony Sipp (3.86 ERA, 3.86 BB/9) are not on board yet, either. Getting to Luke Gregerson has been a real chore for this 'pen — not that there have been many chances — and the Astros relief corps has been unable to provide any boost for a lagging staff.
3. Bottom-of-the-order blues
Colby Rasmus (7 HR, 1.147 OPS) is on fire and Jose Altuve (.316, 1.027) is doing what he does; Carlos Correa and George Springer have played their parts; and Tyler White (5 HR, 13 RBI) has been a revelation in the opening weeks of the season. Beyond that, the Astros lineup drops off the table, beginning with Carlos Gomez (.211, 0 HR, .500 OPS) and Luis Valbuena (.224, 0 HR, .651 OPS), a duo that combined for 37 HR in 2015.
The rest of the lineup has been something of a black hole, with Jason Castro and Marwin Gonzalez contributing small-scale stuff. Evan Gattis, the club's power leader last season, is still making his way back from injury. Opposing pitchers can take half the lineup off at this point, which allows them to concentrate more on the top five, and the formula has been working well around the league.
Houston has lived and died on the home run, and now it's dying without the power of Gattis and Valbuena. Without more pop from the bottom, quality innings from the 'pen, and something good from the rotation, this club will be taking a long vacation after the season, starting in the first days of October. For now, keep that title champagne on ice.
Connect with Eric on Twitter @EricSchaalNY
Statistics courtesy of Baseball-Reference.com and FanGraphs.