MLB: 4 Reasons the Indians Bringing Back Corey Kluber is a Brilliant Idea
The Indians failed to make the MLB playoffs for the first time since 2015, but that doesn't mean they are going to enter rebuilding mode like some teams might after missing the postseason. And the Indians shouldn't start rebuilding because they still won 93 games this season and were in the thick of the race until late September. One way we know the Indians are serious about trying to contend again in 2020 is because they exercised their option on the contract of top starting pitcher Corey Kluber. Here's why that was the right decision.

Exercising Corey Kluber's option
There was speculation that the Indians would trade Kluber either last offseason or at the trade deadline during the 2019 season. They failed to do that, and after the season announced that they plan to pick up Kluber's $17.5 million option for 2020. If they decided not to exercise the option, the Indians would need to pay him a $1 million buyout. The Indians will face a similar option at this time next year as Kluber has another option year remaining on his contract for 2021 before becoming a free agent that offseason.

For a team that often seems reluctant to pay big money for players, keeping Kluber might seem odd, but there are four reasons it makes sense.
Corey Kluber is still their ace
Kluber is still the Indians' best starting pitcher, especially after dealing Trevor Bauer at the trade deadline. SP Shane Bieber had a breakout season in the rotation this season, but it's possible he could be a one-season wonder and he'll need to repeat that success at least one more year to prove he has potential to be an ace. SP Mike Clevinger also put up some of the best numbers of his career this season, while SP Carlos Carrasco missed much of the season while undergoing leukemia treatment. But the veteran Kluber should still be considered the Indians' ace as the two-time Cy Young winner has had more than 200 strikeouts in five of his six full seasons in the majors.

Boost his trade value
Bringing Kluber back for 2020 could boost his trade value if they do ultimately decide to let him go since he's coming off a season in which he didn't pitch after May 1 due to a broken arm and strained oblique. Picking up Kluber's option gives him half of a season to prove he's still his old self after the injury if the Indians want to trade him at the 2020 trade deadline. Keeping him under contract also helps control where Kluber goes, rather leaving him free to sign with any team if he were to become a free agent this winter.

They don't want to lose Corey Kluber for nothing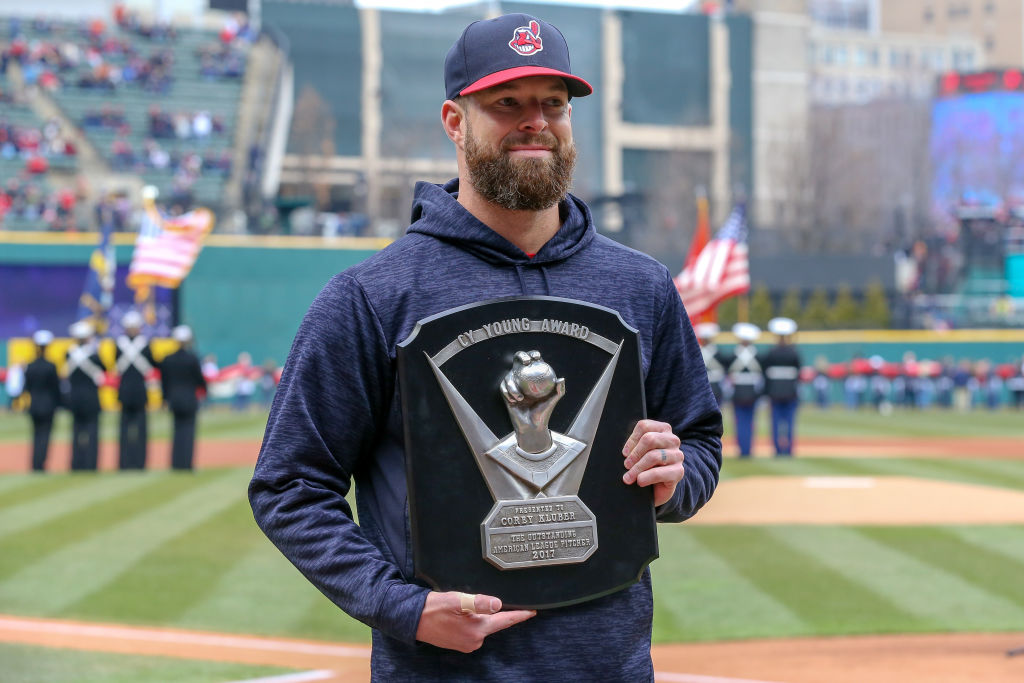 If the Indians declined to exercise Kluber's option, they would have saved money by only having to pay him a $1 million buyout instead of nearly $18 million. Still, they also would have gotten nothing in return for losing a Cy Young-winning pitcher.
By picking up his option and keeping open the possibility for a potential trade down the line. That would ensure that the Indians get some players back for Kluber, either in the form of major league talent that can help immediately or prospects who can improve the farm system and, eventually, the major league team down the line.

Help for a postseason run
The Indians expect to remain competitive for a playoff spot next season, and they know that keeping Kluber for next season will increase their chances of making a run deep into October if they return to the playoffs next season.
Having good starting pitching is essential in the postseason, and Corey Kluber is the best starter that the Indians have, making him a critical piece of the puzzle for the Indians if they get back there. He would help to shore up the rotation in October.