MLB: 4 Teams That Nobody Expects to Win in 2016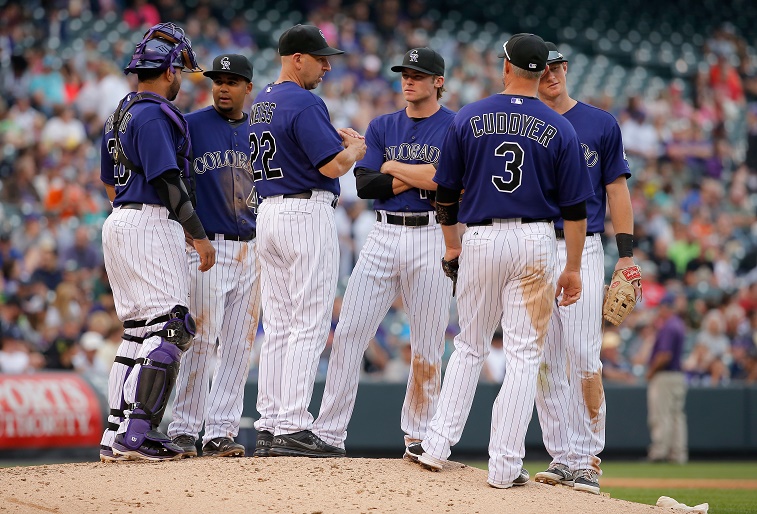 We all know about the massive off-season happenings of the Arizona Diamondbacks and Boston Red Sox, as they hope to contend for a title in 2016. We're well aware of the recent success of the Kansas City Royals, New York Mets, and Chicago Cubs and their aspirations of repeating their runs next season. But how about that select group of teams that virtually nobody expects to make much noise anytime soon?
Sports on Earth (SOE) — a website that is owned and operated by MLB Advanced Media, L.P. — recently put together their MLB Organizational Report Cards for all 30 teams. The post ranks the 30 organizations on data from the past 10 seasons. The categories that were analyzed included "spending per win," "playoff success," "smart acquisitions," "homegrown success," and "young talent." Of course, two of the top organizations overall were the St. Louis Cardinals and San Francisco Giants. So, let's look at the other end of the spectrum. Here is our take on the four teams that nobody expects to win in 2016.
Honorable mentions: Atlanta Braves, Cincinnati Reds
4. Oakland Athletics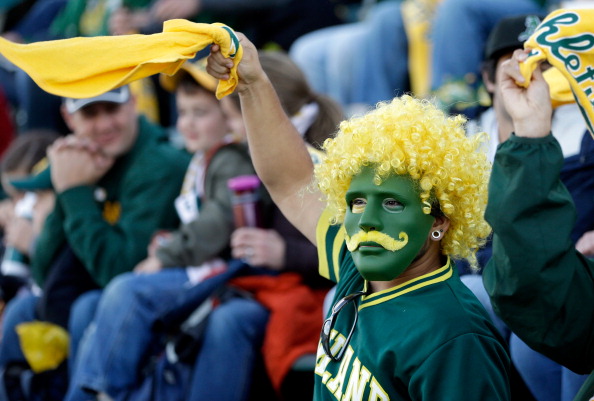 2015 record: 68-94 (fifth in AL West)
Surprisingly, the Oakland Athletics actually rank very well in SOE's breakdown. The A's come in fifth overall (behind the Cardinals, Giants, Tampa Bay Rays, and Pittsburgh Pirates) and are one of only six teams to fall under the "masterful" classification. Oakland received an A for spending per win and smart acquisitions, a B for playoff success and young talent, and a C in homegrown success. Though they may have a bright future and are known for their limited spending as well as signing lesser-known players, 2016 could be rough for the Athletics.
After three straight playoff appearances, Oakland Manager Bob Melvin finally missed the playoffs in 2015 as the team finished dead last in the AL West with 68 wins. Both the offense and pitching were mediocre at best across the board. Unless players develop faster than expected or they make some moves this winter, this team is primed for another fifth-place finish in a very tough division. Some help in the starting rotation behind stud Sonny Gray could be a start.
3. Philadelphia Phillies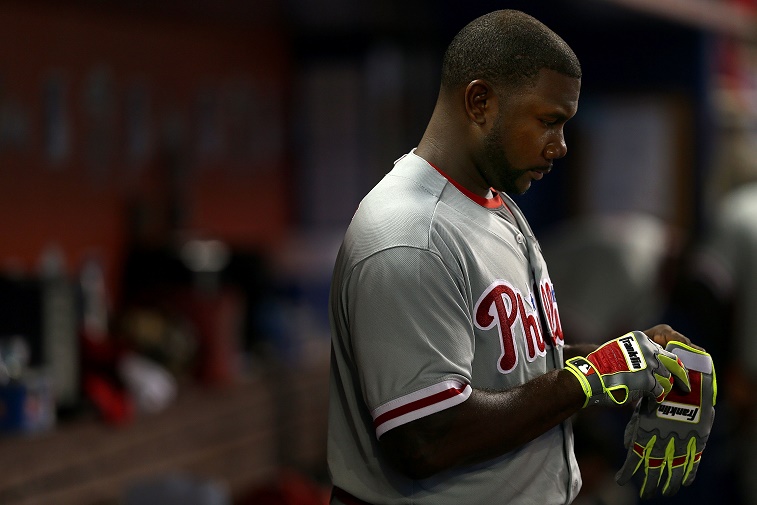 2015 record: 63-99 (fifth in NL East)
The Phillies sit in the middle of SOE's overall rankings at 14th. Labeled under the "effective" category, this organization's decent standing are clearly based on their somewhat recent run of postseason fortune. Their playoff success, smart acquisitions, and young talent earn B's, while homegrown success gets a C and spending per win is stuck with a D.
Despite their brutal string of games under former Manager Ryne Sandberg (who was fired in June), the five consecutive playoff appearances from 2007 to 2011 (including two NL pennants and one World Series title) severely inflate this organization's ranking. The NL East figures to be a dogfight between the Mets and Washington Nationals in 2016. With arguably the best power hitter in the game and a promising group of pitchers, the Marlins should be able to contend for third.
The Atlanta Braves are in full rebuilding mode (like the Phillies), but seem to have the slight upper edge for next season after solid Winter Meetings. Young prospects fill the Philadelphia rotation, and the lineup will likely feature over-the-hill veteran Ryan Howard and a bunch of young players. This team could be good before the decade is up, but for next season, peg Philadelphia for another tough go-around.
[update: this article originally listed Ryne Sandberg as Philly's current manager, it has been corrected to fix that error]
2. Milwaukee Brewers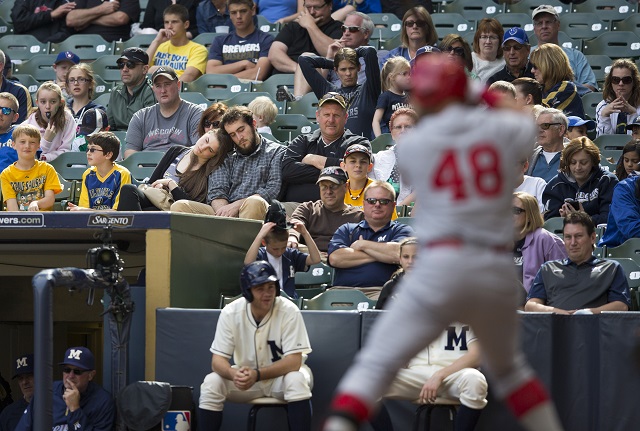 2015 record: 68-94 (fourth in NL Central)
The pair of fans pictured above are likely not the only ones who have been caught napping at a recent Milwaukee Brewers game, as this club endured a rough 2015, which could be followed up with an even worse 2016. Fortunately, like the Phillies, the Brew Crew fall in the middle of SOE's rankings, at 13th overall.
Their spending per win, playoff success, smart acquisitions, and homegrown success all earn solid B's, but their young talent gets a horrid D mark. Although they got the four Bs, they must have been barely on the fringe of a C rating, due to the fact that the only category where they were in the top 10 was homegrown success (seventh).
Similar to Oakland and Philadelphia, Milwaukee makes our bottom four partially because of the strong division they are stuck in. According to the most recent World Series odds, the favorite is the Cubs at 6/1, a Brewers division foe. To make matters worse, fellow NL Central contenders like the Cardinals and Pittsburgh Pirates rank in the top 10 of best World Series odds at 16/1 and 18/1 respectively. The Brewers are tied with the A's for seventh-to-last by the way, at 75/1 odds.
1. Colorado Rockies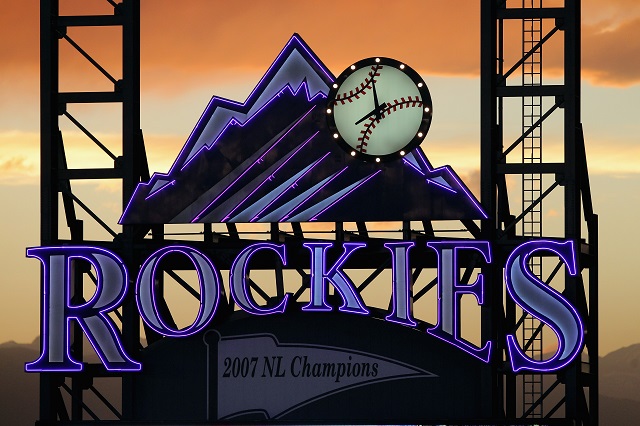 2015 record: 68-94 (5th in NL West)
As one of just five organizations to receive an overall D letter grade, the Colorado Rockies come in a disappointing 27th overall in the report cards. The bottom five (which also include the San Diego Padres, Chicago White Sox, Seattle Mariners, and Minnesota Twins) are given the "needs improvement" classification, a phrase which seems perfectly accurate for Colorado.
The organization gets C's in spending per win, playoff success, homegrown success, and young talent, while being saddled with a D for smart acquisitions. As alluded in SOE's writeup for this team, if not for the magical 2007 run to the World Series, Colorado could be even worse than 27th. Here's a fun fact (not so fun for fans in the Mile High City): The Rockies have never won a division title in their 23-year existence. In fact, they've made the playoffs just three times and both of their series wins came in 2007.
If you look back at the previously mentioned World Series odds, the Rockies are tied with the Padres, Phillies, Reds, and Braves for the lowest chances at 100/1. When your biggest offseason pickup to this point is strikeout machine Mark Reynolds (like this team needs to focus on hitting), you know things are looking bleak. A projected starting five, headlined by an on-the-decline Jorge De La Rosa, an unproven Jordan Lyles, and Tyler Chatwood, is not going to get it done.
Statistics courtesy of MLB.com, Baseball-Reference.com, ESPN.com, and SportsonEarth.com.
Follow Victor on Twitter @vbarbosa1127