MLB: 5 Best First Basemen in the League Today
One of the premier offensive production positions in the majors is without a doubt at first base. Many of the best players and former MVPs come from this spot. Today's game features a plethora of talented first basemen, but we ranked the top five players currently at the position.
5. Joey Votto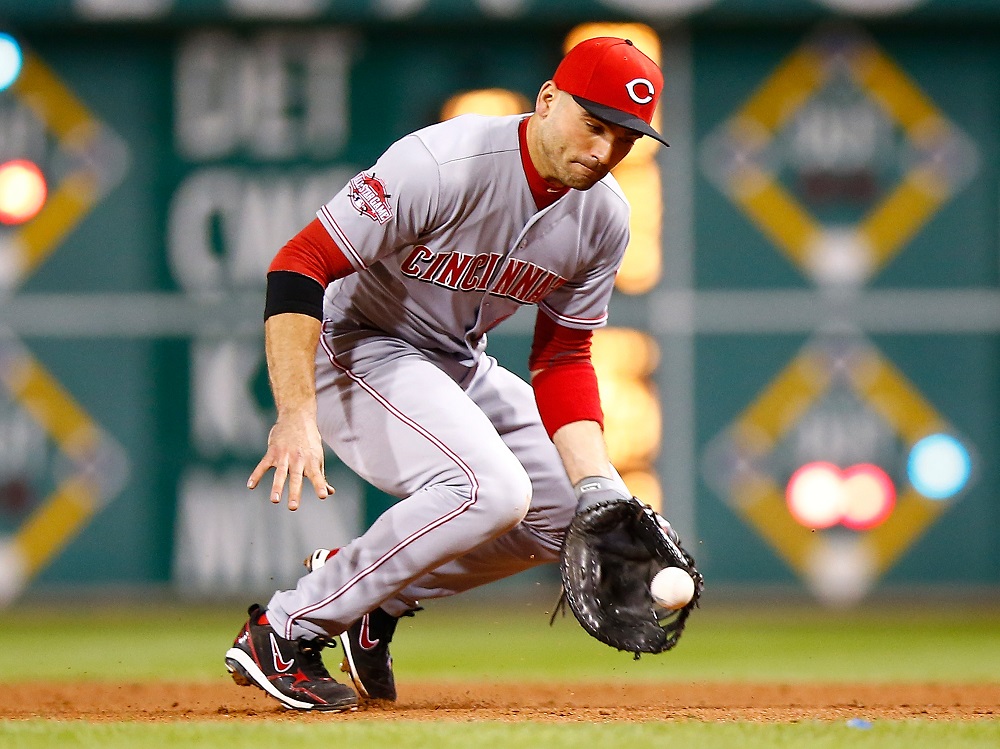 If there was a model of consistency for an all-around offensive player, it would be no other than Cincinnati Reds first baseman Joey Votto. After missing most of the 2014 season due to a knee injury, the 32-year-0ld had another productive season hitting .314 with 29 home runs and 80 RBIs.
The second half of this past season was the most impressive as Votto posted a triple slash of .362/.535/.617 with 14 home runs and 38 RBI in 72 games played. He joined Ted Williams in 1941 and Barry Bonds in 2004 as the only three hitters to record a batting average of at least .362, an on-base percentage of at least .535, and an on-base plus slugging of 1.152 in half of a season. This included tying Pete Rose's club record of reaching base safely in 48 consecutive games.
Votto's stellar play gave ample reason for him to finish third in the National League MVP voting, which was the fourth time he has finished sixth or higher in voting. Votto won the award in 2010 after his best season hitting career-highs in batting average (.324), home runs (37), and RBIs (113). In eight seasons, he has batted .300 over better six times, posted at least a .500 slugging percentage on six occasions, hit 30-plus doubles seven times, and had at least 24 home runs six times. All in all, what Votto proved this season is that he's still an elite first baseman.
4. Chris Davis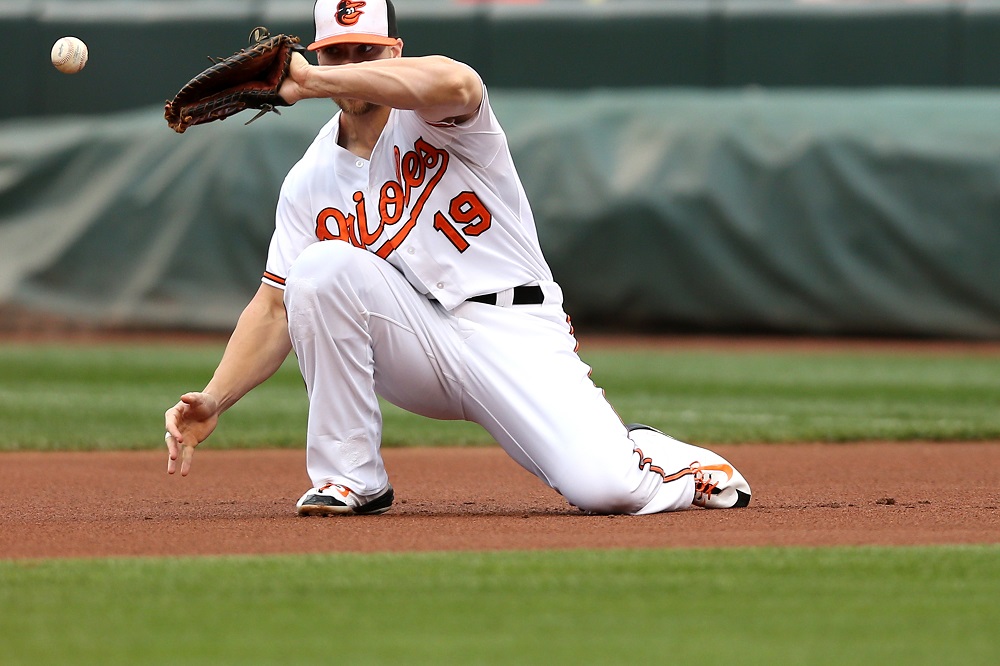 Chris Davis saw his career take off once he was dealt in 2011 from the Texas Rangers to the Baltimore Orioles. Since then, he has become a premier power hitter who has suitably earned the nickname "Crush Davis" following two 45-plus home run campaigns in the last three seasons.
The 29-year-old first received national recognition in his breakout 2013 season batting .286 while leading the league in home runs (53), runs batted in (138), extra-base hits (96), and total bases (370). Although Davis saw a significant drop in his production in 2014, he bounced back in a big way this past season, hitting a league-leading 47 home runs with 117 RBIs while batting .262.
Davis has also proven to be an above-average fielder at his position in 2015 holding a .997 fielding percentage and just three errors, which were both tied for best in the majors among first basemen. He has certainly proven himself to be one of the best players at his position, but the reason why he isn't higher on this list is because he's become a hit-or-miss type hitter. His production comes in a similar fashion to that of Adam Dunn, who had great power but struck out more than 180 times a season. If Davis can improve in that aspect, he could vie for top billing at the position soon.
3. Jose Abreu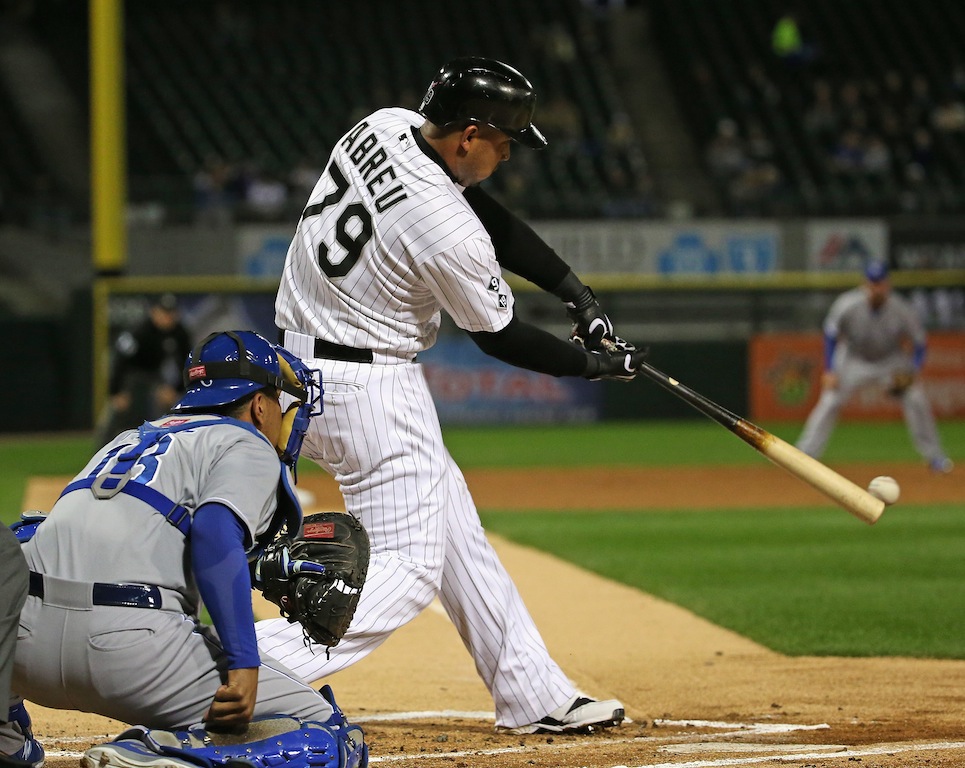 It didn't take long for Jose Abreu to make his mark in the majors in his first season with the Chicago White Sox. He quickly became the face of the franchise and one of the most dangerous hitters in the majors.
Abreu took the league by storm in his first year in 2014 batting .317 with a White Sox rookie record 36 home runs with 107 RBIs. He was unanimously voted the AL Rookie of the Year in a season that included becoming the first player in MLB history to win Rookie of the Month and Player of the Month in the same month twice. He also earned a Silver Slugger award, becoming the second first baseman in White Sox history to earn the honor, joining Hall of Famer Frank Thomas. 
Abreu followed up his impressive rookie campaign with another productive season batting .290 with 30 home runs and 101 RBIs. He joined an exclusive list as he and Albert Pujols (2001-02) are the only players in MLB history to hit 30-plus homer runs and drive in 100-plus RBIs in their first two seasons. Although he isn't anything spectacular defensively, his offensive production alone certainly puts him in the category of the top first basemen in the league.
2. Paul Goldschmidt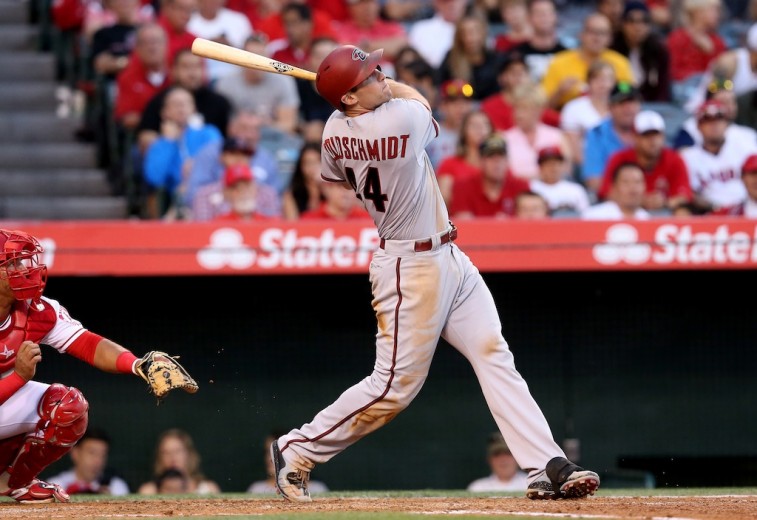 Since making his major-league debut in the 2011 season, Arizona Diamondbacks first baseman Paul Goldschmidt has risen the ranks as not only one of the best players at his position, but also in the entire league. In his first four years, he has three All-Star game selections, two Gold Gloves awards, two Silver Slugger awards, a National League Hank Aaron award, and led the National League in home runs and RBIs in 2013.
Goldschmidt has become a great all-around first baseman who can hit for both power and average while fielding at an elite level at his position. It comes as no surprise that he finished second in the National League MVP voting twice in the last three seasons, and it could have been a third time if he had not missed the last two months of the 2014 season due to a broken hand.
The 28-year-old is only getting better with time as he seemingly found other areas of his game to improve, posting career-highs in 2015 batting average (.321), walks (118), and stolen bases (21). He was able to accomplish all of this despite striking out 151 times last season. Goldschmidt is just entering his prime, and could take over the top spot in the foreseeable future.
1. Miguel Cabrera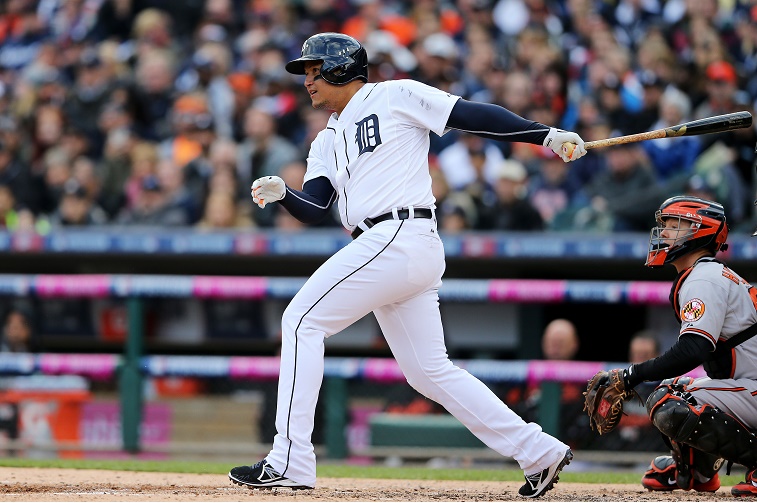 Although he has dealt with an influx of injuries over the past couple seasons, Detroit Tigers first baseman Miguel Cabrera is still the game's top player at his position. The 32-year-old was placed on the disabled list for the first time in his career last season, which forced him to miss a significant chunk of the year. However, he was still able to bat a league-leading .338 while earning his sixth career Silver Slugger award, which certainly speaks volumes of the offensive talent that he possesses.
Prior to his recent string of leg injuries, Cabrera had put together nearly identical back-to-back AL MVP seasons batting at .330 with 44 home runs and at least 137 RBIs. In his first MVP season in 2013, he became the first batter to win a Triple Crown since Carl Yastrzemski in 1967 and the first to accomplish that without a tie in any of the three categories since Frank Robinson in 1966. Although he had that production while playing third base, he has been a first baseman throughout most of his career and has played that position over the last two seasons since the departure of Prince Fielder.
All in all, Cabrera has proven over his career that he is one of the best hitters in the majors. If that isn't enough proof, his resume can do the talking for him as he is a four-time AL batting champion, two-time AL home run leader, two-time AL RBI leader, 10-time All-Star, and has won six Silver Slugger awards. He also notched 30 or more in nine seasons, knocked in over 100 runs in 11 consecutive seasons (2004–14), and has a career .321 batting average that ranks highest among active players who have played at least five seasons in the majors.
Ultimately, Cabrera will remain on the throne as the top first baseman in the MLB until proven otherwise.
All statistics courtesy of ESPN.go.com and Baseball-Reference.com.
Want more great content like this? Sign up here to receive the best of Cheat Sheet delivered daily. No spam; just tailored content straight to your inbox.