Remembering the Biggest Home Runs of David Ortiz's Career
The 2004 World Series champion Boston Red Sox had Curt Schilling, Pedro Martinez, Manny Ramirez and a host of other self-proclaimed "idiots." The 2007 World Series Champion Boston Red Sox had loads of homegrown, up-and-coming talent including the likes of Jacoby Ellsbury, Dustin Pedroia and Jon Lester. The 2013 World Series Champion Boston Red Sox had the bearded band of brothers whose scruffy facial appearances were most prominently on display through Mike Napoli and Jonny Gomes. Through the last dozen seasons, the player with perhaps the most critical role in bringing the recent trio of championships to Boston has been none other than "Big Papi," David Ortiz.
The designated hitter is the only current player on the Red Sox to have been through it all, as a part of each World Series-winning team. To say that Ortiz was an important part of each title win would be a monumental understatement. In the 2004 postseason, Big Papi produced the most clutch of his many, many game-winning hits. Three years later he put up MVP-worthy numbers in the regular season and was a force throughout the playoffs again. Finally in 2013, his "this is our f***ing city" speech following the Boston Marathon bombings set the tone for a historic bounce-back season that ended with an electric game-winning grand slam in the ALCS and a huge World Series individual offensive outburst.
While the Red Sox have fallen on hard times in the past two seasons, one bright spot in his road to retirement was during a 2015 game in St. Petersburg, FL, when Papi joined the exclusive 500-home run club with a majestic moonshot to right-center as a part of his two-homer game. With that hit Ortiz became the club's 27th member and is just the third active player to have reached the milestone, joining Alex Rodriguez and Albert Pujols.
With number 34's career now bound for the record books and Cooperstown let's take a look at the five biggest home runs of Ortiz' career.
* Although Ortiz' 500 home runs only include regular season ones, this list will include ones from the playoffs. That is where he has most obviously made his magic happen.
1. 10/08/04 – ALDS Game 3 walk-off
With your team up two games to zero at home in a best-of-five series, most fans would just assume that their boys would be moving on to the next round. Thanks to decades of misery and finding new ways to lose in the playoffs though, Red Sox fans were far from convinced that their 2004 American League Division Series against the then-Anaheim Angels was over going into game three. Considering that Angels' slugger Vladimir Guerrero had capped a five-run seventh frame with a game-tying grand slam just three innings earlier, the Fenway Faithful was rightfully nervous in this one.
Luckily, solid bullpen work from Keith Foulke and Derek Lowe sent the game to the bottom of the 10th still tied at 6, setting the stage for Papi to take over. Although he had shown Boston his new-found power stroke during the summer and fall of 2003 (as well as all of the 2004 season,) this was really Ortiz' first career-defining moment as the most clutch hitter in team history.
Off of the tough lefty Jarrod Washburn, Big Papi sent the Red Sox to the American League Championship Series where they would have a rematch against the New York Yankees.
2. 10/17/04 – ALCS Game 4 walk-off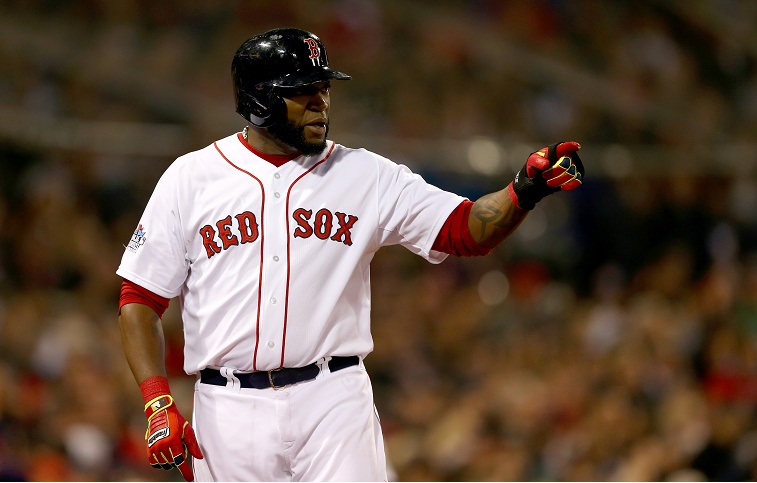 This has got to be the most obvious choice right?
Just nine days following his big blast to get Boston to the ALCS, Ortiz homered off of Yankees relief pitcher Paul Quantrill to keep Boston in the ALCS. Of course, some pretty important things happened leading up to Papi's most memorable home run of all-time (Kevin Millar's walk, Dave Roberts' steal, Bill Mueller's single and great bullpen work,) but the image of Gary Sheffield jogging towards the right field bullpen to no avail is one that is engraved in both Red Sox and Yankees fans' memories alike.
Remarkably, spanning back to game three of the division series, this was the second consecutive team win that ended up in Papi walk-off fashion. As Yankees fan are well aware, Ortiz had more in store for game five.
3. 09/21/06 – Single-season HR record (51st)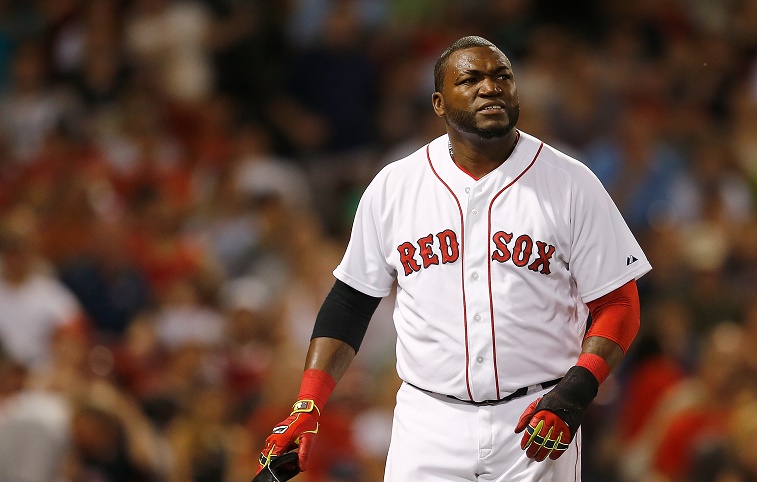 The 2006 season was a lost one for Red Sox Nation. Stumbling to a mediocre 81-71 record entering play on Sept. 21, the fans knew that at 10 1/2 games out of the division, the playoffs would have to wait for another year.
Going into the mid-week series against the visiting Minnesota Twins though, Ortiz was approaching history. After hitting his single-season, franchise-record tying 50th long ball the night before (video below), Big Papi looked for the record breaker at home that Thursday night.
Doing it against the premiere lefty in the game at the time – Johan Santana – would be no easy task though. Ortiz was up for the challenge, as with two outs in the bottom of the first, he took the first offering from Santana up and over the visitor's bullpen in center field to set a new record. Big Papi would finish the season with 54 home runs, a record that still stands today.
4. 10/13/13 – ALCS Game 2 game-tying grand slam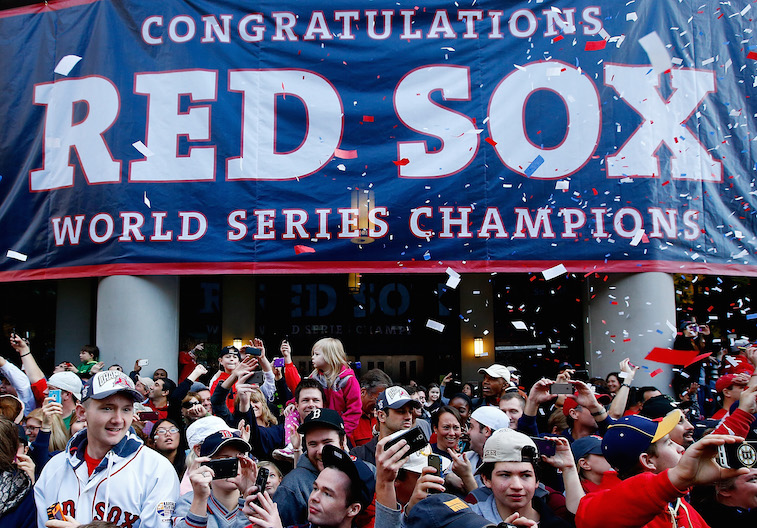 That banner in the picture above is probably not possible unless Ortiz hits the most clutch postseason grand slam (Sorry J.D. Drew) in team history. After nearly being no-hit by Detroit Tigers pitcher Anibal Sanchez in game one of the 2013 American League Championship Series, the Red Sox bats were slow out of the gates in game two the following night.
Trailing 5-1 with two outs in the bottom of eighth, and facing the prospect of heading to Detroit down 0-2 to face Justin Verlander, the Sox needed something big from Big Papi. As if they were expecting anything else?
The first pitch of the at-bat from Joaquin Benoit was right in Ortiz' wheelhouse and cranked on a beeline to right field. The veteran gold glove outfielder Torii Hunter hustled to his right at full speed and made an all-out jump and lunge at the top of the short bullpen wall. The ball barely made it over Hunter's outstretched glove and instantly tied the game, sending Fenway Park into pandemonium. Adding insult to injury (literally,) Hunter took an extremely rough tumble into the 'pen after his amazing effort at saving the game. The image of Boston Police Officer Steve Horgan raising his arms in euphoric celebration is one that will live in city lore for many years.
5. 09/12/15 – 500th career home run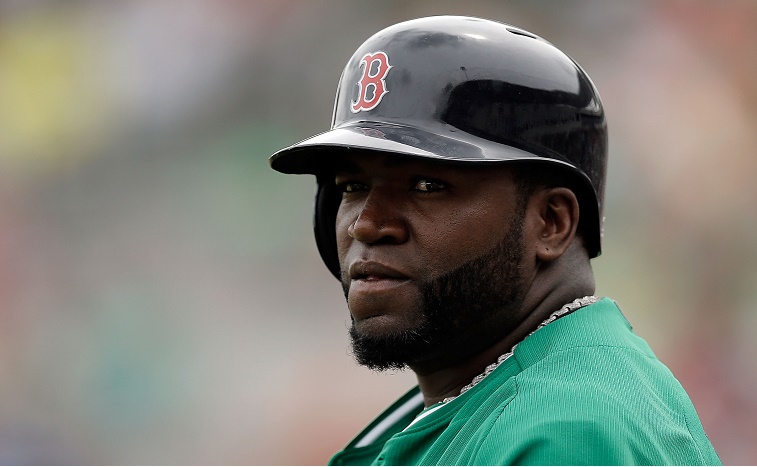 There's something special about the 500-home run club. Maybe it's the exclusiveness, maybe it's the legendary sluggers that make up the class or maybe it's just such a perfect round-numbered statistic (like no other sport, baseball loves it's statistics.)
Big Papi nailing his 500th career dinger only makes his case greater for one day making into the National Baseball Hall of Fame. Sure, there are other members of the club who are not inducted and who likely never will be (Mark McGwire, Sammy Sosa, Rafael Palmeiro,) but Ortiz may be an exception. Like the trio of hitters mentioned, Papi has had his share of performance-enhancing drug allegations and controversies, but if the voters are able to look past that, the greatest designated hitter of all-time should be a lock for enshrinement.
When Ortiz took Matt Moore's 2-2 pitch out of Tropicana Field, it did little to the result of the game. It was his second long ball of the contest and made it 8-0 in the fifth. The hit however, represents Papi's greatest individual milestone to this point of a stellar career. Membership to the 500-home run club symbolizes a player's longevity, consistency and elite power stroke.
Here's an interesting breakdown of some notable facts regarding Ortiz' 500th and his overall career numbers.
All data courtesy of MLB.com and Baseball-Reference.
Follow Victor on Twitter @vbarbosa1127.