MLB
MLB: 5 Biggest September Chokes in Baseball History
This year's Kansas City Royals and St. Louis Cardinals are running away with their respective league's central division titles. As the teams with the two best winning percentages entering play Wednesday, both Missouri clubs are simply playing their remaining regular season schedule as a formality and to put the finishing touches on a roster primed for success in the playoffs.
With postseason probability percentages at "100 percent" – the only two squads currently at that figure – MLB.com has the Royals and Cardinals rightfully as the two safest bets to be playing into the middle of October. And while 100 percent by definition means a sure thing, until their magic numbers have reached zero for the division title, or they receive the coveted "x" next to their team name (meaning they have clinched a spot in the playoffs) there will always be a chance for the epic collapse in Kansas City and St. Louis.
Imagine Ned Yost's defending American League champions not qualifying for the postseason in 2015. What if Mike Matheny's group unfathomably lost 30 in a row to close the season, while each of the National League teams chasing them went on an extreme hot streak? These situations are laughable, but crazy things happen during baseball's final month of the regular season all the time.
September choke jobs of this magnitude would be perhaps unprecedented, but here's a reminder of five teams in baseball history who thought they had a playoff berth wrapped up and whose play crumbled before our very eyes. These are some of the biggest September collapses in baseball history, listed in chronological order starting with the earliest occurrence.
1. 1951 Brooklyn Dodgers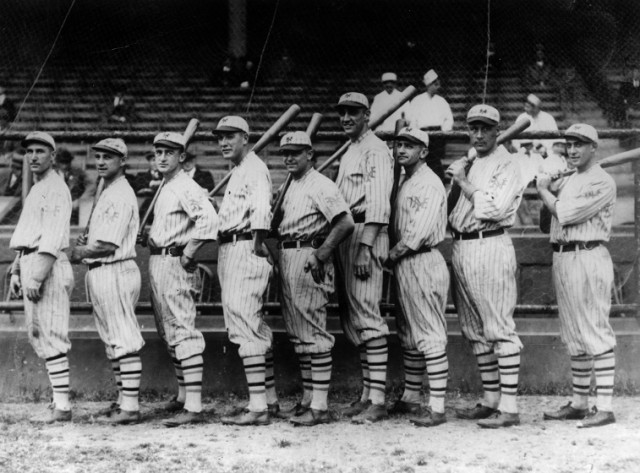 *The above picture is of the now-defunct New York Giants baseball team on an unspecified date. The team was the beneficiary of the Brooklyn Dodgers' collapse. 
National League Standings entering play Sept. 1
1. Brooklyn Dodgers – 82-45 – .646
2. New York Giants – 76-53 – .589 – 7 GB
National League Standings following play Oct. 3
1. New York Giants – 98-59 – .624
2. Brooklyn Dodgers – 97-60 – .618 – 1 GB
The earliest and possibly still to this day most famous example of a September collapse is that of the 1951 Brooklyn Dodgers. Of course, everybody knows the name Bobby Thomson and knows how he hit maybe the most talked about home run – the "Shot Heard 'Round the World" – in MLB history. But what events transpired leading up to the New York Giants thrilling pennant chase 64 years ago?
First of all, you have to remember that back in 1951 there were no wild cards, no divisions and heck, no league championship series either. Both the American League and National League were made up of eight teams. At the conclusion of the regular season (Oct. 3), the team with the best record from each league would face each other in the World Series. After securing the AL pennant, the New York Yankees awaited their opponent with intrigue that early fall day.
As noted above in the standings, the Dodgers looked to be in cruise control entering September at 36 games above .500 and with the best record in all of baseball. With a lineup including the likes of Jackie Robinson, Roy Campanella, Gil Hodges, Pee Wee Reese and Duke Snider, along with a rotation headlined by Don Newcombe and Preacher Roe, fans in Brooklyn were already preparing for a match up in the World Series with their cross-city rivals. After stumbling a bit at 15-13 going into the winner-take-all game against the Giants (who went a scorching 21-6 to close), the game came down to the ninth inning. In the first ever nationally-televised baseball game, this happened.
2. 1978 Boston Red Sox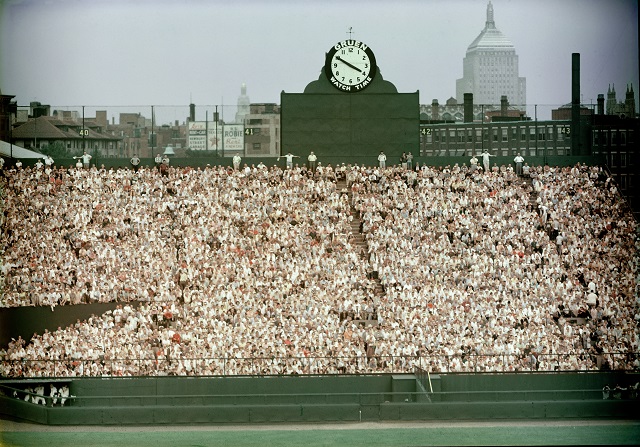 *The above picture is of Boston Red Sox fans packing the Fenway Park bleachers during a game in the 1960s.
American League East Standings entering play Sept. 1
1. Boston Red Sox – 84-48 – .636
2. New York Yankees – 76-54 – .585 – 7 GB
American League East Standings following play Oct. 2
1. New York Yankees – 100-63 – .613
2. Boston Red Sox – 99-64 – .607 – 1 GB
The year was 1978 and the New York Yankees/Boston Red Sox rivalry was at one of its many peaks. Just two years prior, the teams clashed in one of their most intense brawls during a regular season game at the old Yankee Stadium. For as many classic fights that the two historic franchises have taken part in, each team has also had many players hit season-changing home runs in clutch situations. Before there was Aaron Boone in 2003 and David Ortiz in 2004, a light-hitting shortstop by the name of Bucky "Bleeping" Dent hit one of the most unexpected, memorable long balls to cap off New York's division title comeback and Boston's collapse.
Going into September – again, still with no wild card berth in the picture – the Red Sox led the Yankees by a seemingly comfortable seven game margin in the AL East. Then, New York heated up and Boston cooled down. By Sept. 16, the Red Sox had lost 13 of 16 and now trailed the Yankees in the division by 3.5 games. To be fair to the Red Sox, they then proceeded to finish the regular season by winning 12 of 14 contests, including seven in a row to close, and force a game 163 tiebreaker versus their rivals.
Despite holding a late-game lead, Dent – who was the nine hitter that day – hit a game-winning home run into the green monster and that was all she wrote. Below is a video of the infamous shot. *Red Sox fans, you have been warned.
3. 2007 New York Mets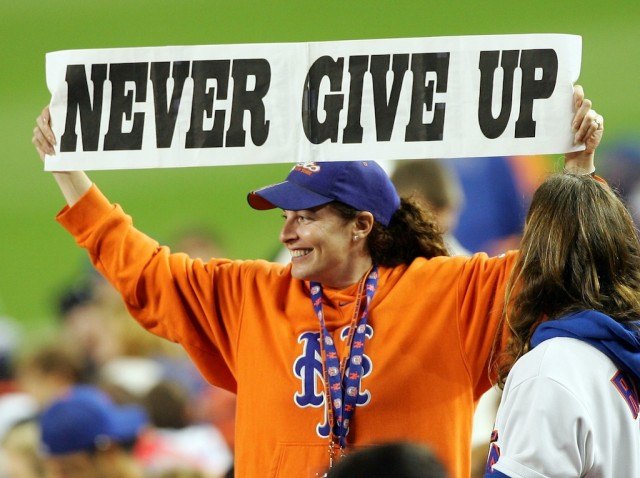 National League East Standings entering play Sept. 1
1. New York Mets – 74-60 – .552
2. Philadelphia Phillies – 72-62 – .537 – 2 GB
National League East Standings following play Sept. 30
1. Philadelphia Phillies – 89-73 – .549
2. New York Mets – 88-74 – .543 – 1 GB
Here on Sept. 2, the New York Mets hold a steady 6.5 games lead in the National League East and are primed for a return to October baseball. Stop me here if you've heard this one before.
While the 2015 Amazin's have been one of baseball's best stories, you don't have to look too far back to find the franchise entering a similar situation in the final month of play. Yes, this years team is obviously way different from 2007's, but let's recap what happened eight years ago in Flushing, NY. After coming oh so close to reaching the World Series in 2006, the Mets returned with a bang the following season. With Carlos Delgado, David Wright and Carlos Beltran powering the way, fans at Shea Stadium were ready for another late October run. In all honesty, this September collapse did not even begin until after the 12th. At that point, New York held a seven-game stranglehold on the division over trailing Philadelphia.
Then, the Mets went 5-12 to close the year, while the Phillies finished 13-4. Do the math and you have an legendary collapse. 2008 unfortunately brought back haunting memories for those deprived Mets fans, so here's hoping 2015 can bring a bit more luck down the stretch.
4. 2011 Boston Red Sox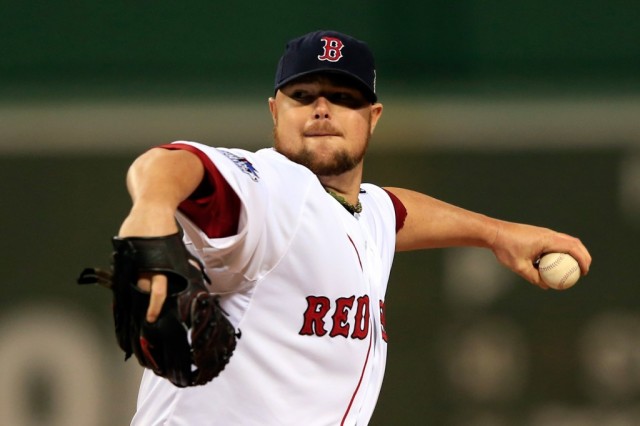 American League Wild Card Standings entering play Sept. 2
1. Boston Red Sox – 83-54 – .606
2. Tampa Bay Rays – 74-63 – .540 – 9 GB
American League Wild Card Standings following play Sept. 28
1. Tampa Bay Rays – 91-71 – .562
2. Boston Red Sox – 90-72 – .556 – 1 GB
After missing out on the playoffs in 2010 for the first time in four years, Boston Red Sox management dished out millions and millions of dollars during the off-season to bring in outfielder Carl Crawford. They also traded for superstar Adrian Gonzalez to complete their star-filled lineup. Pair that with a rotation of arms including Jon Lester, Josh Beckett and John Lackey and you had the easy favorites to win the 2011 World Series. After a stunningly slow start to the new season, the Red Sox played like the best team in baseball for four and a half months. Then September happened.
Even after surrendering the division lead to the Yankees on Sept. 1, Boston still had a monstrous nine-game cushion in the wild card race. Then all of a sudden, the bats couldn't capitalize in big situations and the pitching became reminiscent of a softball league group. They dropped 17 of their next 25 games and lost in painful, walk-off fashion to the Baltimore Orioles on Sept. 28. Just minutes later, down in Florida, the Tampa Bay Rays capped off a wild come-from-behind win of their own to snag the last playoff berth.
Stories of chicken and beer in the clubhouse were leaked shortly thereafter and an impulse, ill-advised firing of manager Terry Francona came quickly. Hey, at least the Sox had some company with their 2011 meltdown…
5. 2011 Atlanta Braves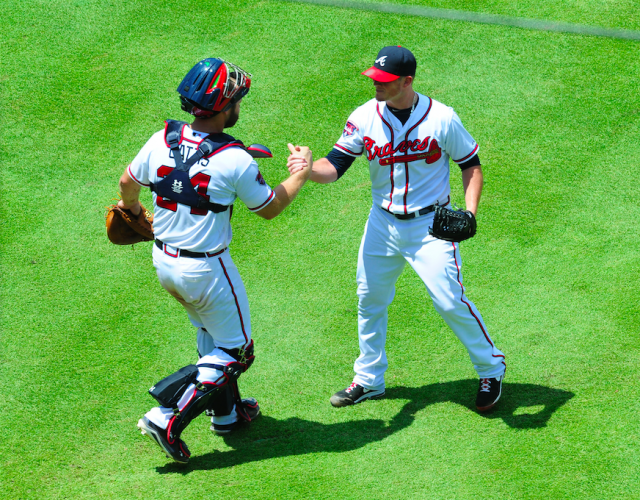 National League Wild Card Standings entering play Sept. 2
1. Atlanta Braves – 81-56 – .591
2. San Francisco Giants – 73-65 – .529 – 8.5 GB
3. St. Louis Cardinals – 73-65 – .529 – 8.5 GB
National League Wild Card Standings following play Sept. 28
1. St. Louis Cardinals – 90-72 – .556
2. Atlanta Braves – 89-73 – .549 – 1 GB
Going into action on Sept. 2, the Atlanta Braves were in a nearly identical situation as the Red Sox. The Braves had a nice 8.5 game lead in the wild card standings and looked like they could do some serious damage in the playoffs once they got there. Manager Fredi Gonzalez' bunch fell on hard times during the final few weeks though and like Boston, lost in dramatic fashion in game 162.
They wrapped up their season-long five game losing streak in the loss to the Phillies and while the Sox had the fortune of dropping their heart-breaker on the road, Braves players walked off the field in defeat in front of their own home crowd.
After winning no fewer than 12 games in any month from April through August, the Braves went a horrific 9-18 in the final month. One critical difference between the two fates of the 2011 Red Sox and 2011 Braves? Gonzalez was given another chance unlike Francona. In fact, Gonzalez is still managing in Atlanta to this day.
All data is courtesy of MLB.com, Baseball-Reference.com and ESPN.com.
Follow Victor on Twitter @vbarbosa1127.