MLB: 5 NL Pitchers Who Have Been a Disappointment in 2015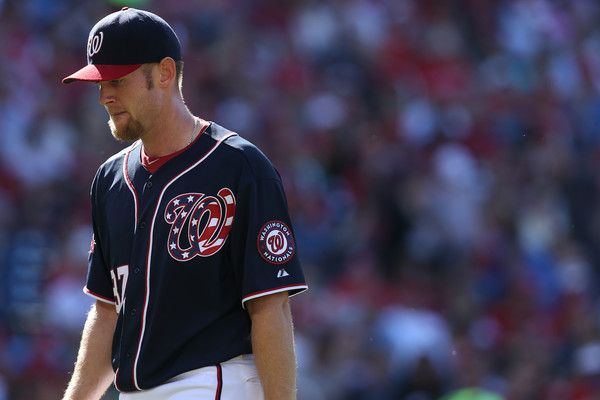 This season, the National League has seen some stellar pitching performances. Jacob deGrom, Matt Harvey, and Noah Syndergaard have led a spectacular rotation for the New York Mets. Jake Arrieta has been on a tear for the Chicago Cubs. The St. Louis Cardinals seem to have an infinite number of arms, owning the best ERA in baseball by a long shot.
While there have been all of these great performances on the mound throughout the season, some pitchers have been utterly disappointing. Even though some may have expected these arms to be major contributors to their teams, these players have instead vastly underachieved and (in many cases) hurt their respective clubs' playoff hopes.
Clearly, this is not a list you want to be on as a professional athlete, but here it is, the 5 most disappointing pitchers in the National League in 2015:
5. Jorge De La Rosa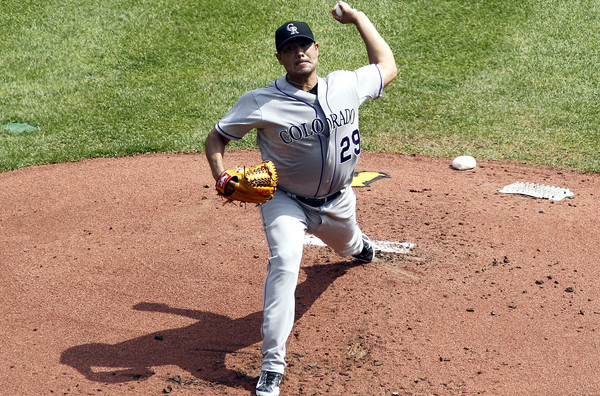 If you pitch for the Colorado Rockies, your season has probably been one of disappointment. That is definitely the case for Jorge De La Rosa. His ERA stands at 4.40, he has only won 8 games, and has given up a bunch of runs. All for a supposed ace of a Major League staff. The truly depressing thing about De La Rosa's season is that he is still the best arm the Rockies have.
It's not as if anyone was expecting anything big from De La Rosa in 2015. He has always been an emotionally unstable and inconsistent pitcher that makes you think he can lead a staff, only to let you down in the end. In season number 11 in the big leagues (8 of which have been in Colorado), the expectation was for De La Rosa to at least lead a young rotation. He has failed to do that and it wouldn't be surprising to see him on another team next season. Ultimately, that is probably the better career move for him and the Rockies.
4. Matt Garza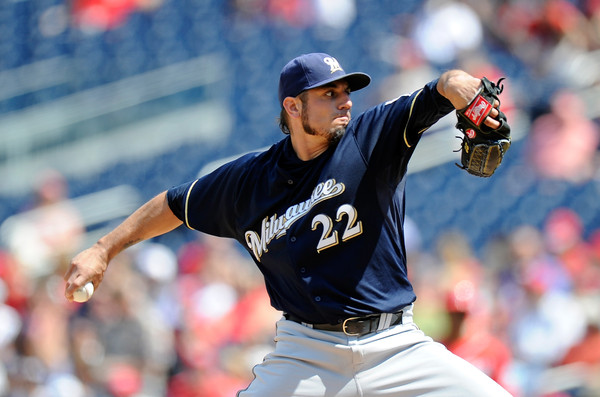 When you own a 5.56 ERA on the season, you are going to be denounced as a disappointing player. When your name is Matt Garza and you are expected to be better but still have those numbers, that's a recipe to be recognizably disappointing. Yes, the once solid and productive Garza has turned into a shell of his former self, holding that sub-par earned run average and just 6 wins (vs. 14 losses) for the Milwaukee Brewers. Only a season ago, he managed a decent season with an ERA in the mid-3s. He put together several solid seasons with the Tampa Bay Rays and Chicago Cubs. Now, people are wondering where the production went.
In reality, a lot of things have gone wrong for the Brewers, who own one of the worst records in the league. Pitching has been a big reason for their struggles, ranking 23rd in team ERA. For Garza to be one of the biggest parts of that struggle instead of a saving grace of the rotation is what makes his season so frustrating. For a guy that has shown legitimate flashes of brilliance in the past, one can only hope that he is able to rework his mechanics and figure things out next season.
3. Jeremy Hellickson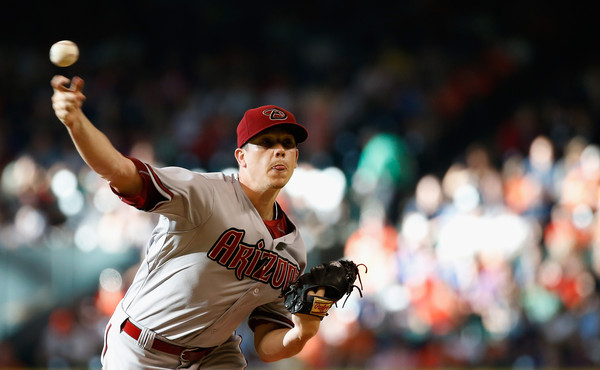 Another former Tampa Bay Ray, Hellickson has underachieved this season for the meddling Arizona Diamondbacks. After three great seasons to begin his career with the Rays in which he threw for ERAs all under 3.50, Hellickson has now struggled for the past three seasons, posting earned run averages all north of 4.50. This was his first season in the desert and he was expected to regain the form he held in those first few seasons. Instead, things have gotten even worse for the right hander, throwing for the second-highest ERA of his career at 4.60.
In Arizona, Hellickson needed to be the ace of a less-than spectacular staff. The team ranks 20th in team ERA, in due part to Hellickson's struggles. It's tough to say if this guy can ever turn his career back around, seeing as he has now been terrible for three straight seasons. The Diamondbacks will probably retain him in hopes that he can improve, but for now, Hellickson is nothing more than a disappointment in 2015.
2. Gio Gonzalez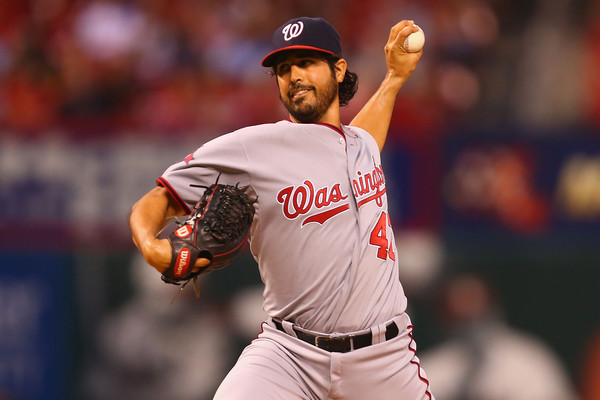 So much has gone wrong for the preseason World Series Champion Washington Nationals. They have fallen behind (way behind) the New York Mets and appear to be on the brink of blowing it all up. Their pitching staff (while good at times this season) has certainly done its fair share to assist in the disappointment. Apart of that is once near-ace Gio Gonzalez, who has given the word "underachieving" a whole new meaning.
The numbers are far from the worst in baseball, but they are also far from the best. His ERA stands at 4.13 (highest since 2009), his strikeout numbers are down, and he's only picked up 9 wins. Gonzalez was once thought of has one of the best pitchers in the game, mostly as a result of his great 2012 campaign with the Nationals. Now, everything has seemingly gone awry for the 7-year pro. The talent is there, so a turnaround season is not far-fetched for Gonzalez next season. Still, he has been a big contributor to yet another season in Washington that has fallen short of the preseason hype.
1. Stephen Strasburg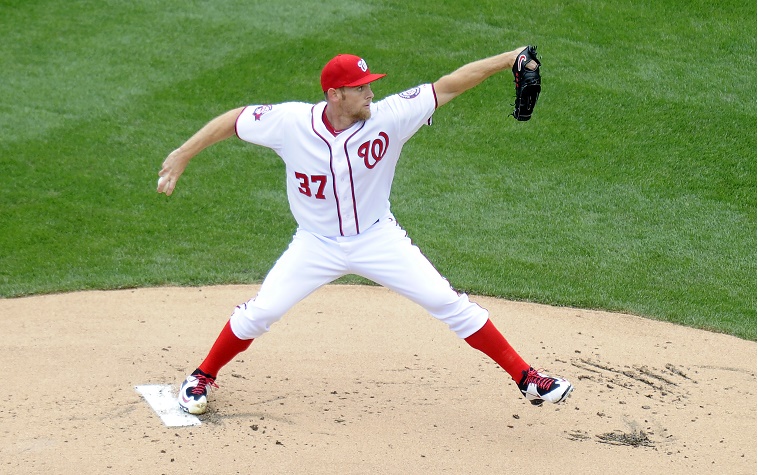 One team, two disappointing pitchers. If that doesn't sum up the Nationals' season, it's hard to say what does. Strasburg has been essentially non-existent in 2015, with injuries taking up a large chunk of his campaign. When he has been on the mound, however, fans probably would have rather seen him on the disabled list. He owns a 4.35 ERA in 18 starts this season, easily the highest of his young career. The strikeout numbers have also seen a sharp decline and the number of hits given up have risen. Strasburg is far removed from his days of being touted as one of the most tantalizing pitching talents we've supposedly ever seen.
Of course, his health is a big concern. The guy has basically spent what feels like half of his career on the disabled list (as of right now, he is on the day-to-day list). It's a shame to see such a talented guy struggle with those issues, which have clearly affected his performance on the mound. Still, you can't create a list of disappointing NL pitchers in 2015 without Strasburg topping said list. We probably haven't seen the last of the greatness from Strasburg, but he will have to find a way to get healthy if he plans on pitching into his 30s even