MLB
MLB: 5 of the Most Memorable Brawls in Baseball History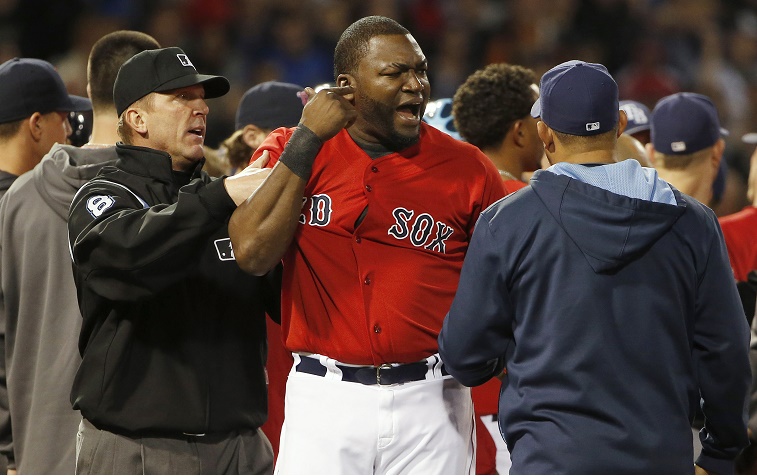 An intense baseball brawl starts innocently enough. The most common occurrences that predicates a big fight seem to be when teams trade hit batsmen and high and tight ones that are a bit too close for comfort. But a just dirty-enough slide into second base or a just too slow trot around the baseball diamond after a long ball can also turn an innocent baseball event into an all-out melee.
As we are still stuck in Spring Training games, it appears unlikely that any significant confrontations will happen before the first week of April. With some time to cool down before the heat is turns up, we now look at five of the most memorable brawls in baseball history, placed in chronological order.
1. Red Sox vs. Yankees
This is one that you may not have seen coming, but given the pair of teams competing, it was far from a surprise. On May 20, 1976, the Boston Red Sox visited the New York Yankees in a springtime divisional clash. With fiery players such as Bill "Spaceman" Lee and Mickey Rivers on each respective roster, the potential for a fracas was always there.
In the bottom of the sixth inning, Yankees right fielder Otto Velez knocked a single into right. As Dwight Evans came up with the ball, New York designated hitter Lou Piniella rounded third base simultaneously in an attempt to score. Evans made a perfect throw on one hop to Sox catcher Carlton Fisk, and he and Piniella met with a nasty collision at home plate.
They actually became tangled for a couple of seconds, and then mayhem ensued. Both benches cleared and loads of punches were thrown. After about a minute, the action seemed to calm down — before Lee, that game's starting pitcher who had injured his arm in the fight, stirred things up with Rivers and company and more mayhem transpired. That, ladies and gentlemen, is Yankees versus Red Sox.
2. Robin Ventura vs. Nolan Ryan
Fast-forward nearly two decades later and we have one of the more infamous brawls that produced an iconic fighting sequence between the then-46-year-old Nolan Ryan and a youthful 26-year-old Robin Ventura.
In the top of the third frame of the Aug. 4, 1993 matchup, the veteran Ryan came up and in on Ventura, nailing him in the upper back/elbow area. The infielder took two steps toward first and then charged. He dropped his bat and flung off his helmet, darting for the prepared "Ryan Express." Judging by the footage, we will say that the old guy got the better of the fresh face in this one.
3. Pedro Martinez vs. Don Zimmer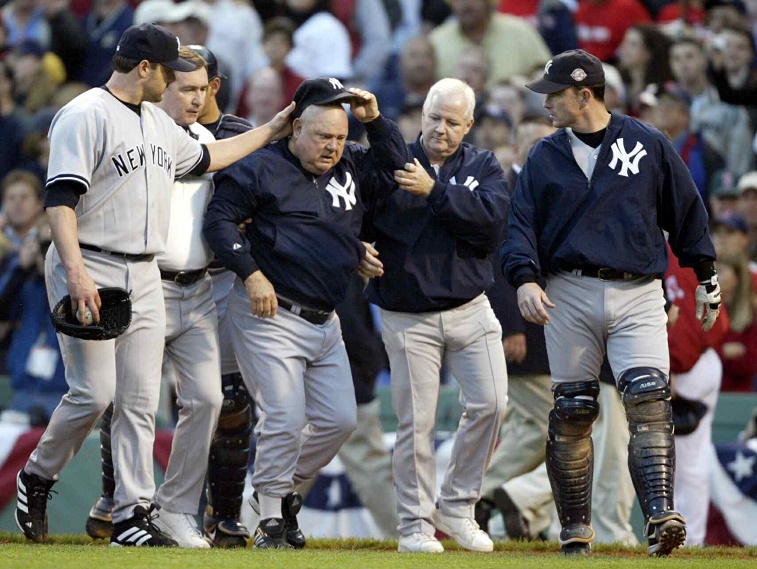 Talk about an unlikely duo for a bout. On one side was Red Sox stud starting pitcher Pedro Martinez, no stranger to ballplayer-to-ballplayer conflicts. Heading into this Oct. 11, 2003 game against the rival Yankees (ALCS Game 3), Martinez had already had experiences squaring off against the likes of Mike Williams and Gerald Williams.
In the other corner this time though was New York bench coach Don Zimmer, a senior citizen no less. Unlike the other brawls on this list, this game had massive stakes, as the teams were tied at one game apiece in the ALCS and, of course, this was a full year before the Red Sox broke the "Curse of the Bambino."
Things started to get testy at Fenway Park in the top of the fourth when Martinez drilled outfielder Karim Garcia in the back. Garcia clearly took exception to the pitch and barked at the hurler, which led to both benches being warned. Later in the inning, during a shouting match with Yanks catcher Jorge Posada, who was in his team's dugout, the Hall of Fame pitcher controversially pointed to his head, possibly indicating that Posada was next on Martinez's hit list.
Manny Ramirez led things off in the bottom of the inning against Roger Clemens and took some high cheese near the noggin, leading to the embarrassing Martinez/Zimmer debacle. Given the severe mismatch, the scuffle between the two did not last long, but it left an even darker cloud over No. 45's head in the eyes of Bomber fans, and Zimmer became an unlikely enemy for Red Sox Nation.
4. A.J. Pierzynski vs. Michael Barrett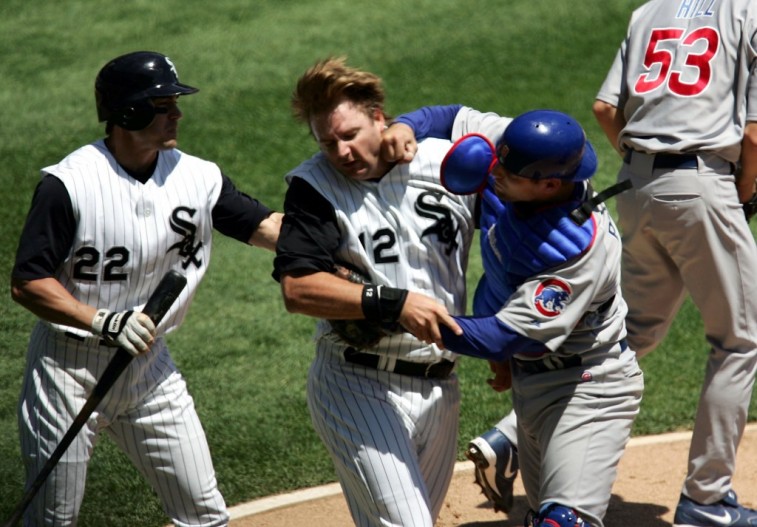 This year will mark the 10th anniversary of the marvelous A.J. Pierzynski/Michael Barrett encounter. The two catchers, playing for the Chicago White Sox and Chicago Cubs respectively, squared off in this May 20th, 2006 inter-league showdown at U.S. Cellular Field.
In the bottom of the second inning, with Pierzynski at third, a fly ball was skied into left, just deep enough for the backstop to attempt a tag up and dash. The White Sox catcher tagged and made a beeline for home plate, ultimately colliding hard with Barrett, who could not hold onto the ball.
Either to ensure a safe call by the umpire or to rub it in Barrett's face, Pierzynski emphatically slammed his right hand on the dish after the collision, immediately setting the Cubs player off. As the home crowd roared with enthusiasm about the run scored, Pierzynski began to make his way back to the dugout, but was soon met by the arms (and right fist) of Barrett. Unsurprisingly, this set off a lengthy skirmish resulting in multiple player ejections.
5. Cardinals vs. Reds
Each of the previous brawls were preempted by either an aggressive crash at home plate or too many pitches up near the batter's helmet. This gem courtesy of the St. Louis Cardinals and Cincinnati Reds was sparked apparently by Reds second baseman Brandon Phillips saying in an interview the night before that he "hated" the Cardinals.
As Phillips began his stroll up to the batter's box in the bottom of the first inning of this Aug. 10, 2010 affair, he and Cardinals catcher Yadier Molina quickly begin jawing at each other. In what begins as a relatively tame argument eventually turns into quite a display.
A pile of players on both teams get into what almost resembles a not-so-friendly mosh pit and it gets dangerously close to some of the fans behind home plate. With scores of athletes scrunching up against the netting, many punches are thrown and kicks are given. At the end of the night, St. Louis defeated Cincinnati 8-4, but who really cares about that?
Follow Victor on Twitter @vbarbosa1127
Statistics courtesy of Baseball-Reference.com.