MLB: 5 Players to Wear Both Red Sox and Yankees Uniforms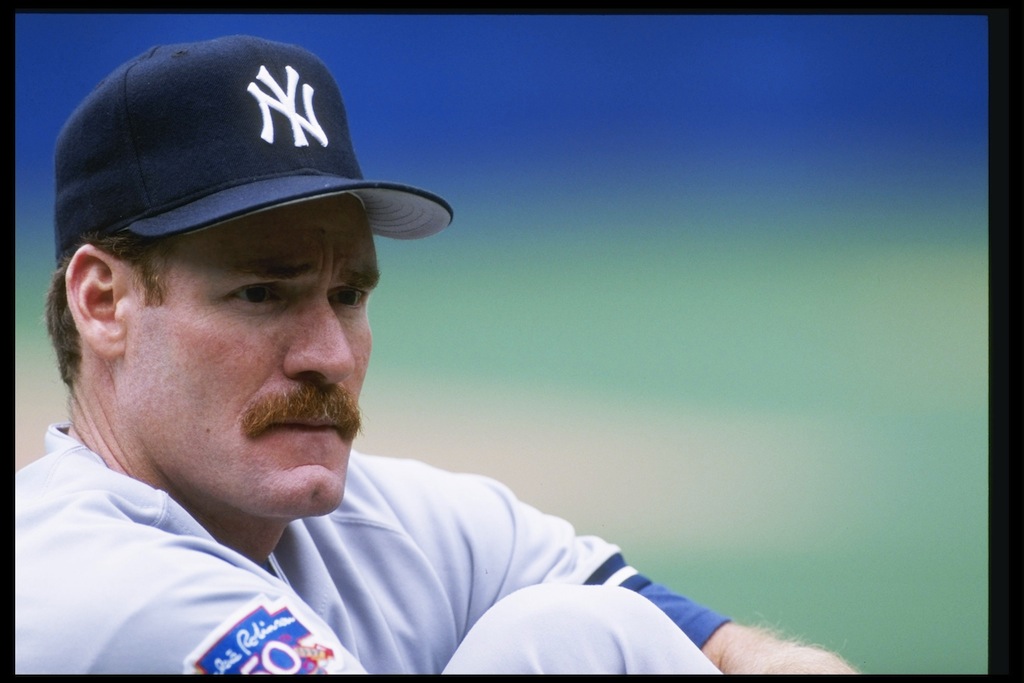 When you think of seven-time Cy Young award-winner Roger Clemens, you probably jump to the embattled hurler's dwindling chances at making the National Baseball Hall of Fame. But when considering his controversial career and battles with performance-enhancing drug allegations, do you envision him as the stud who came up with the Boston Red Sox and spent 13 seasons with the organization (including a trio of Cy Young campaigns) or do you see him as an older, but still successful pitcher who spent six of his final nine years in the bigs sporting New York Yankees' pinstripes?
How about legendary outfielder Johnny Damon, who was a fan favorite in both Boston and New York during his four-year tenures with each club? For a rivalry as fierce and historic as the one between "Beantown" and the "City that Never Sleeps," there are a stunning amount of players throughout MLB history who donned both jerseys at one point or another in their careers.
Maybe this speaks to the argument that most of the past hatred and animosity was fan-based, but then how do you explain the many, many well-known brawls between the teams? With yet another chapter (albeit a Spring Training version) of Sox/Yanks taking place earlier this season, here are five of the best players to wear both Red Sox and Yankees uniforms.
1. Babe Ruth
Statistics with Red Sox (1914-1919): 89-46, 2.19 ERA, 483 SO, 1,190.3 IP in 158 games pitched; 49 HR, 224 RBI 13 SB, 1,110 AB, .308/.413/.568/.981 in 391 games played
Statistics with Yankees (1920-1934): 5-0, 5.52 ERA, five SO, 31 IP in five games pitched; 659 HR, 1,978 RBI, 110 SB, 7,217 AB, .349/.484/.711/1.195 in 2,084 games played
Whether you know him as "The Bambino," "The Sultan of Swat," or simply "The Babe," George Herman Ruth is arguably still the best (and most famous) player in baseball history. Ruth's called shot, his majestic home runs, and remarkable success in his early pitching days are what made him truly one of a kind. Not only is Ruth the best all-around player the sport has ever seen, but he singlehandedly altered the history of two baseball franchises, the Red Sox and Yankees.
Before he was infamously moved from the Sox to the Yanks for $100,000 in late 1919, Ruth put together an amazing pitching career with Boston. What he did in the Bronx for 15 years was even more memorable though, as he constructed one monster season after another and became the face of MLB not only for the '20s and '30s, but for all of its history. Without Ruth, there would be no rivalry.
2. Roger Clemens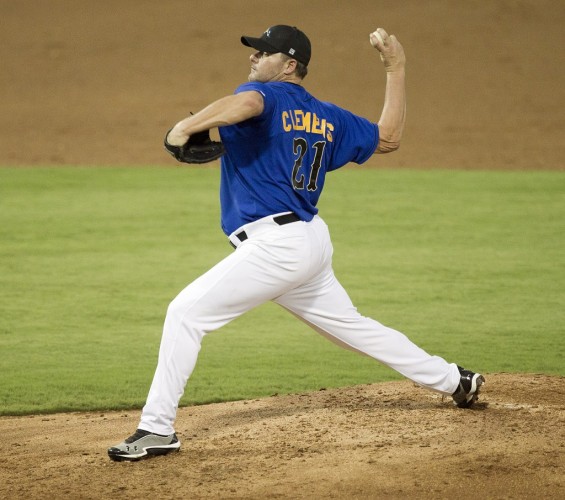 Statistics with Red Sox (1984-1996): 192-111, 3.06 ERA, 2,590 SO, 2,776.0 IP in 383 games pitched
Statistics with Yankees (1999-2003, 2007): 83-42, 4.01 ERA, 1,014 SO, 1,103 IP in 175 games pitched
Virtually no one can match what "The Rocket" accomplished on the baseball diamond across his two-plus decades in professional baseball. He holds all kinds of records and his brash, confident attitude on the bump must have frightened opposing batters. For Clemens, it all started when Boston took him 19th overall in the 1983 amateur draft.
From his May 15, 1984 debut at Fenway Park through his Sept. 16, 2007 finale (this time as a Yankee visiting Fenway), it was mostly smooth sailing on the mound for the big righty. He had the more impressive overall numbers during his first 13 seasons in Boston, but the playoff successes and four of his Cy Young awards were garnered post-Red Sox (one with the Yankees).
After getting a bitter taste of championship defeat in the classic 1986 World Series against the New York Mets, Clemens finally won a pair of titles in 1999 and 2000 with the Bombers. In typical Clemens fashion though, the latter Fall Classic did not come without some considerable controversy, as seen in the video below.
3. Wade Boggs
Statistics with Red Sox (1982-1992): 85 HR, 687 RBI, 16 SB, 6,213 AB, .338/.428/.462/.890 in 1,625 games played
Statistics with Yankees (1993-1997): 24 HR, 226 RBI, four SB, 2,240 AB, .313/.396/.407/.803 in 602 games played
Just three years prior to Clemens bolting Boston, third baseman Wade Boggs broke Red Sox Nation's collective heart when he, too, signed as a free agent with the hated Yankees following the 1992 season. The Hall-of-Famer, like Clemens, was drafted by the organization, as Boggs was chosen in the seventh round of the 1976 event. He did not break into the major leagues until 1982, but the Nebraska native sure made up for lost time.
In 11 seasons with the Sox, Boggs made eight All-Star teams, won five Silver Slugger awards, and finished as a top-10 AL MVP vote-receiver from 1985 through 1988. Boggs was also a member of that ill-fated 1986 Red Sox squad, but similar to his teammate, earned a World Series championship with the Yankees in his second season.
The now-57-year-old racked up four straight All-Star appearances in his first four years in New York, while winning his only two Gold Glove honors in 1994 and 1995. Boggs wrapped up his playing career with two years with the Tampa Bay then-Devil Rays, where he picked up his 3,000th career hit in his final season.
4. Johnny Damon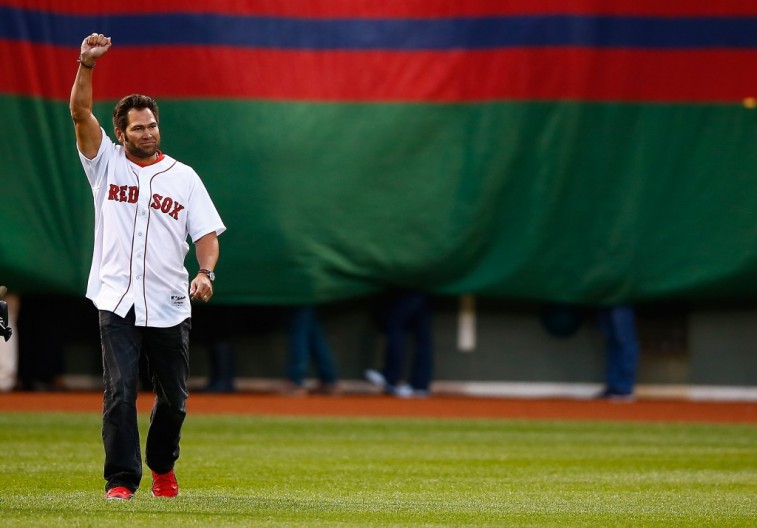 Statistics with Red Sox (2002-2005): 56 HR, 299 RBI, 98 SB, 2,476 AB, .295/.362/.441/.803 in 597 games played
Statistics with Yankees (2006-2009): 77 HR, 296 RBI, 93 SB, 2,231 AB, .285/.363/.458/.821 in 576 games played
Less than 18 months after he helped break the "Curse of the Bambino", Johnny Damon stunned much of the baseball world when he left the Red Sox to sign as a free agent with the Yankees in January 2006. Gone was the iconic, bushy Jesus-like beard and in place was a clean-shaven Damon when he moved to the Bronx.
It was a curious move on the lefty's part, but he proved to New York that they made a smart investment as he nearly matched his great numbers that he put up in Beantown. He made a pair of All-Star teams during his time with the Sox and posted a great batting average of .295.
In an identical four years with the Yanks, Damon hit 21 more homers, only had five fewer stolen bases, and his slash line was stunningly similar. Given Damon's advanced age, the Yankees sure got more than they could have asked for in the services of No. 18.
5. Jacoby Ellsbury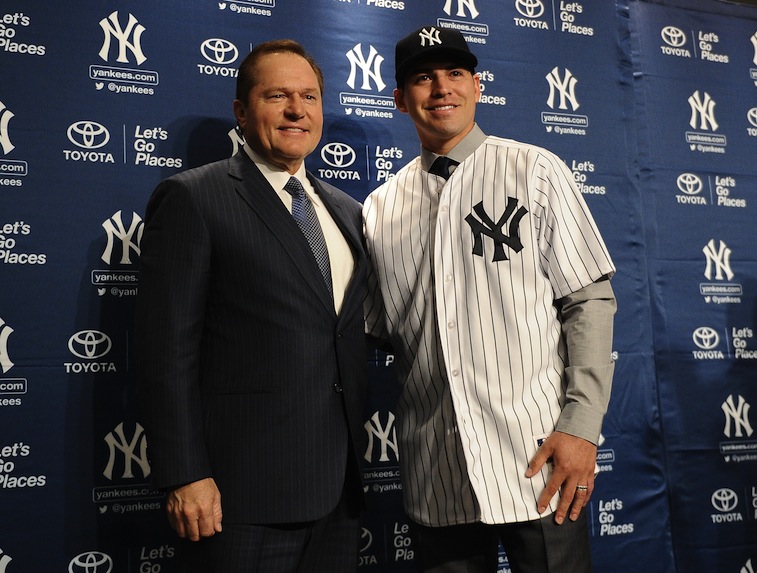 Statistics with Red Sox (2007-2013): 65 HR, 314 RBI, 241 SB, 2,912 AB, .297/.350/.439/.789 in 715 games played
Statistics with Yankees (2014-Present): 23 HR, 103 RBI, 60 SB, 1,027 AB, .265/.324/.387/.710 in 260 games played
One of the more recent switches in this historic rivalry is outfielder Jacoby Ellsbury. Like each of his predecessors, the lefty played with Boston before joining the "Evil Empire," continuing the all-too-familiar trend for Red Sox fans. As with Clemens and Boggs, Ellsbury was picked up by the organization by way of the amateur draft, as he was the 23rd overall pick in 2005.
The 32-year-old enjoyed immediate success with his first club, helping the team capture the 2007 World Series. He finished third in the AL Rookie of the Year vote in 2008 and nearly won the 2011 AL MVP after posting career highs in batting average (.321), home runs (32), runs batted in (105), runs (119), and hits (212) among other categories. Ellsbury won his second World Series ring following the magical 2013 Red Sox season and soon after signed with the Yankees.
Unlike with the other guys on this post, it seems that Boston may finally have the last laugh on a departed talent, as Ellsbury (so far) has not been the same player in New York. Two seasons into his contract, the speed demon has nearly 200 fewer thefts and his slash line has dropped significantly. Still only 32, Ellsbury should have a handful of years left to try and swing the rivalry back in the Bombers' favor.
Follow Victor on Twitter @vbarbosa1127
Statistics courtesy of MLB.com and Baseball-Reference.com.