MLB: 5 Reasons Dallas Keuchel Deserves the 2015 AL Cy Young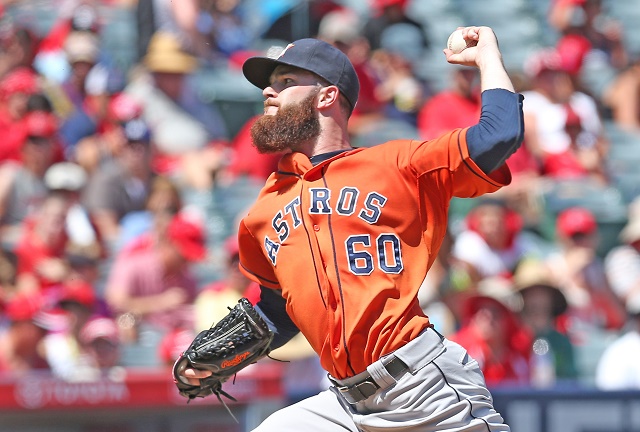 This is the second entry in a series of MLB debates, focusing on all baseball-related topics. Victor Barbosa and Eric Schaal will be writing pieces about what's trending across the league, offering analysis and opinion on a particular topic in a point-counterpoint format. Up next, the 2015 American League Cy Young award race!
All first place votes for the American League Cy Young award this fall should really only go to two pitchers — the Toronto Blue Jays' David Price and the Houston Astros' Dallas Keuchel. For a while, Sonny Gray, Chris Sale, and even Danny Salazar were in the mix, but the two aforementioned southpaws are far more worthy of the trophy for a myriad of reasons.
For this post, the sole focus is Keuchel though. The 27-year-old out of the University of Arkansas has without a doubt been the best and most consistent pitcher in the junior circuit during the 2015 season. It's true; Price and Keuchel's statistics are remarkably similar entering October, but the Houston ace edges out his Toronto counterpart (barely).
From his unbelievable stretch of dominance at his home park, to his team's unlikely ascension into playoff contention, there are a host of reasons as to why number 60 is most deserving of the hardware. Here are five of them.
1. Home sweet home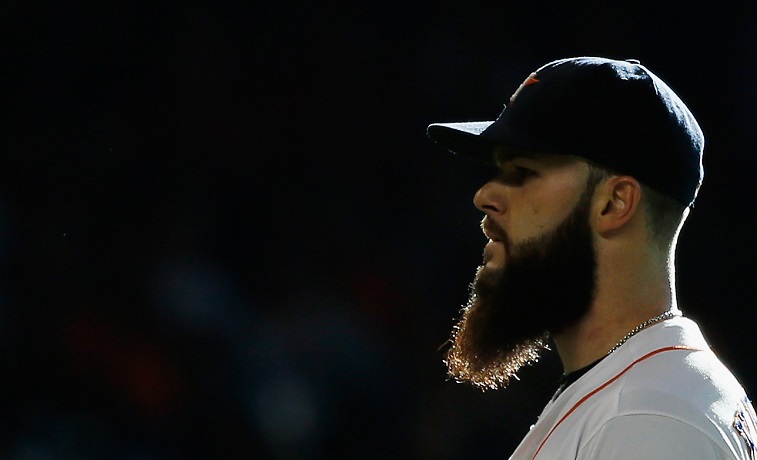 If the Astros end up making the postseason next week, manager A.J. Hinch may consider putting Keuchel on the bump for every single game played in Houston. OK, obviously that is a slight exaggeration, but what the lefty has accomplished at Minute Maid Park in 2015 is stunning.
Houston officially concludes their 162-game regular season schedule with a three-game road set against the Arizona Diamondbacks beginning on Friday. Keuchel is the probable starting pitcher for that game, so he has now wrapped up his home starts until the playoffs (if they make it.) While he went 4-8 with a decent, but not great 3.82 earned run average in 14 road starts this season, Keuchel's home numbers are insane.
A spotless 15-0 mark, combined with a minuscule 1.45 ERA was what he posted in front of the Astros faithful. He threw two complete-game shutouts there and allowed just four long balls and issued 28 free passes. He punched out 139 batters in 129.1 innings and finished with a 0.88 WHIP (which would have him ranked second in the majors.) Anytime you decide to splurge and check out a ballgame in person, you're obviously hoping for your team to win. With Keuchel on the hill in Houston this season, there was a guaranteed win every time.
2. Slightly better numbers than Price
Because Price and Keuchel's numbers are so close, this argument is nitpicking a bit. However, when two candidates are this even in an award race, nitpicking is something that needs to be done.
They've each made 32 starts and thus, have had the same amount of opportunities to make an impact on their figures. It you want to look deeper into their starts, Price has faced a total of just two more hitters than Keuchel throughout the season.
Here are some notable pitching categories where Keuchel edges out Price:
Innings pitched: Keuchel (226) vs. Price (220.1)
Hits allowed: Keuchel (179) vs. Price (190)
Runs allowed: Keuchel (66) vs. Price (70)
Wins: Keuchel (19) vs. Price (18)
Wins above replacement: Keuchel (7.2) vs. Price (6.0)
Walks and hits per innings pitched: Keuchel (1.01) vs. Price (1.08)
Quality starts: Keuchel (26) vs. Price (24)
I think you get the picture. To be fair, Price does lead in certain categories too — if ever so slightly — including ERA, walks allowed and strikeouts. The point is the two are absurdly evenly matched when it comes to their 2015 regular season statistics. Keuchel just barely gets the nod with the overall better output though.
3. The Astros are very much in playoff contention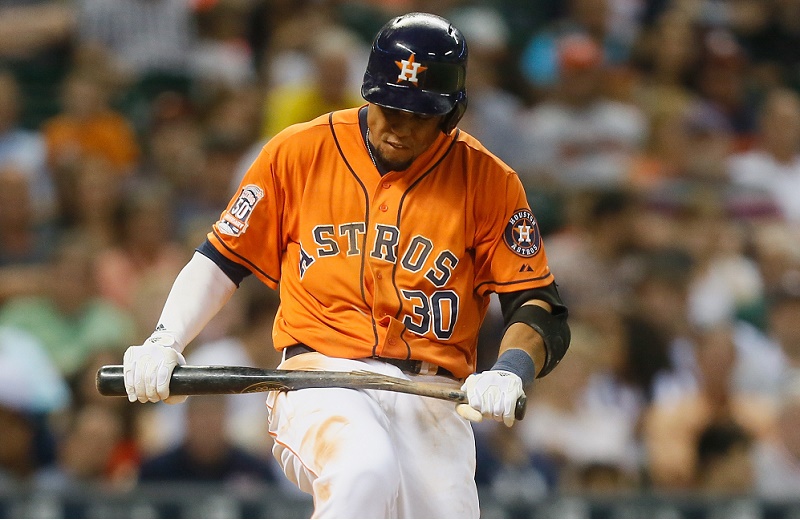 Did you read that correctly? The Astros are very much in playoff contention?(!)
That's right; in a 2015 MLB regular season full of surprises, the Houston Astros may just be the most pleasant (and shocking) one of them all. Entering play Thursday, Houston sat a mere 2.5 games out of first place in the AL West. More importantly, though, with a ridiculously crucial final three games in Arizona coming this weekend, the Astros will enter the series either one game up on the much more commonplace Los Angeles Angels of Anaheim, or tied with them for the second wild card spot. They also trailed the veteran New York Yankees by 2.5 games for the first wild card berth going into Thursday's slate. *The Astros were off on Thursday, while the Yankees, Angels (and Minnesota Twins) played night games.
Let's not forget that Price's crew north of the border are a surprise contender as well and they are actually locked into a playoff berth already. However, one could argue that with their absolutely loaded offense and a half-decent rotation already, even without Price, maybe the Jays would have made it anyways. Without Keuchel at the head of the rotation, the Astros would certainly not be where there are today.
4. Who is this guy again?
The picture above is from Razorback Stadium in Fayetteville, Arkansas, home of the University of Arkansas Razorbacks. Keuchel spent three years pitching for the Razorbacks baseball team, improving drastically with each season. Unlike Price — who was the number one overall draft pick out of the University of Vanderbilt in 2007 — Keuchel flew under the radar.
After his junior year, he was drafted by the Astros in 2009, but not until the seventh round. After more than two years in the minors, Houston gave their future ace a chance in 2012. His first two seasons were not pretty, as he went a combined 9-18 with an ERA over 5.00. Luckily for Hinch and company, the organization stuck with their pitcher and he went a solid 12-9 with a 2.93 ERA in 2014. He finished with a league-leading five complete games that season, setting the stage for his masterful 2015 campaign.
Much like one of the top NL Cy Young award front runners — Jake Arrieta — Keuchel did not have the smoothest ride up until this point. His hard work and dedication to being the best pitcher on the planet should be rewarded with the greatest honor a pitcher can receive.
5. Consistency is key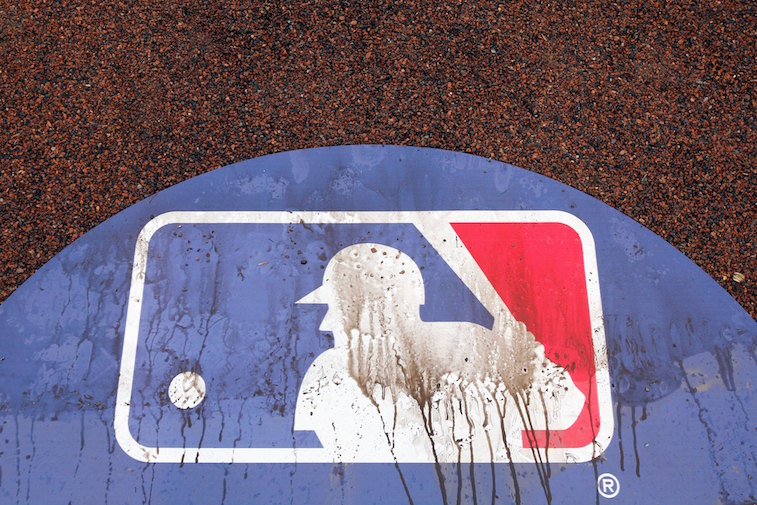 Consistency is a vastly underrated aspect of what leads to a successful season, or career, for athletes. In few other sports is consistency as key as it is in baseball and there may not be another position in the game where that holds more true than as a starting pitcher. A hitter can go 0-for-5 with a trio of strikeouts or a closer may implode with a blown save one night, but they can turn it back around if they have a short memory and have a solid performance the next game. For starting pitchers — who generally have to wait more than half a week before their next turn — it's important to take full advantage of every start they have.
Keuchel has been a true model of consistency in 2015. If you look at his game log for the last six months, you'll find a nearly flawless group of starts. Keuchel has allowed more than four earned runs on just two occasions all season. Excluding his bump in the road on September 16 versus the Texas Rangers, the left-hander has worked at least six innings in every start. He's had excellent control too, as he's allowed three walks or fewer in all but one outing (four walks on June 20.)
Whomever the voters choose to be the 2015 American League Cy Young award — whether it's Price or Keuchel — both candidates have put together incredibly impressive years.
Stay tuned for Eric's look at who he believes should take home the trophy.
All data courtesy of Baseball-Reference.com and ESPN.com.
Follow Victor on Twitter @vbarbosa1127.