MLB: 5 Reasons Jake Arrieta Deserves the 2015 NL Cy Young
This is the first entry in a series of MLB debates, focusing on all baseball-related topics. Victor Barbosa and Eric Schaal will be writing pieces about what's trending across the league, offering analysis and opinion on a particular topic in a point-counterpoint format. First up, the 2015 National League Cy Young award race!
Chicago Cubs starting pitcher Jake Arrieta may have very well jumped ahead in the hotly-contested 2015 National League Cy Young award chase with his most clutch and dominating outing of the season on Tuesday night. The right-hander was simply filthy in the Cubs' (really Arrieta's) 4-0 shutout win over the Milwaukee Brewers under the Wrigley Field lights.
Jake Arrieta shuts out Brewers, 4-0, becoming 1st 20-game winner this season & Cubs' 1st 20-game winner since 2001. pic.twitter.com/pz11LU7lGR

— SportsCenter (@SportsCenter) September 23, 2015
The complete game gem (9 IP, 3 H, 0 R, 1 BB, 11 K) was far from Arrieta's first masterful performance of 2015, as the 29-year-old has been terrific all season long. The most basic and straight forward statistic attached to Arrieta's resume is an obvious, yet accurate indicator of his prolonged success in 2015. As shown in the above tweet — courtesy of SportsCenter's Twitter account — Arrieta is the major league's first 20-game winner of the year and the Cubs' first pitcher to reach the mark since 2001 (Jon Lieber.)
There are loads of other (more worthy) reasons as to why Arrieta deserves the NL Cy Young award this year. In fact, there are likely 20 other arguments in favor of the Missouri native winning the hardware in addition to reaching the 20-win plateau. Here are five reasons why Chicago Cubs' ace Jake Arrieta is the 2015 NL Cy Young.
 1. He just keeps getting better
Arrieta's numbers over his last 10 starts are hard to fathom. Check out some of his jaw-dropping, video game-esque stats since his Aug. 4 win against the Pittsburgh Pirates, courtesy of the Elias Sports Bureau.
Five consecutive starts of at least eight innings and one earned run or less? That just doesn't happen anymore; or at least it's not supposed to. Since 1990, only the recent hall-of-fame inductee John Smoltz and seven-time Cy Young award winner Roger Clemens have matched those numbers. That's pretty sick company.
If you stretch back even further, you can see that since the Cubs established themselves as a force to be reckoned with this season, Arrieta has been the man leading the charge. He has simply come up HUGE when it has mattered the most (at least thus far.) With a microscopic 0.86 earned run average across 94? innings since the All-star break and an almost unfair 0.48 ERA over his last 10 outings, Arrieta has been the best pitcher on the planet in the second half.
2. He's been the most durable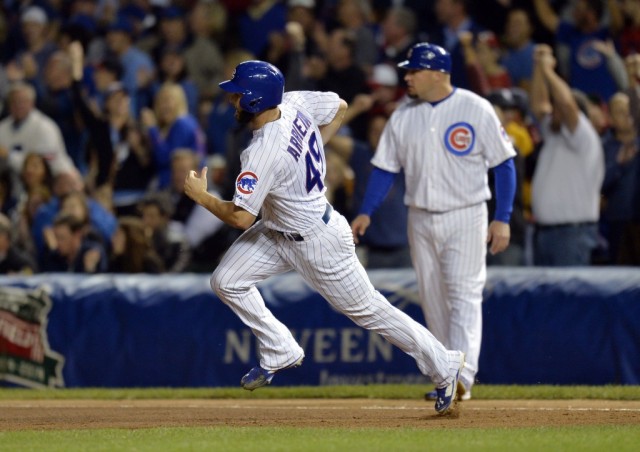 Being a baseball manager is such an underrated art. Many view the position as the least involved of all of the major sports and some think they have no control over a game's outcome. While this is very far from the truth, Arrieta has made Cubs manager Joe Maddon's job 100 times easier every fifth game throughout the entire season.
Instead of having to worry constantly about bullpen usage, plan a reliever bridge to the end of each game and turn his already gray hair even grayer, the Cubs righty has taken care of business himself in most of his starts. Entering play on Wednesday, Arrieta led all MLB pitchers in innings pitched with 216. True, two of his biggest competitors for the Cy Young are right on his tail, but he leads the group nonetheless.
Arrieta has remarkably pitched at least five innings in every single one of his starts in 2015. He is also tied for the league lead in complete games with four and is in sole possession of first for shutouts with three to his credit. His quality start streak — which needs at least six innings hurled in a game for consideration — dates all the way back to June 16 and is now at a franchise-record 18 straight.
3. He's leading the Cubs to the playoffs
With all due respect to Anthony Rizzo, Kris Bryant and the rest of the north siders, Jake Arrieta is not only the Cy Young of the league this year, but he is also the Cubs' MVP. You can argue that a starting pitcher should not be named a team MVP because they are only on the field approximately one out of every five games. Normally, that would be a completely legitimate argument. Once in a blue moon though, a hurler will complete such an utterly dominant campaign that there has to be an exception. Arrieta's 2015 is one of them.
Without their number one pitcher, the Cubbies would be closer to the Brewers and Cincinnati Reds in a battle for fourth place rather than in a dogfight for the top wild card spot with the second place Pittsburgh Pirates. Arrieta's impact on the club is impossible to quantify, but the greatest individual honor for a pitcher at the end of the year should suffice.
One of the top story lines going into the postseason will almost surely be the Cubs improbable dream of FINALLY winning the World Series. It's been well-documented just how much the franchise has been deprived of championship glory. Step one of making it to October baseball is almost complete, thanks primarily to Arrieta.
4. He (sort of) came out of nowhere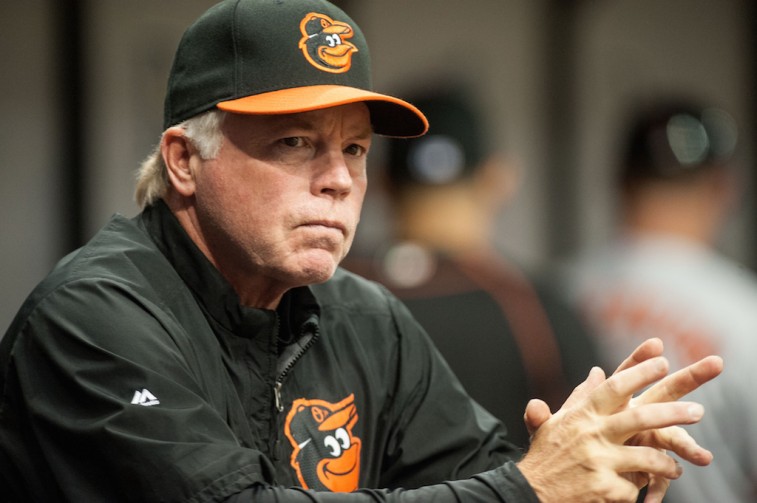 Anybody think that Baltimore Orioles manager Buck Showalter (pictured above) and company regret moving Arrieta in a four-player trade back in July 2013?
In defense of the O's, at the time of the trade, Arrieta had compiled a career record of 20-25 with a 5.46 ERA in 69 games pitched (63 of them starts.) Across his three-and-a-half year Baltimore tenure, he struck out just 277 batters and walked 159 in 358 innings. His numbers since his move to Chicago? 34-13 with a 2.33 ERA in 65 games (all starts.) Since moving to the NL, he's pitched 424 1/3 innings and his strikeout to walk ratio has improved drastically to 424:113. Maybe it's not having to face the designated hitter as much anymore or maybe it's just the friendly confines of Wrigley that Arrieta finds so comforting, but whatever the case is, the difference has been startling.
Although a pitcher "coming out of nowhere" should not impact a Cy Young award voter, it's bound to happen in some instances. We knew that guys like Zack Greinke and Clayton Kershaw were going to be good this year. They seem to be in the award conversation annually. When a newcomer like Arrieta makes his way into the field, there's an added excitement. It's the indefinable quality that adds to the intrigue when selecting a winner. It also doesn't hurt that Arrieta has been the best pitcher in the national league this year.
5. He's had the best season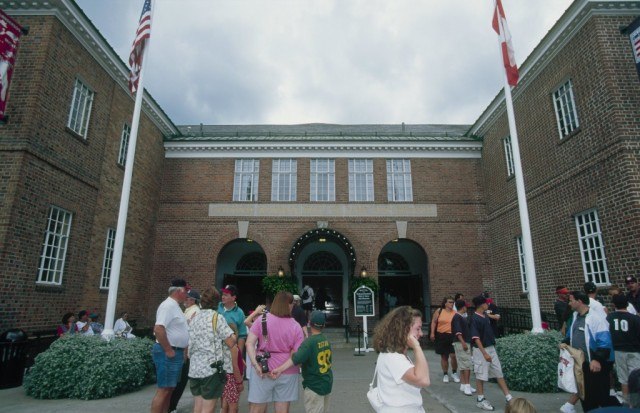 No, Jake Arrieta cannot start preparing his National Baseball Hall of Fame (pictured above) induction speech for 15 years down the road from now. Frankly, he can't even start envisioning the thought of polishing a 2015 NL Cy Young award trophy; there's still time for other candidates to overtake him. However, up until this moment, Arrieta has had the best overall season for a pitcher in the NL.
This post has gone into great detail regarding his candidacy and worthiness. Let's close out by mentioning a few more absurd notes from Arrieta's monster year, again, according to the research from the Elias Sports Bureau:
Arrieta is the fifth Cubs pitcher in the last 100 years the reach 20 wins before any other pitcher in a season
He's the first pitcher since 2008 (Cliff Lee) to hurl a shutout for his 20th win
In the last 35 seasons, only four other pitchers have thrown a shutout with at least 10 strikeouts for their 20th win. Three of them won their league's Cy Young that year.
Stay tuned for Eric's look at who he thinks deserves the NL Cy Young award at the end of the week.
All data courtesy of MLB.com, Baseball-Reference.com and ESPN.com.
Follow Victor on Twitter @vbarbosa1127.