MLB: 5 Reasons the New York Mets Will Win the World Series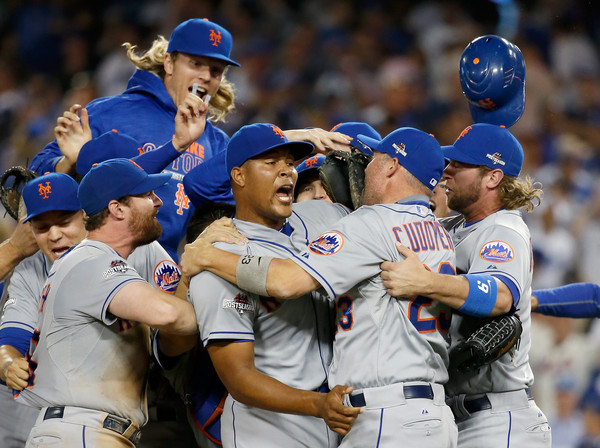 This is the fourth entry in a series of MLB debates, focusing on all baseball-related topics. Victor Barbosa and Eric Schaal will be writing pieces about what's trending across the league, offering analysis and opinion on a particular topic in a point-counterpoint format. Up next, who will win the 2015 World Series?
The stage is now set. Kansas City, Mo., and New York, N.Y., are buzzing with anticipation. The Fall Classic begins Tuesday at 8 p.m. Eastern time on FOX.
Whether the 2015 American League-champion Kansas City Royals or the 2015 National League-champion New York Mets become the ultimate victors, one thing is for sure — a World Series title drought of approximately three decades will be ending sometime in the next four to eight days. The last time the Mets won it all was in 1986, when they dropped the Boston Red Sox 4-3 in one of the most discussed championship series of all-time. The most recent year where Kansas City truly was royal was back in 1985, after they defeated the in-state rival St. Louis Cardinals in a seven-game classic of their own.
The Royals and Mets entered the 2015 regular season with varying degrees of expectations from baseball media pundits and fans alike. KC — while they were just one win away from capturing the trophy in 2014 — faced doubters coming into April. They were supposed to be challenged by the always dangerous Detroit Tigers, the new-look Chicago White Sox and maybe even the young Cleveland Indians in the AL Central. Instead, the Minnesota Twins were the only viable threat to make any noise this year and even so, the Royals ran away with the division following the all-star break.
Then there are the Mets. Frequently viewed as the crosstown little brother of the much more historically successful New York Yankees, they were a punching bag for NL East foes like the Atlanta Braves for years and were supposed to finish in second or third and well behind the Washington Nationals this season. A .500 record seemed reasonable, but it was a near-consensus that this youthful bunch, led by a manager who never played baseball at a professional level were at least a couple of seasons away from seriously competing.
Yet here we are, just hours away from the first pitch of game one, and it's the Royals and Mets as the last two teams standing. Although both rosters are bursting with stellar talent and neither World Series outcome would surprise us one bit, here are five reasons why New York will be end up hoisting the hardware when all is said and done.
1. The starting rotation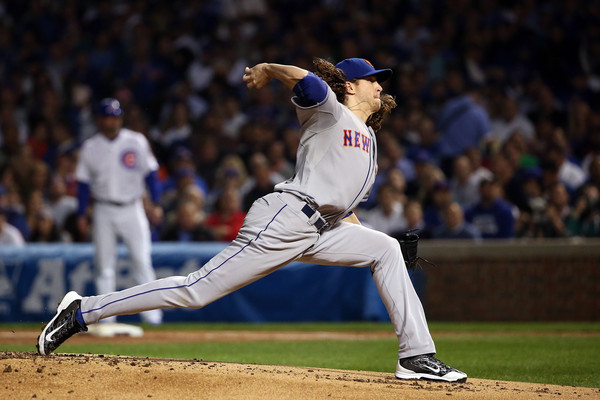 On paper, both teams have solid starting rotations, but the Mets clearly have more depth. Their young guns (four of them!) have simply stepped up big time in October.
First let's look at a game-by-game stat line for each KC starter during their playoff run.
10/8/15 vs. HOU: Yordano Ventura (2 IP, 4 H, 3 R, 3 ER, 1 BB, 2 SO, 0 HR) (L)
10/9/15 vs. HOU: Johnny Cueto (6 IP, 7 H, 4 R, 4 ER, 3 BB, 5 SO, 1 HR) (ND)
10/11/15 vs. HOU: Edinson Volquez (5.2 IP, 5 H, 3 R, 3 ER, 4 BB, 8 SO, 0 HR) (L)
10/12/15 vs. HOU: Ventura (5 IP, 4 H, 3 R, 3 ER, 3 BB, 8 SO, 2 HR) (ND)
10/14/15 vs. HOU: Cueto (8 IP, 2 H, 2 R, 2 ER, 0 BB, 8 SO, 1 HR) (W)
10/16/15 vs. TOR: Volquez (6 IP, 2 H, 0 R, 0 ER, 4 BB, 5 SO, 0 HR) (W)
10/17/15 vs. TOR: Ventura (5.1 IP, 8 H, 3 R, 3 ER, 2 BB, 6 SO, 0 HR) (ND)
10/19/15 vs. TOR: Cueto (2 IP, 6 H, 8 R, 8 ER, 4 BB, 2 SO, 1 HR) (L)
10/20/15 vs. TOR: Chris Young (4.2 IP, 3 H, 2 R, 2 ER, 2 BB, 4 SO, 0 HR) (ND)
10/21/15 vs. TOR: Volquez (5 IP, 3 H, 5 R, 5 ER, 4 BB, 2 SO, 1 HR) (L)
10/23/15 vs. TOR: Ventura (5.1 IP, 4 H, 1 R, 1 ER, 2 BB, 5 SO, 1 HR) (ND)
Now let's see the Mets' lines.
10/9/15 vs. LAD: Jacob deGrom (7 IP, 5 H, 0 R, 0 ER, 1 BB, 13 SO, 0 HR) (W)
10/10/15 vs. LAD: Noah Syndergaard (6.1 IP, 5 H, 3 R, 3 ER, 4 BB, 9 SO, 0 HR) (L)
10/12/15 vs. LAD: Matt Harvey (5 IP, 7 H, 3 R, 2 ER, 2 BB, 7 SO, 0 HR) (W)
10/13/15 vs. LAD: Steven Matz (5 IP, 6 H, 3 R, 3 ER, 2 BB, 4 SO, 0 HR) (L)
10/15/15 vs. LAD: deGrom (6 IP, 6 H, 2 R, 2 ER, 3 BB, 7 SO, 0 HR) (W)
10/17/15 vs. CHC: Harvey (7.2 IP, 4 H, 2 R, 2 ER, 2 BB, 9 SO, 1 HR) (W)
10/18/15 vs. CHC: Syndergaard (5.2 IP, 3 H, 1 R, 1 ER, 1 BB, 9 SO, 0 HR) (W)
10/20/15 vs. CHC: deGrom (7 IP, 4 H, 2 R, 2 ER, 1 BB, 7 SO, 2 HR) (W)
10/21/15 vs. CHC: Matz (4.2 IP, 4 H, 1 R, 1 ER, 2 BB, 4 SO, 0 HR) (ND)
The Royals starters have been uneven through the first two rounds. The Mets front four have been nearly flawless.
2. They are the team of destiny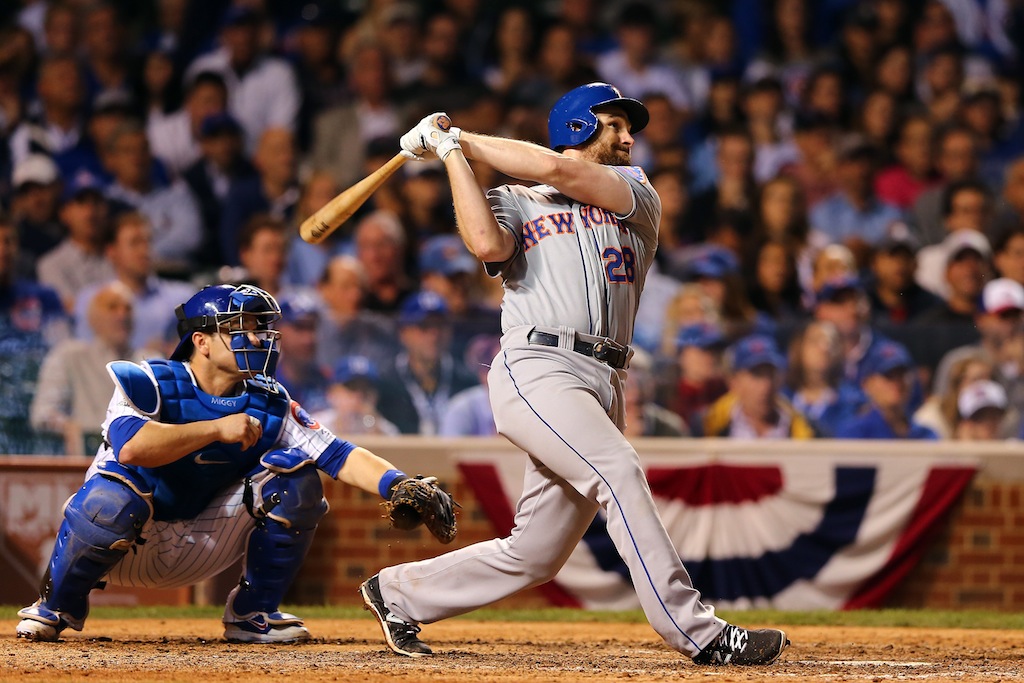 Some really hate this argument, but we're buying into it for this year. The Mets are 2015's "team of destiny."
In 2013, the Boston Red Sox World Series Championship just made sense when you look at the big picture. The Boston marathon bombing tragedy that April put a dark cloud over the city, one that was brightened by the team's unbelievable "worst to first" finish. In 2014, the San Francisco Giants kept with the pattern of winning it all every other year. This time it's the Mets' turn.
From the Wilmer Flores's infamous near-trade deadline deal (and his tears afterward), to Harvey's return from Tommy John Surgery, to Ruben Tejada getting taken out by Chase Utley in the division series (and Flores poetically taking over), to Daniel Murphy's legendary home run streak, it just feels right for the Mets.
3. Jeurys Familia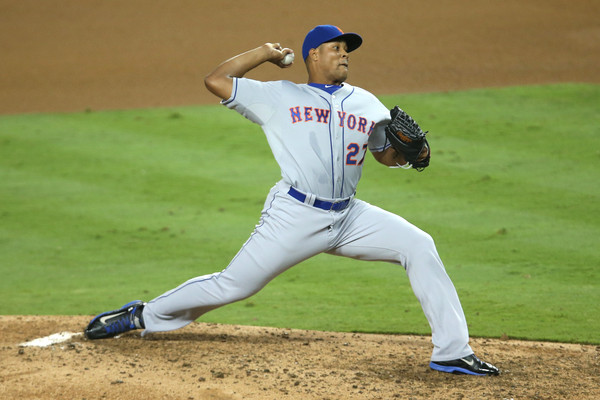 With all due respect to the Royals very solid bullpen, Mets closer Jeurys Familia has been the best reliever in this postseason. Though you have to remember that any relief pitcher's stats through two rounds of the postseason are going to include a very small sample size, the numbers that Familia has registered are terrific.
In eight games, he's hurled 9.2 innings and allowed two hits and no runs. He's only given up two walks and has struck out six. Given the phenomenal statistics, it's no surprise that Familia is a perfect 5-for-5 in save opportunities.
It'd be easy to say that Familia is just pitching well at the right moment, but he has been doing this all season long and was one of the best closers in the entire playoff field at the start. With a great set of starters and substantial middle men, Familia has been able to shut the door every time his name has been called this month.
4. Position-by-position advantage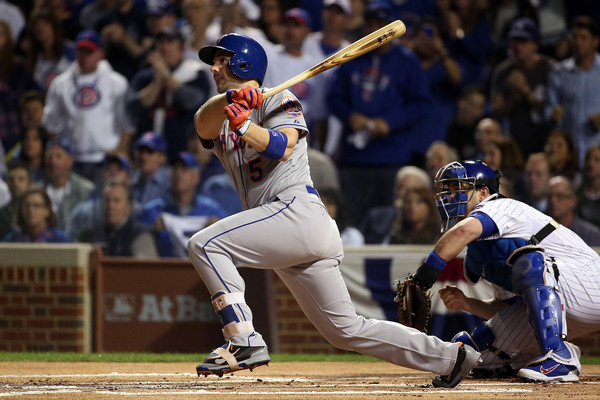 We already mentioned the clear advantage in the pitching rotation for the Mets. They also have a very slight advantage at closer, the Royals probably take the edge in terms of their bench. Looking at the eight starting position players, we give the Mets a small 4-3-1 advantage.
The three spots we give the nod to KC are at catcher (Salvador Perez over Travis d'Arnaud), first base (Eric Hosmer over Lucas Duda), and left field (Alex Gordon over Michael Conforto.) For the shortstops, Flores had a much better regular season than his counterpart Alcides Escobar. Given Escobar's speed advantage and the good playoffs he's had though, we put this spot at a tie.
New York gets the edge at second base (Daniel Murphy over Ben Zobrist), third base (David Wright over Mike Moustakas), center field (Yoenis Cespedes over Lorenzo Cain), and right field (Curtis Granderson over Alex Rios.) First, despite the versatility and overall career success of Zobrist for Kansas City, it's impossible to ignore the kind of zone that Murphy is in right now.
Third base and center field are likely the two closest races. Both Moustakas and Wright have struggled mightily in the postseason and Moose had the significantly better regular season (Wright was injured.) We think that the Mets captain may finally be healthy though and could go off for a great final series of the year. In center, Cespedes barely gets the call over Cain because of his power and five-tool talent. Finally in right, Granderson gets a big edge over Rios due to his speed and defense, which outweighs their equally impressive Octobers.
5. They can win on the road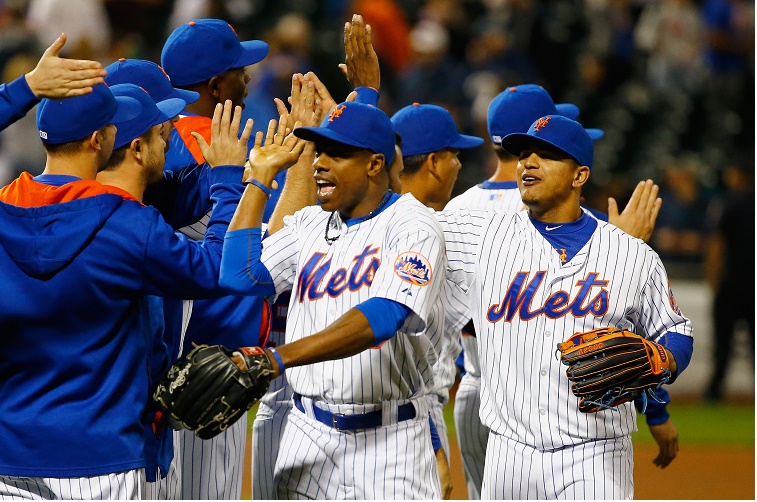 First they beat the Los Angeles Dodgers two out of three games on the road — against Clayton Kershaw and Zack Greinke by the way — in the division series. Then, they slowed down the Cubs and finished off a sweep with two dominating wins at Wrigley Field to advance to the World Series. At 4-1 and having won three road games in a row, the home field advantage for KC shouldn't faze the Mets one bit.
Their starters have been able to quiet down rowdy home crowds and their bats have sent many fans headed towards the exits over the past couple of weeks. Familia hasn't faltered yet in the late goings, staying calm under pressure for three, four, five and even six-out saves. Manager Terry Collins seems to be pushing all of the right buttons and making the right calls.
With Harvey slated for game one and deGrom (presumably) going in game two, it's hard to imagine the Mets dropping both opening contests in Kansas City. We'll give them a road split and then see them take two out of three at Citi Field, sending it back to Kauffman Stadium up 3-2. With deGrom on the hill for game six, we foresee a lights out performance, leading way to Familia to close it out on the road.
Prediction: Mets in 6
All data courtesy of MLB.com, Baseball-Reference.com and ESPN.com.
Follow Victor on Twitter @vbarbosa1127.