MLB: 5 Retiring Players We'll Miss After 2015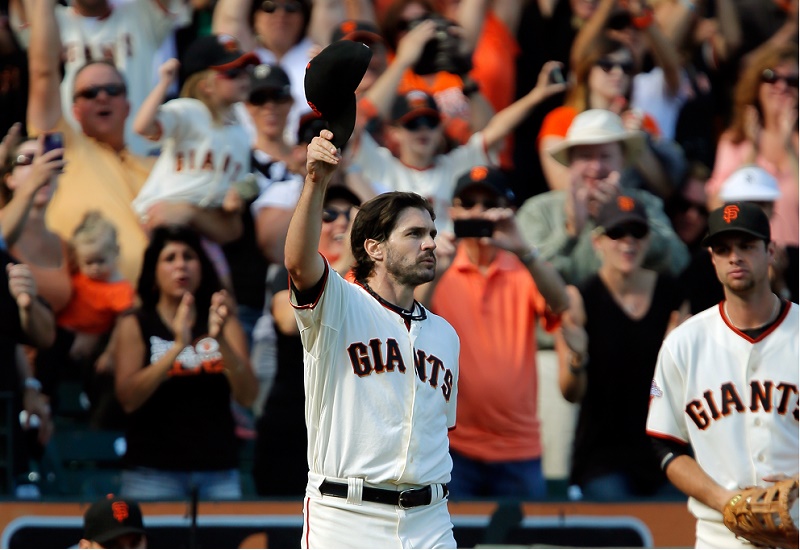 With the 2015 MLB season officially wrapped, we're taking some time to salute some of the departing figures who announced their retirement from baseball. Among them, you will find World Series winners, symbols of Moneyball at its best, and one of the biggest wisecrackers of his generation. Here are five departing players we'll miss on the diamond in 2016 and beyond.
1. Barry Zito
Zito might not top some Giants fans' lists for fond farewells, but the lefty accomplished plenty in his 15-year career, including the 2002 Cy Young award and a clutch 2012 World Series win for San Francisco in Game Five against Detroit. That appearance must have felt especially triumphant after being left off the 2010 postseason roster by the club. Zito ended up beating Justin Verlander in Game One by tossing 5.2 innings of one-run ball, giving the Giants a lead they never relinquished in the Series.
The Giants bought out Zito at the end of 2013 in order not to exercise the option on his seven-year, $126-million deal that was criticized so often. In the end, Zito closed his career 165-143 with a 4.04 ERA. His postseason numbers were stellar: 6-3, 2.83 ERA, 1.21 WHIP. His best playoff performances came for the Giants in 2012. We join many others who'll miss the crafty lefty who was a key figure in Oakland's Moneyball movement.
Besides, how many big-leaguers surf Maui and California? Zito does, so say hi if you see him paddling out to a lineup near you. Check out his heartfelt retirement announcement on Players Tribune as well.
[Editor's note: The original article stated Zito won Game Five of the 2012 World Series. He won Game One.]
2. Torii Hunter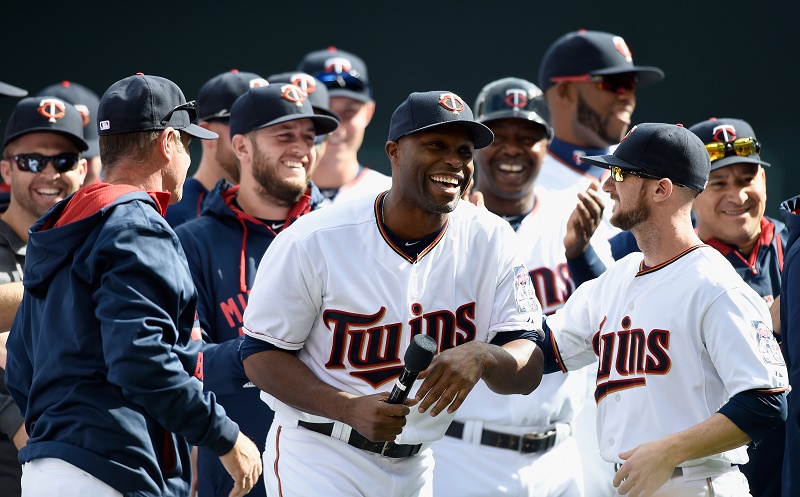 Did anyone bring more smiles to baseball fans than Torii Hunter? Even in his retirement announcement, he was the same joyful figure who could be seen robbing home runs and delivering snappy quotes after the game. A nine-time Gold Glove winner in the outfield, there was no one better at tracking down line drives than Hunter in his prime. He appeared in five All-Star Games and ended with a .277 average, 2,452 hits, and 353 home runs across 19 years in the game.
Hunter was a driving force behind then Twins teams that made four playoff appearances in five years in the early 2000s. (He finished sixth in MVP voting in 2002.) Though he never made it past the ALCS with the Twins, Angels, or Tigers, Hunter hit .274 with 20 RBI in 48 postseason games.
However, throw the impressive numbers and endless list of awards out the window for a minute. Torii Hunter was one of the funniest players of his (or any) generation, and his brilliant smile and constant wisecracks will be sorely missed.
3. Aramis Ramirez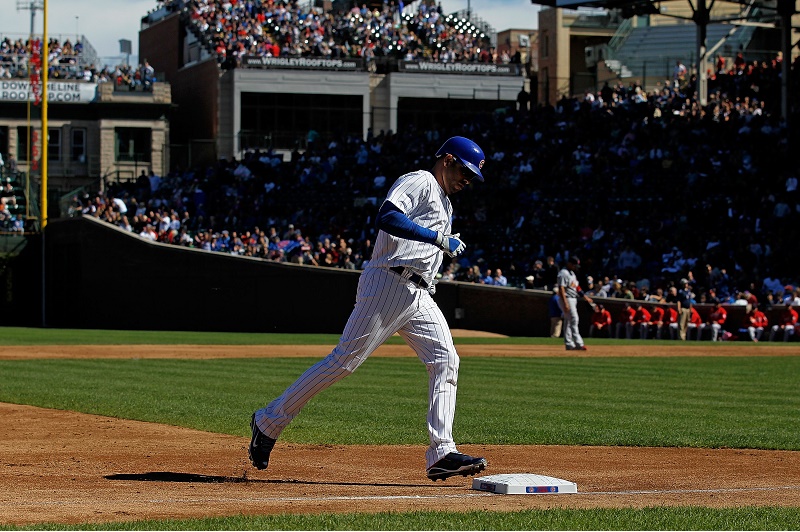 Across 18 years with the Pirates, Cubs, and Brewers, Ramirez was a terror for NL Central pitching wearing any uniform. On top of a 2010 Silver Slugger award, he appeared in three All-Star Games and finished in the top 20 in MVP voting five times. He finished with a .283 average, 386 HR, and 2,303 hits in 2,194 games.
Ramirez will be best remembered for his peak years playing for Chicago, where he slammed 38 HR and notched 119 RBI in 2006. A native of the Dominican Republic, Ramirez actually told ESPN he wants to go play for the Tigres de Licey in the D.R. Winter League this year. He may have retired from Major League Baseball, but he's far from done in the game.
4. Tim Hudson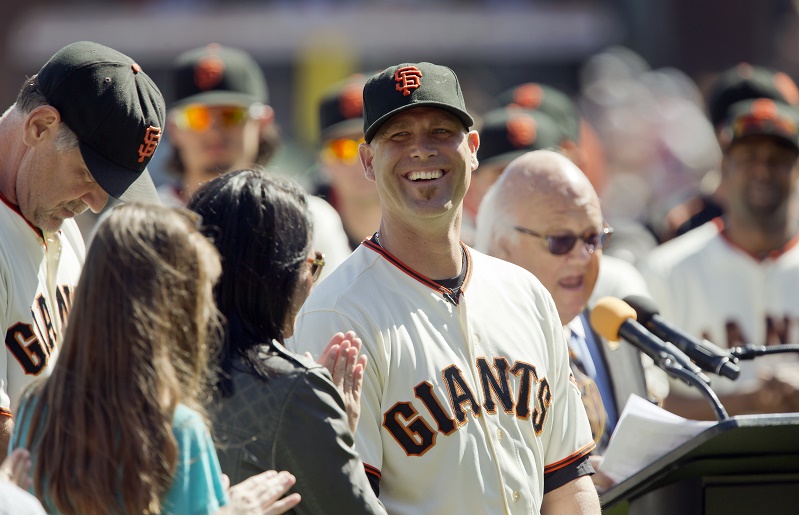 Speaking of Moneyball, Hudson was one of the reasons Billy Beane was able to launch his successful teams on a shoestring budget. Between Mark Mulder, Zito, and Hudson, the Oakland pitching under team control in the early 2000s could tangle with any club. Hudson ended up pitching for 17 years for the A's, Braves, and Giants, compiling spectacular numbers along the way.
We'll start with his 222-133 record (a .625 winning percentage, 59th all-time) and 3.49 ERA. Going back, Hudson finished fifth in Rookie of the Year voting in 1999 and second in Cy Young voting in 2000 with an AL-best 20 wins. Though he did not have a great World Series, he was instrumental in the Giants championship run of 2014.
Like some of the other members of this year's retiring class, Hudson projected humility, grace, and class on the field. His presence will be missed by fans of his team and the opposition alike.
[Editor's note: The original article incorrectly stated Hudson was Rookie of the Year in 1999. He finished fifth in voting that year.]
5. Jeremy Affeldt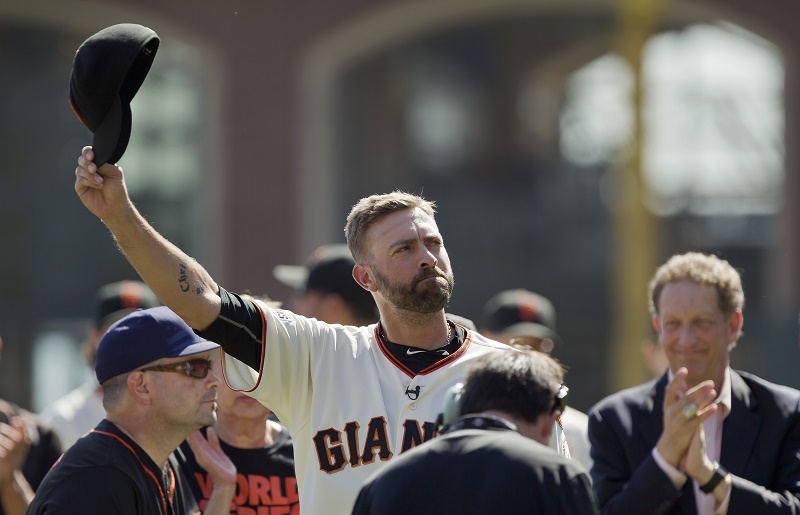 Speaking of key cogs in the three San Francisco World Series of recent years, you can't forget Jeremy Affeldt, the southpaw who spent most of his 14-year career as a reliever. From 2009 to 2015, Affeldt was the guy Bruce Bochy called on to get the tough outs in late innings out of the bullpen. He ended up 43-46 with a 3.97 ERA in 774 games.
However, the regular season stats are largely irrelevant when considering Affeldt. His 0.86 ERA in 33 postseason appearances gets to the heart of the matter. In fact, Affeldt did not allow a single run in 21 postseason games (22.0 IP) for San Francisco across the 2012 and 2014 playoffs. We're guessing Giants fans will recall those clutch performances whenever they think of the tall lefty who called it quits after the 2015 season. That's how Bochy thought of Affeldt when saying goodbye.
Stats courtesy of Baseball Reference.
Connect with Eric on Twitter @EricSchaalNY