MLB: 7 Classic Overreactions From Opening Day 2016
It's easy to overreact, but here are 7 stories to table for the time being.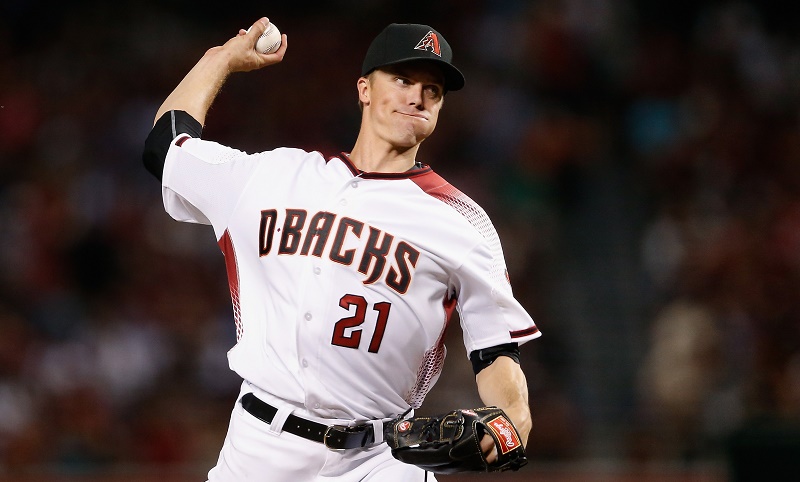 What's the difference between MLB Spring Training and Opening Day? Opening Day counts 1/162 more. It's not nothing, but it's as close as the baseball gods allow.
Despite the lack of net value, there is a tendency among writers, fanbases, and teams themselves to overreact after a poor (or spectacular) showing on the season's first game(s). This tendency was once again on full display from the festivities that kicked off 2016 from April 3 through the following evenings. Here are seven classic overreactions from this year's Opening Day events.
1. Arizona's rotation is a bust
For this overreaction, we extend the sample size to two games. On Opening Day, Zack Greinke (4.0 IP, 9 H, 7 ER, 2 SO, 3 HR) had a real stinker for his new club. Shelby Miller (6.0 IP, 6 ER, 3 HR) followed the next night with a flop of his own. Arizona spent a fortune of cash and prospects on these two and they'll both be fine when the slugging Rockies give them a break.
But the reactions came from all sides, to the point where Diamondbacks manager Chip Hale pushed back at the media. "You guys built [Opening Day] up real good," he told AZCentral's Nick Piecoro. "You did a nice job of it. I said it before the game — you guys really hyped it up. Every Opening Day is every Opening Day: It means no more than tomorrow's game." Hale walked some of those comments back the next day (a win, despite Miller's performance), but he had a point.
2. The new slide rule is terrible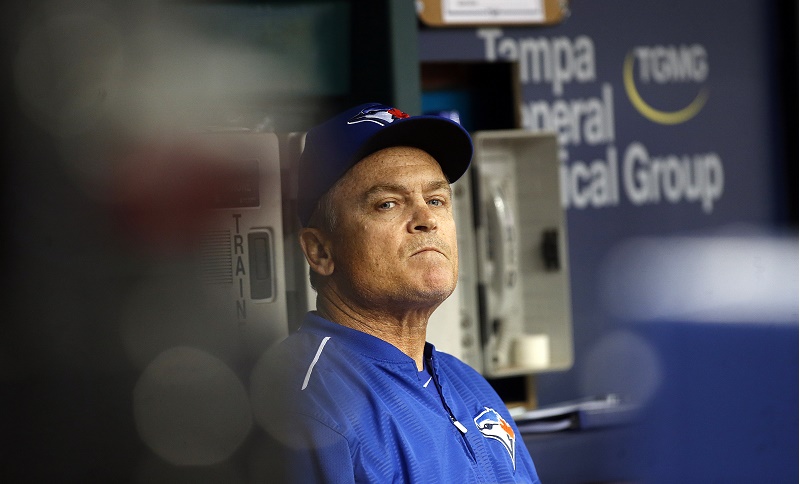 It didn't take long to get a game-changing ruling on the new MLB slide guidelines. Toronto's Jose Bautista reached out and grabbed the leg of Tampa's Logan Forsythe as he tried to turn a double play in the ninth inning of the teams' third game of the season. As a result, Bautista was called out for interference, negating the runs that scored and giving the Rays an anticlimactic walk-off win.
Blue Jays skipper John Gibbons was livid about the ruling after the game, saying his club might take the field with a different look the following game. "[M]aybe we'll come out wearing dresses tomorrow," Gibbons told reporters. "Maybe that's what everybody's looking for." In this case, Bautista's slide wasn't even hard; it was simply cheap, representing a misguided reach to trip the second baseman. Let's watch the rule's interpretation a few weeks before we consider it useless. Who knows, it may end saving Jays SS Troy Tulowitzki a few trips to the DL.
3. The Pirates have the Cards' number
On the first night of play, Adam Wainwright (6.0 IP, 3 ER) wasn't his sharpest and Francisco Liriano (6.0 IP, 0 ER, 10 SO) was. The second game (a few nights later) once again had the Pirates dispatching their NL Central rivals with a walk-off win in 11. We're not ready to pronounce the Cards the weaker club or suggest the Bucs have much of an edge here.
There is plenty for Pittsburgh fans to like about the 2016 squad, however, beginning with the early returns on David Freese. As for the Cardinals, flashes of pop from Jedd Gyorko and Stephen Piscotty early on are signs of encouragement for a team trailing the NL Central favorite Chicago Cubs in hype.
4. The Red Sox will roll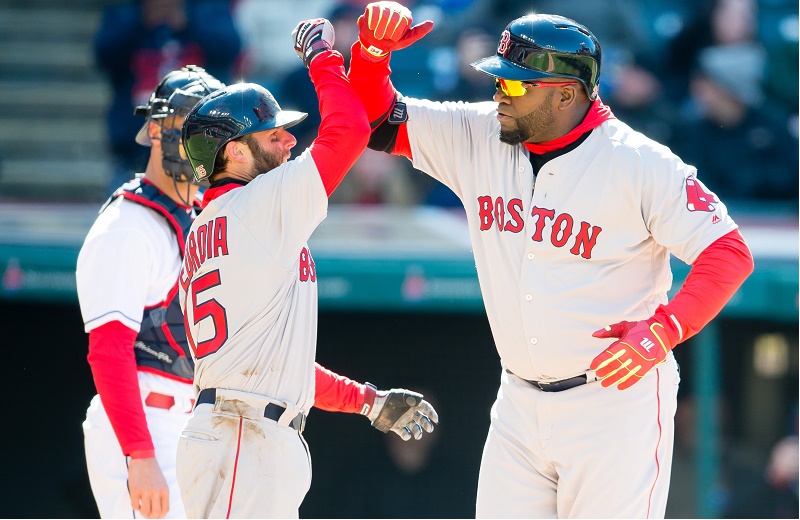 If you were bored by the Derek Jeter retirement saga, get ready for the David Ortiz promotional tour of 2016 (without the first-ballot Hall of Fame part). The Red Sox DH obliged with a two-run, ninth-inning home run in the chilly opener in Cleveland, backing a brilliant David Price (6.0 IP, 2 ER, 10 SO) en route to a victory that also featured a Mookie Betts homer. It was Ortiz's fifth career Opening Day home run.
Ortiz, Price, and Betts are the Boston players we don't worry about in the slightest. Let's see a few turns through the rotation before we make any judgment about this team. For Cleveland's sake, let's recall Corey Kluber is at his worst in April (4.08 ERA, 1.38 WHIP, career). The club's deep rotation will have its chance to answer in kind.
5. The Dodgers' arms are lethal
Sometimes, it's hard to tell whether the pitching or hitting deserves credit (or blame) in a lopsided victory. LA's 15-0 dismantling of San Diego behind Clayton Kershaw (7.0 IP, 1 H, 0 ER, 9 SO) has us naturally leaning toward The Claw, but the follow-up win by Scott Kazmir (6.0 IP, 1 H, 0 ER, 5 SO) makes us think this Padres offense is even more challenged than we suspected.
With Matt Kemp hitting third, Wil Myers on cleanup duty, and not much else to intimidate pitchers, it looks to be another interminable season for the Friars. For the Dodgers' part, the season could not have started out on a better note. On top of the strong outings by the team's starters, everyone piled up on Padres pitching. It will get harder from here on out.
6. The Angels can't hit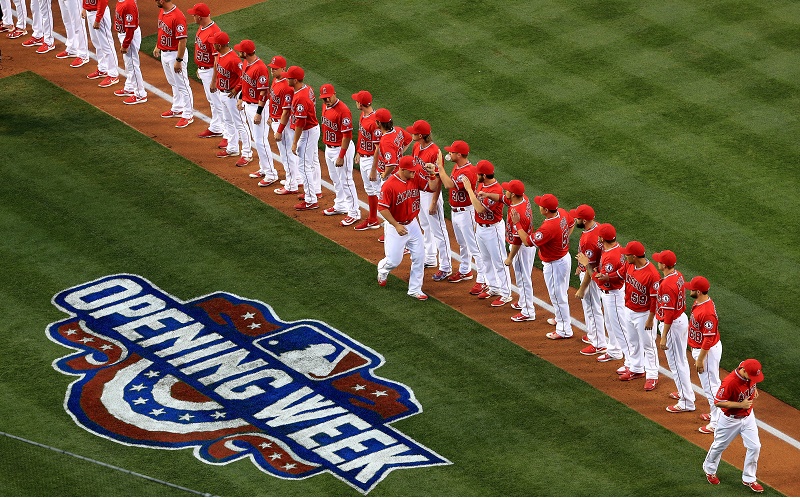 We have already detailed our skepticism about the Angels' offseason, but there is more life in this lineup than we saw in the first two games. Facing a tough assignment in Jake Arrieta and Jon Lester, Halos hitters went 7-for-61 while pushing just one run across the plate. If you want to see a really scary stat, here goes: The Angels drew one walk across the 18 innings.
You have to credit the control of Arrieta and Lester here, but eight baserunners in 18 innings is atrocious, even for a club we expect to finish fourth in the division. Look no further than the lineup's slugging anchors, Mike Trout and Albert Pujols. This duo went 0-for-15 with 5 SO. No matter how bad it gets in Anaheim, it won't be this bad.
7. Toronto's 'pen lacks depth
Toronto has its bullpen clicking with Roberto Osuna saving the first two games while Drew Storen and Brett Cecil handled setup duties. Then two more close games followed in Tampa, where a strange schedule had the teams playing four straight contests without a day off to open 2016. On the latter two — both Blue Jays losses — we saw back-to-back blown saves by Cecil and Arnold Leon.
The Blue Jays don't have the Royals' bullpen, but we don't expect to see Toronto tested in so many close games throughout the year. This offense should give Osuna et al their share of days off so they can be called on when it matters. This opening series in Tampa featured a higher degree of difficulty.
Connect with Eric on Twitter @EricSchaalNY
Statistics courtesy of MLB.com.