MLB: A.J. Hinch Shares His Thoughts on the Astros' World Series in 2017
Players have started to report to their teams' spring training facilities, but the Astros' cheating scandal is still making news around Major League Baseball. Former Astros manager A.J. Hinch did an interview with MLB Network in which he spoke publicly for the first time about the scandal and what he thought about it. And, as you might have expected, members of the media and baseball fans around the country scrutinized his comments. So, what did Hinch have to say about his former team and the controversy surrounding the 2017 World Series championship? Let's find out.

The Astros' cheating scandal and aftermath
Former Astros pitcher Mike Fiers went to the media and accused the Astros of using electronic means to illegally steal signs from opposing pitchers, relaying the information to batters by banging on trash cans. That led to an investigation by MLB that found the Astros broke the league's rules regarding sign stealing.

Following the findings, commissioner Rob Manfred handed down a punishment that included stripping the team's first- and second-round draft picks in 2020 and 2021, and yearlong suspensions for both Hinch and former GM Jeff Luhnow. After Manfred announced his penalties, team owner Jim Crane held a press conference in which he dismissed Hinch and Luhnow from the team.

A.J. Hinch's comments about the scandal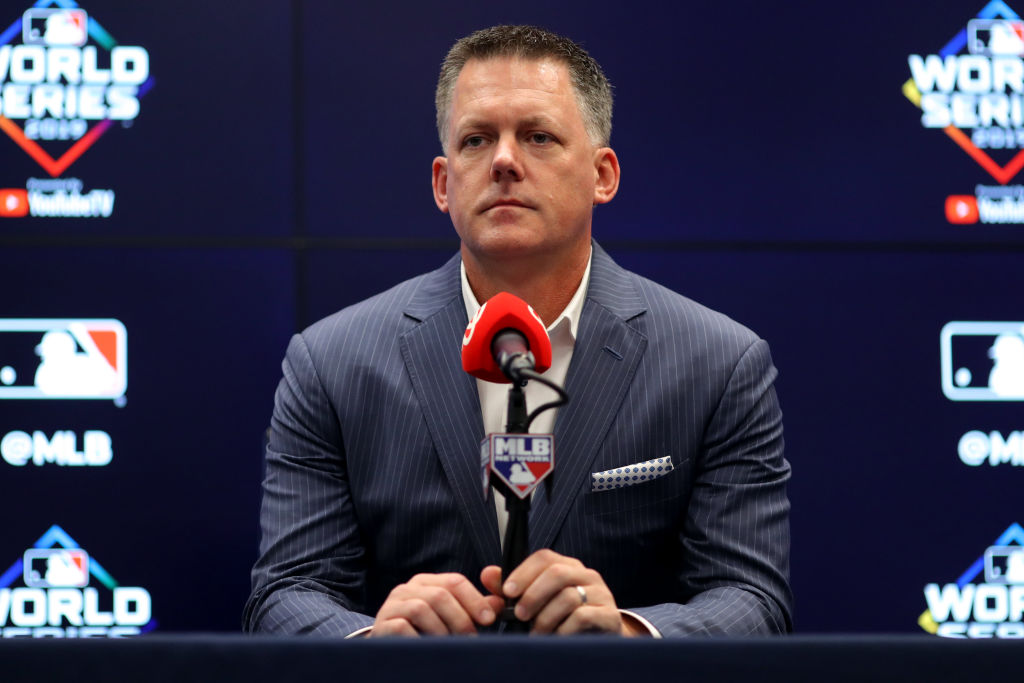 In the interview, Hinch was asked what he thinks about the people who question the validity of the Astros' title and accusations that they only won the World Series in 2017 because of the cheating. Hinch said the question about whether the 2017 title is tainted is "fair" and that "everyone is going to have to draw their own conclusions." He didn't give a direct answer to the question, posed by longtime baseball writer Tom Verducci, but seemed to indicate he doesn't think the title is tainted.

Hinch also mentioned that the Astros' talent was some of the best in the game and that hopefully, nothing obscures that fact in the years to come.

"[They] have some of the best players in the entire sport all together on the same team. I hope over time it's proven that it wasn't [tainted]." 


A.J. Hinch
Hinch went on to say that people might never get an answer to that question, and he "can't really pinpoint what advantages or what happened or what exactly would have happened otherwise" if the cheating never went on in 2017.

How Astros' players have done from 2017 onward
The question now is, are the Astros' hitters good even without cheating? Since the bulk of the cheating happened in 2017, let's examine some of the team's best hitters' stats since that season.

Jose Altuve
Jose Altuve has been one of Major League Baseball's best hitters since 2014, recording at least 200 hits each season from 2014-2017. He won the American League MVP award in 2017, hitting .346 on 204 hits, with 24 home runs, which tied his career high at the time. Altuve dealt with injuries in 2018, playing 137 games. He had 169 hits for a .316 average and 13 home runs. More injuries limited him to 124 games last season, when he had 149 hits and a .298 average with a career-best 31 homers.

Alex Bregman
Alex Bregman played his first full season in the majors in 2017, when he hit .284 on 158 hits with 19 home runs. In 2018, his average went up slightly to .286, with 170 hits — 31 of those were home runs. He had a career year in 2019, recording a .296 average with 164 hits. He set career highs with 41 homers and 119 walks.

George Springer
George Springer was named the World Series MVP in 2017 after a good regular season in which he hit .283 with 155 hits and a then-career-high 34 home runs in 140 games. He played in that same number of games in 2018, but his numbers went down to .265, 144 hits and 22 homers. Springer bounced back last season, despite being limited to 122 games. He recorded 140 hits for a career-high .292 average, and he set a new personal home run mark with 39 longballs