MLB: 7 Active Pitchers Who Might Reach 3,000 Strikeouts
More than any other sport, baseball is a game of milestones associated with greatness. For years, any hitter with 500 home runs or 3,000 hits was nearly a guaranteed lock for the Hall of Fame. For pitchers, 300 wins used to be the staple — though as the use of starting pitchers has evolved through the years, this has shifted somewhat. Another milestone for pitchers is 3,000 strikeouts. Yankees pitcher C.C. Sabathia reached the hallowed number in a start against the Arizona Diamondbacks early in the 2019 season, but we might have to wait a while to see the next pitcher reach that milestone.

Which players will reach 3,000 strikeouts next? Let's take a look at the seven active pitchers who might reach 3,000 strikeouts (all strikeout totals courtesy of Baseball Reference).

7. Julio Teheran, Atlanta Braves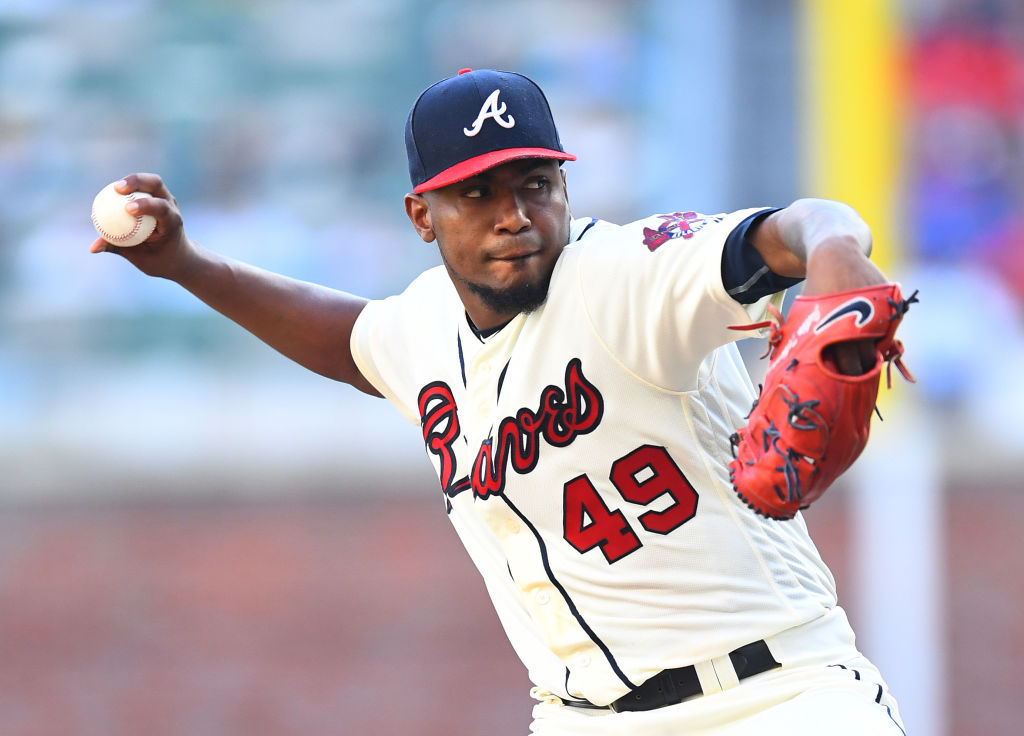 With 1,081 strikeouts at the age of 28, Teheran is in a great spot to one day get to 3,000. While has yet to record over 200 strikeouts in a season, he is entering his prime seasons. If he can increase his strikeout totals, stay healthy, and produce as consistently as he has over the past few seasons, he'll likely hit 3,000 strikeouts.

6. Gerrit Cole, Houston Astros
Cole is part of the "1,000 strikeouts before the age of 30" club. He has nearly 1,100 strikeouts at 28 years old. He recorded 276 punchouts last year, and if he's able to continue that sort of production, reaching 3,000 strikeouts likely won't be a problem.

5. Madison Bumgarner, San Francisco Giants
Madison Bumgarner may not have the high totals of some of the other entries on this list, but he does have time on his side. Bumgarner has more than 1,600 strikeouts, but he is only 29 years old. If he can continue his stellar output well into his 30s, which isn't uncommon for pitchers, especially with the limitations on pitch counts teams have adopted in the last 10-15 years, he will likely hit 3,000 strikeouts sometime in the later part of his mid-30s.
4. Clayton Kershaw, Los Angeles Dodgers
Clayton Kershaw has displayed incredible stuff throughout his career. His dominance has slowly dissipated, but he's still on pace to reach 3,000 strikeouts. Kershaw ran into injury problems last year, but he managed to record 155 strikeouts, which was his lowest total since his rookie year when he had 100. He's only 31 years old and has more than 2,300 strikeouts, so he is a solid bet for the 3,000 striekout club. But a major injury and a decline could leave him short of that milestone.
3. Felix Hernandez, Seattle Mariners
While King Felix has had a wonderful career, he's the first entry on this list with some doubt over whether he'll hit 3,000. Hernandez recorded more than 200 strikeouts every year from 2009-2014, but he has yet to do so from 2015 to the present. As it stands, he has just over 2,500 strikeouts to his name. Injuries and age may catch up to him, as he's 33 years old. Plenty of pitchers have success after 33, but few improve. Hernandez will likely get to 3,000, but he'll need to put together at least four or five more healthy seasons to do it.
2. Max Scherzer, Washington Nationals
Scherzer has been the Nationals' best starter for several seasons. He's also 34 years old with more than 2,500 strikeouts. Normally, one might think age is catching up to Scherzer, but he's never missed a significant amount of time with an injury. He's almost assured of getting to 3,000 strikeouts with just a few more seasons of similar production levels.

1. Justin Verlander, Houston Astros
You can make a case that Justin Verlander is the best pitcher of the 21st century and based on his performance, durability, and the amount of gas he seems to have left in the tank, he seems destined to record 3,000 strikeouts. He currently has more than 2,700, and he is only 36. He recorded 290 strikeouts just last year, and he's recorded fewer than 120 Ks in a full season just once in his career, so barring an injury or a drastic dropoff, he'll hit this mark by the end of the 2020 season at the latest.