MLB All-Star: Making a Case for Each American League Last-Vote Player
Now that the official All-Star Game voting has ended, and each league's respective coach has chosen the reserves, all that remains is the fan vote for the last roster spot. Each league, the American and National, have five players who are vying for one spot apiece and based on the fan vote, one player from the five options will get it.
While the individual position does not matter in terms of the five possible options, based on the players already selected, there could be much more need for certain position players than others. Despite the game being on July 14, the voting—which started a few days ago—ends this Friday at 4 P.M. Each player has his own worth to the team. And as they share different positions, they each bring different accolades to the table. Thus, here's a case for the five players vying for the American League spot.
1. Xander Bogaerts, Boston Red Sox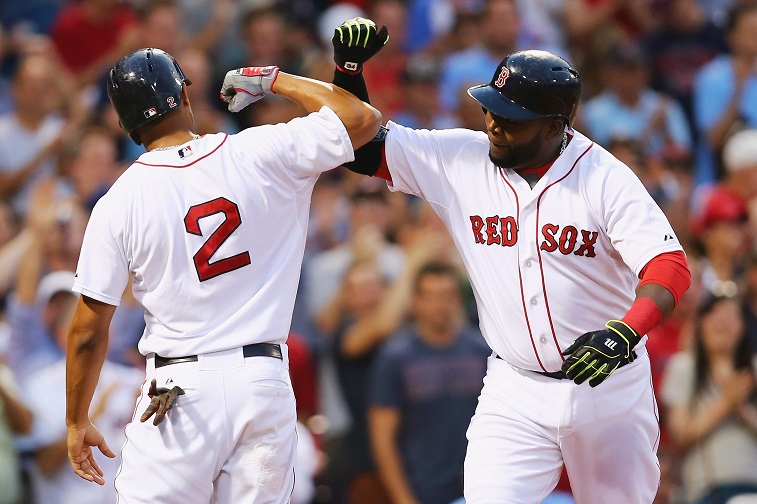 This 22-year-old shortstop is in just his second full season as a major, and in turn vying for his first All-Star Game appearance. Bogaerts' average (.302) is the highest among any of the candidates, and also comes in third for the shortstop position in the AL. His WAR (Wins Above Replacement) currently tops every qualified shortstop in the league—begging to question why he's not already on the team—and furthermore, his 37 RBIs also sit at the top of all other American League shortstops. Although he might not be as good defensively as the Detroit Tigers Jose Iglesias, who was the coaches selection, there's no doubt that he has had a very All-Star worthy first half of the season.
2. Yoenis Cespedes, Detroit Tigers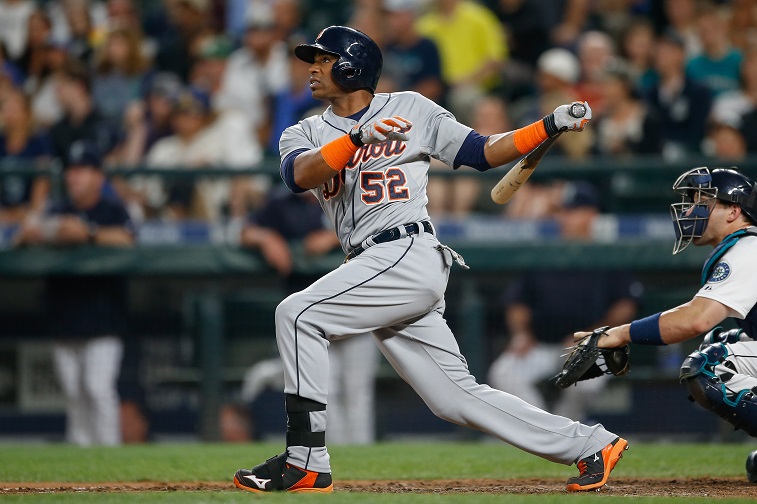 Cespedes, who's playing his first season with the Tigers, is on pace for a career year. He enters this voting selection with a .294 batting average, 11 home runs, and 45 RBIs. While only his average at the plate sits within the league's top five for outfielders, his ability to hit for average and for power makes him the ideal candidate.
And even more than his offensive ability, his defensive prowess really sets him apart from the other players on this list. He has a strong arm from left field—evidenced by his seven assists, which is extremely high for an outfielder—and even better speed. When you take into account his impressive victory a year ago in the game's Home Run Derby, his resume is far from inadequate.
3. Brian Dozier, Minnesota Twins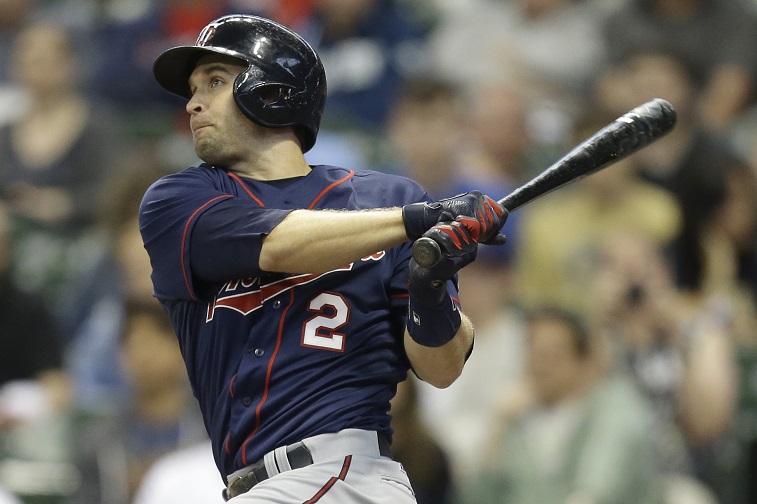 The only second basemen on this list, Dozier has put up impressive power numbers, especially unusual for his position. He has 43 RBIs and 17 home runs, both of which lead all second basemen in the American League. Even more impressive, Dozier's ability to steal bases (7) is quite surprising for a player who hits for power.
However, unlike some of the other players, Dozier has more of a glaring weakness. His batting average is down and strikeout rate up: not an abnormal event for a player with his kind of power, though. His .258 batting average ranks seventh out of ten qualified second basemen in the American League, and even more so, his 74 strikeouts is good enough for first in terms of second basemen—15 more than the next player. But as any player who hits for power has ever discovered, when you swing for the fences, you tend to swing and miss all the more often.
Overall, Dozier's power would be the reason he's chosen for the final spot—that and the fact that Minnesota voters will need to come out of the woodworks. Of the five other candidates, he has the most home runs and certainly has plenty of pop in his bat to make a difference in the game.
4. Brett Gardner, New York Yankees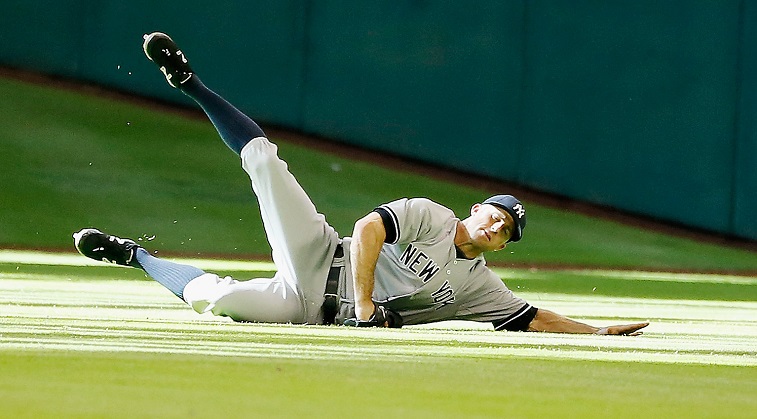 Of all the people on this list, New York's Gardner and Cespedes are the two most similar players. Although he is a career .268 batter, he currently sits at .296 for the season, with nine home runs and 39 RBIs. His 70 strikeouts are a bit high—albeit four less than Cespedes—but his speed on the base path easily makes up for it. With 15 stolen bases on the year and three triples, besides the already chosen Lorenzo Cain, Gardner would by far be one of the best base stealers on the team.
Defensively, Gardner is well above average and also very sound in terms of the fundamentals. Although he has four assists on the year, his lone two errors really set him apart from other outfielders. And when factoring that the thirty-one-year-old Gardner is vying for the first All Star appearance of his career, his presence on the team would mean all the more.
5.Mike Moustakas, Kansas City Royals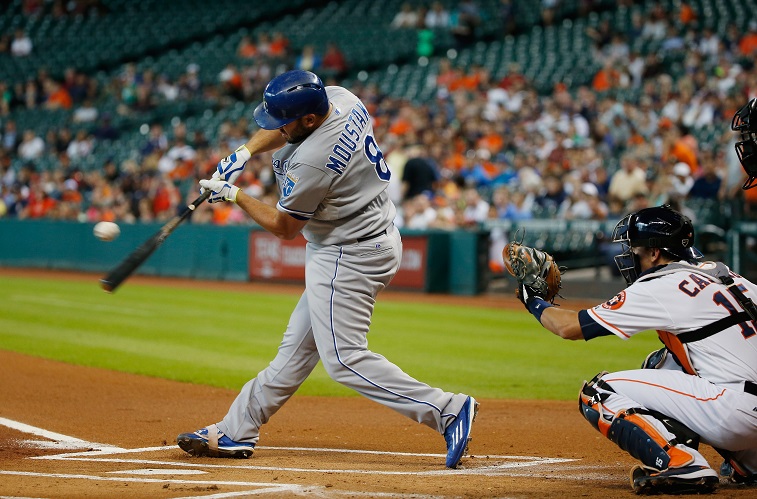 When almost every Royals player lead their respective position in voting, it seemed likely that the third baseman was a sure thing for the team. However, the type of year that Josh Donaldson has had combined with justice (Kansas City took ballot stuffing to a whole new level) moved Moustakas out of the starting lineup. But that isn't to say he isn't worthy of this final spot. His batting average (.301) currently ranks second among qualified third basemen in the AL, and so does his OPS, which is a player's on-base percentage plus their slugging percentage.
Despite his ability to hit for average and get on base, the other players on this list distinguish themselves from Moustaskas in run production. His 31 RBIs barely even make it in the top ten for third base in the American League let alone the league as a whole. Looking past his subpar numbers in certain categories, though, if Royals fans have proven anything during this All-Star selection, it's that they'll vote. And that quality—just not a quality that has anything to do with Moustakas' own ability or resume—could be the one that gets him in the final spot.