MLB: Anibal Sanchez Could Be the Nationals' World Series X-Factor
The Washington Nationals have one of the best playoff pitching staffs in the major leagues. Future Hall-of-Famer Max Scherzer is one of the greatest pitchers of this generation; he entered the postseason with a 2.92 ERA and a 1.03 WHIP. Patrick Corbin had a 3.25 ERA and a 1.18 WHIP during the regular season, and Stephen Strasburg wasn't too far behind with a 3.32 ERA and a 1.04 WHIP. These were three of the top 20 pitchers in the majors this season.
And through Washington's first six playoff games, none of them have been the Nationals best starting pitcher. That spot belongs to Anibal Sanchez, who could wind up playing a big role in the Nationals' quest for their first World Series in franchise history.
Anibal Sanchez had a strong showing in the NLDS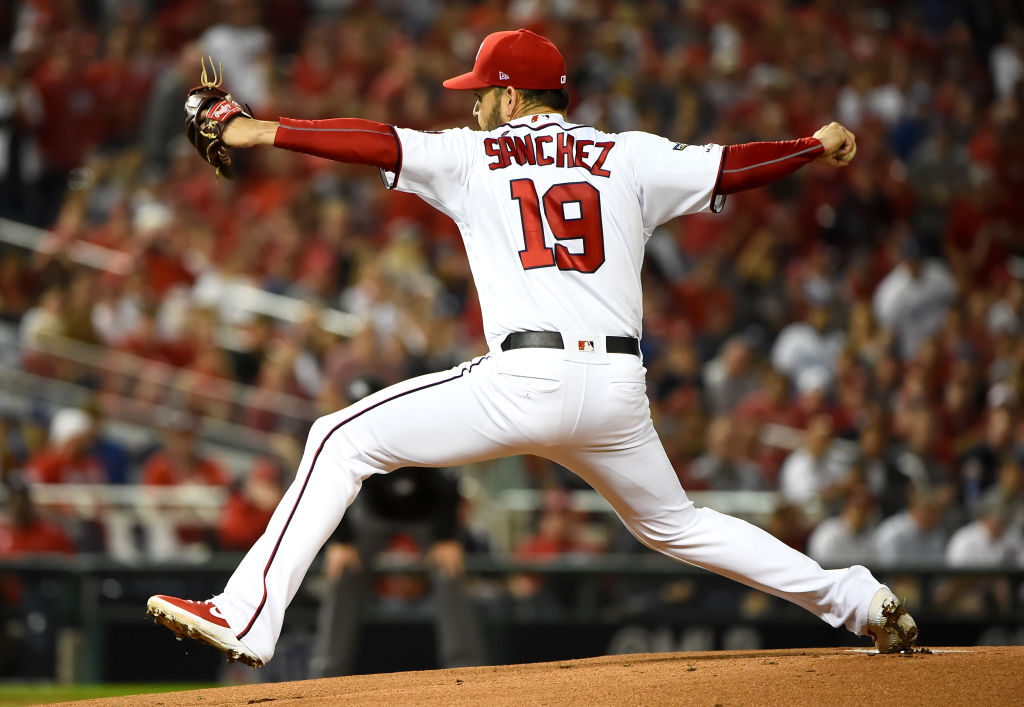 The Washington Nationals entered Game 3 of their best-of-5 series against the Los Angeles Dodgers with the series tied up at 1-1. Instead of going with Max Scherzer on short rest coming off of his relief appearance in Game 2, Washington turned the ball over to Anibal Sanchez. Nobody could have been expecting too much against the Dodgers' elite offense; the team was likely just hoping for Sanchez to eat some innings and keep his team in the game.
Sanchez was excellent in his spot start, striking out nine batters in five innings and allowing only four hits, two walks, and one run. He was pulled from the game for a pinch hitter in the bottom of the fifth inning, only to see Patrick Corbin give up six runs in relief in the top of the sixth inning en route to a 10-4 Nationals loss.
With Max Scherzer (who started Game 4 against Los Angeles), Stephen Strasburg (who started Game 5), and Patrick Corbin (who came in as a reliever in Game 5) all unavailable, Anibal Sanchez got the start in Game 1 of the NLCS against the St. Louis Cardinals. Again, his main goal here was to provide the bullpen some relief and to keep the game close.
His performance in the NLCS against St. Louis was even better
Anibal Sanchez once again exceeded expectations, this time in even more impressive fashion. On a night when none of his fellow starting pitchers would be available out of the bullpen as they needed to get back on regular rest for this best-of-7 series, Sanchez made any potential bullpen issues a moot point with his performance.
Sanchez carried a no-hitter into the eighth inning, getting through the first seven innings of the game with only three players ever reaching base; one by a walk and two via hit-by-pitch. Anibal Sanchez recorded the first two outs in the bottom of the eighth inning before allowing a single to Jose Martinez on his 103rd pitch.
The 35-year-old right-hander was pulled from the game in favor of Sean Doolittle, who recorded the final four outs of the game to secure Washington's 2-0 road victory over St. Louis. Sanchez now owns a 0.71 ERA, a 0.63 WHIP, and 14 strikeouts in 12.2 innings pitched this postseason.
Why this matters
The Houston Astros had a 2-1 lead over the Tampa Bay Rays in their best-of-5 series in the ALDS. Without a fourth pitcher in their rotation that they could trust, the Astros sent Justin Verlander to the mound on only three day's rest. Verlander allowed seven hits and four runs in only 3.2 innings pitched, and the Astros went on to lose that game 4-1.
The New York Yankees also don't have a reliable fourth starter, rolling with a three-man unit of James Paxton, Masahiro Tanaka, and Luis Severino.
With Anibal Sanchez pitching at this level, the Nationals know that they can trust him. This will make a huge difference in this NLCS series against St. Louis and in a potential World Series matchup against the Yankees or Astros. While the other teams remaining in the postseason will need to worry about limiting their usage of starters out of the bullpen or when to start guys on short rest, Washington will have the freedom to do so knowing that they can count on Sanchez to give them quality innings when called upon.
If the Nationals win the World Series this season, it will be in large part due to their trio of aces and their talented offense. But Anibal Sanchez could be the X-Factor that puts Washington over the top.