MLB: The Braves' Addition of Billy Hamilton Might be the key to the Home Stretch
While it may not have dominated the headlines, the Braves made a big move when they claimed outfielder Billy Hamilton off of waivers. While it may not be a good season for Hamilton, his defense, base-stealing, and pinch-running are just the kinds of intangibles that could help the Atlanta Braves as they head into the home stretch of the season. The Braves hold a comfortable lead in the NL East, and the little things that Hamilton provides could help them stay atop the leaderboard.

Billy Hamilton's career
Billy Hamilton may never have been a star in Cincinnati, but he played a consistent role for the Reds that made him a valuable contributor. He was never a hitter that was going to scare another pitcher, but his speed when he did reach base made him a force to be reckoned with. Hamilton is closing in on 300 stolen bases for his career. Even if he isn't a rotation hitter, his baserunning could come in handy when the Braves are in a pinch.

Aside from his baserunning, Hamilton's control of the outfield was always one of his greatest strengths. He fields a .995 percentile while he has only 13 errors to his name since 2013. His speed and vision getting to a ball combined with his ability to move between positions mean that he can always be put out in the field in late innings if the Braves need to make a change.

His brief stint in Kansas City may not have been a success, but it was only half a season, and he could turn it around with less pressure on him and a smaller role. What he will provide for the Atlanta Braves is speed, consistent fielding and a skill set that could be the difference between wins and losses. If the Braves are ever in an in-game bind in the unpredictable MLB playoffs, then it is always good to have an insurance plan.

The Braves' home stretch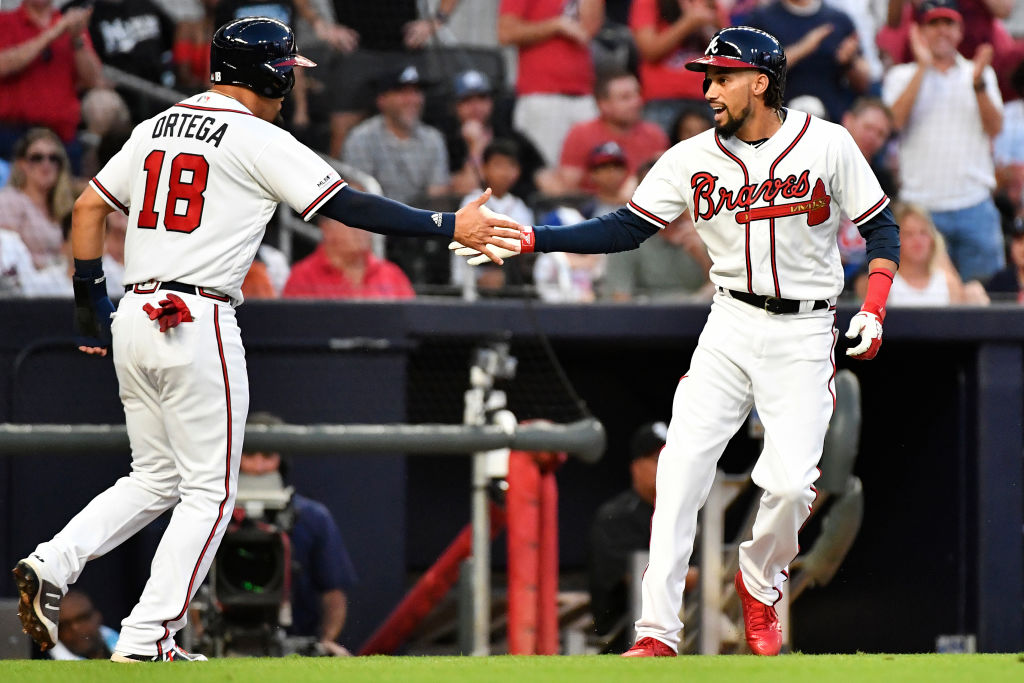 Hamilton's fielding will be of immediate concern for the Reds, as Ender Inciarte, Nick Markakis, and Austin Riley have a knack for getting banged up. The signing likely isn't looking solely at the end of the season, but the postseason as well. Billy Hamilton's flexibility and fielding ability could put him into slots if the injury bug continues to plague the Braves.

The Braves are comfortably in second place in the National League behind the Dodgers. The Dodgers are coming off two failed appearances in the World Series, so they will be hungry to make the third time a charm. Having as much depth and fresh legs as possible will be vital for the Braves. The playoffs should be a foregone conclusion, barring a disastrous final month, but everything after that is a giant question mark.

Hamilton's start in Atlanta
Hamilton hasn't snuck into the Braves good graces, but he's let his presence be known from the time he first stepped foot on the field in their jersey. In an August 28 loss to the Toronto Blue Jays, Hamilton reached base four times, but his teammates failed to let him reach home plate. Just as Hamilton will need to work to help the Braves, his skill set will require a certain amount of support from his team, as well.

He has also shown some vocal leadership on defense, coming into that same series in Toronto with a warning to his team. Having played in Toronto earlier this season, he noticed that the field is bouncy, meaning that players who don't compensate for the softer ground could be on the highlight reels for all of the wrong reasons.

Time will tell if Hamilton is a valuable addition or another role player, but the Braves have a chance to strengthen their roster heading into the final act of the season. If everything goes right, his impact could be felt into October.