MLB: 3 Breakout Teams Who Might Be for Real in 2019
After the first month of the baseball season, the good teams and bad teams begin to separate themselves. The path each team is going to take over the course of the entire season starts to take shape. Teams can falter after a good start or recover from a bad one, but evaluating the first month gives fans an opportunity to examine who may be a contender as the season continues. Several breakout teams are outperforming their 2019 projections and moving from pretenders to possible contenders. Let's take a look at three of those breakout teams who might be for real.

Tampa Bay Rays
In one of the most predictable occurrences in baseball, the Boston Red Sox and New York Yankees dominated the AL East last season. Both teams qualified for the playoffs and won 100 or more games. Their seasons were so strong that few noticed that their in-division rival, the Tampa Bay Rays, quietly went 90-72 on their way to third place. In many seasons (and other divisions) that would qualify for a playoff berth.

The Rays took last year's encouraging finish to become one of the breakout teams off to strong starts in 2019. They have two players with at least seven home runs so far — second baseman Brandon Lowe and designated hitter Yandy Diaz. Left fielder Tommy Pham is getting on base at a .404 clip in 146 plate appearances, both of which lead the team. They also have six home runs from injured utility man Austin Meadows.

The Rays had an AL-leading 23 wins entering play on May 8 and sit in first place ahead of the underperforming Red Sox and the walking wounded squad also known as the Yankees. The Red Sox will probably stabilize, and the Yankees will get some reinforcements back. But based on last year's strong season, this year's good start, and having a Cy Young Award frontrunner (Tyler Glasnow), the odds of the AL East being a three-team race are better than one might have expected heading into 2019.

Arizona Diamondbacks
The Nationals had replacements for Bryce Harper, and Manny Machado was only a hired gun for the Dodgers last year, so neither team really suffered from the loss of either star. The team who might have been the most impacted by the loss of a star was Arizona when they traded star slugger Paul Goldschmidt to the St. Louis Cardinals. While some teams are built to absorb major losses, the Diamondbacks weren't.

A funny thing happened after the D'backs lost their franchise player — they started winning. They sat in second place in the NL West after 36 games. They still have a stellar top three leading their pitching rotation with Zack Greinke, Robbie Ray, and Luke Weaver. Christian Walker, Goldschmidt's replacement at first base, has seven home runs and 16 RBIs this season.

Minnesota Twins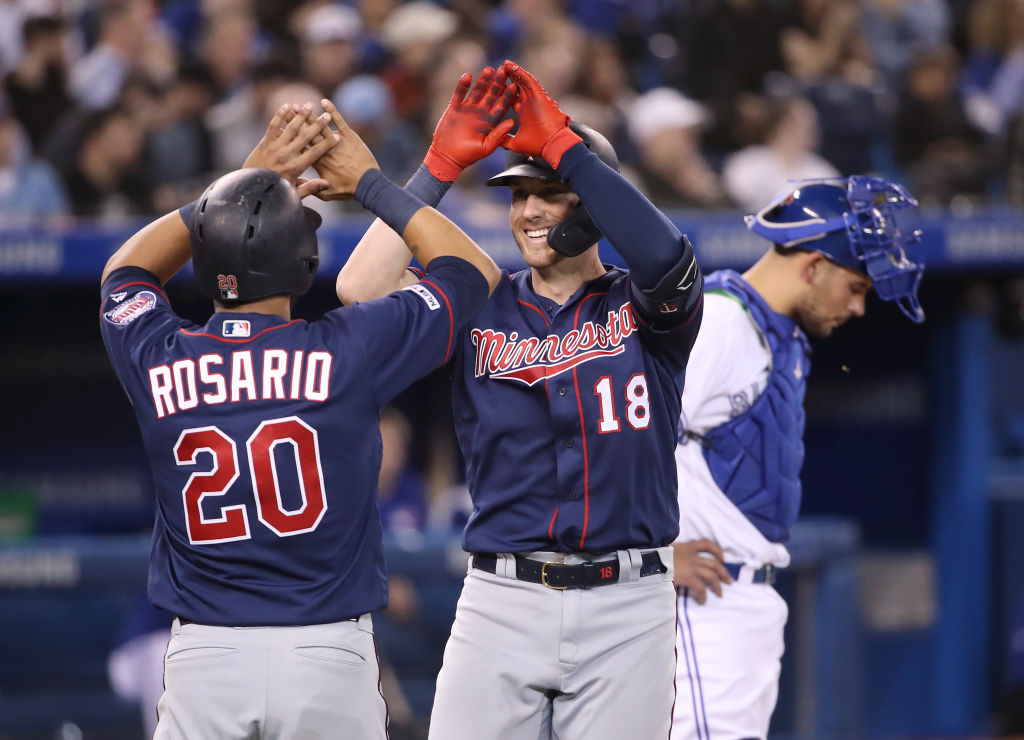 Most baseball pundits assumed the AL Central was Cleveland's to lose in 2019. Well, the Twins are one of the surprise breakout teams in 2019, and they led Cleveland by three games in the division after roughly six weeks of play. The Indians have had a stranglehold on the division for the last four years, and they've won the division in each of them. While they have disappointed this year, the Twins have played above expectations.

Left fielder Eddie Rosario (11 home runs, 25 RBIs), catcher Mitch Garver (.333 batting average, .387 on-base percentage) and designated hitter Nelson Cruz (seven home runs, 21 RBIs) lead the Twins' offense.

Minnesota's pitching has also been excellent. Three of their starters have at least four wins in the first month, including Jose Berrios (5-1, 2.91 ERA), Jake Odorizzi (4-2, 2.78 ERA), and Martin Perez (4-0, 3.41 ERA). Closer Blake Parker, who's recorded six saves and a 1.69 ERA, solidifies the bullpen.The Twins have been aided by a relatively easy schedule (ranked 27th overall in MLB), but with the Indians losing key pieces and suffering key injuries to two of their starting pitchers (Corey Kluber and Mike Clevenger), they may have enough firepower to fend off the tribe and win the Central.