MLB: Can Albert Pujols Keep Producing at an Elite Level?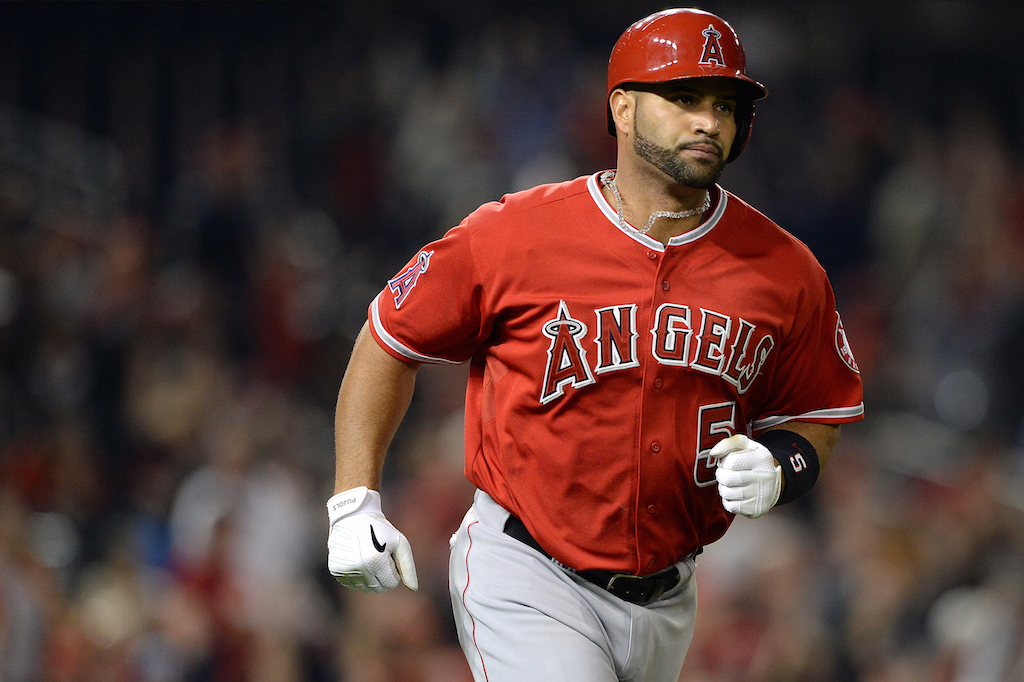 The Los Angeles Angels are set to enter the fifth season in Albert Pujols' massive 10-year, $240 contract. The 15-year veteran is currently still recovering from a foot surgery from November. However, he has stated on several occasions over the last couple of weeks that he will be ready in time for Opening Day in some capacity — likely manning the designated hitter spot in the batting order. This procedure is the latest he has undergone since joining the Angels in December 2011, with an arthroscopic right knee surgery in the fall of 2012 and plantar fasciitis throughout the 2013 season.
All of those ailments have affected Pujols to some extent during his tenure, but he was able to go through the entire offseason last year without any setbacks or injuries. This helped contribute to his  strong season statistically as he hit 40 home runs for the first time since the 2010 season and batted .244 with 95 RBIs, which helped earn his 10th All-Star selection (his first as a member of the Angels). However, his power numbers appear to hide a deeper and more stark reality: The 36-year-old is in a steady decline.
In 2015, he posted career lows in batting average (.244) and on-base percentage (.307). If his 2013 season had not been cut drastically short by a torn plantar fascia in his foot, he would have also recorded career lows in doubles (22), runs scored (85), and hits (147) as well. His on-base percentage has dropped in each of the last eight straight seasons while his batting average has seen an almost identical decline over that span.
Pujols has always been primarily a pull hitter, but that tendency has grown larger over the last few seasons and more than ever before in 2015. He pulled 39 out of his 40 home runs along with 14 out of his 22 doubles. According to ESPN.com, he's also batting .187 when hitting a ground ball that has helped make it a much simpler decision for teams to put the shift on when he is at the plate. Pujols still possesses power that opposing pitchers are fearful of, but he has become a less difficult hitter for opponents to get out.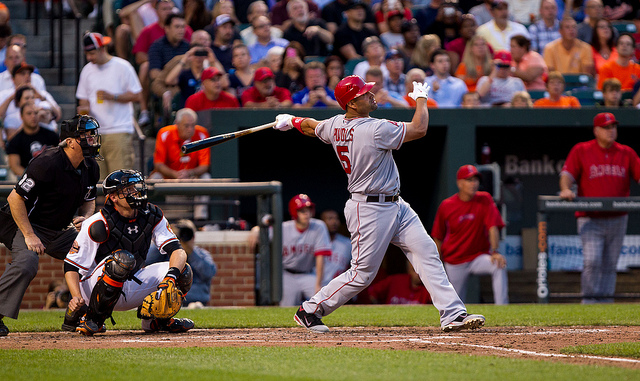 It's also noticeable that Pujols saw his production drop in the second half of last season, batting just .231 with 14 home runs and 39 RBIs while holding a meager .288 on-base percentage over 72 games played. This included batting .224, .231, and .222 over the final three months of the season. Yes, Pujols still flashed his power but behind those home runs, there isn't much to be encouraged by from the former three-time NL MVP.
Although he may never be the type of player who strikes out more than 100 times in a season (the most was 76 times in 2010), he has become a boom-or-bust hitter. It's not a knock against Pujols but rather what has become the reality for many players before him in the latter portions of their careers. They no longer possess the same physical ability. In Pujols' case, he is pulling pitches more than ever before with most of the contact being balls sent to the left side of the field — mostly of the ground ball variety.
He is also struggling to hit pitches in the inner part of the strike zone — where he normally used to hit with regularity — which has contributed to him pulling hits as he is unable to get the bat around in time at a better angle. Along these same lines, it appears that he may become a full-time designated hitter within the next couple of seasons because of his continued healthy battle. The wear and tear of playing first base isn't something that his body can handle for an entire season. He played in just 95 out of the 157 games at first base last year.
He will see that trend increase next season as he gets his body back into shape to handle the responsibilities that come with playing first base. That said, when Pujols does begin playing first base more regularly at some point in 2016, he will still be able to perform like an elite fielder at the position. This isn't suggesting that Pujols won't still be a highly productive player batting in the middle of the lineup next season, but that his all-around hitting days are in the past. He will continue to drive in runs and hit plenty of home runs, but it will simply be harder for him to get that type of production at this stage of his career.
The Angels will able to depend on him to be one of the primary sources of run production alongside Mike Trout, but that responsibility will lie more heavily on Trout's shoulders over the next couple of seasons. All in all, Pujols will go down as one of the greatest players and hitters of all time in league history, but as far as being one of the elite all-around hitters in today's game, it's simply not the case anymore.
Statistics courtesy of Baseball-Reference.com and MLB.com.