MLB: Can Astros' Carlos Correra Win AL MVP in 2016?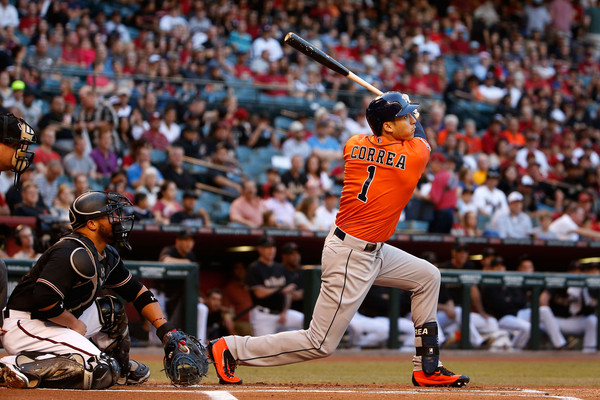 In 2015, the Houstons Astros made one of the biggest turnarounds in league history by going from holding one of the worst records in the league to being a legitimate playoff team. A major part of the franchise's success can be accredited to the emergence of promising shortstop Carlos Correa, whose strong play last season helped him earn the AL Rookie of the Year award.
The former first overall pick in the 2012 MLB Draft was called up on June 8, and made an immediate impact with the Astros by posting phenomenal numbers in just 99 games played (batting .279 with 22 home runs and 68 RBIs). This included leading all shortstops and AL rookies in home runs while holding a 4.1 WAR (Wins Above Replacement). He also set the franchise rookie record for home runs and broke the Astros' mark for most home runs by a shortstop in a single season.
Correa was just as tantalizing defensively, making highlight-reel plays on a daily basis. What was most impressive about his stellar rookie campaign is the fact that, had he played the entire season in the majors, he would have had a legitimate shot to win the AL MVP by posting more than 30-plus home runs with near or above 100 RBIs and 100 runs scored. Additionally, his overall offensive production would have put him far above any other player at his position.
This, combined with Houston's huge turnaround, would have given him a strong argument for claiming the award and becoming just the third rookie to capture both the Rookie of the Year award and MVP award, joining the likes of Ichiro Suzuki of the Seattle Mariners in 2001 and Fred Lynn of the Boston Red Sox in 1975. Correa already shows that he's an extremely special player with his presence at the plate. Look no further than how quickly he took over the No. 3 spot in the batting order, the main source of any team's offensive production.
All of this puts him in the position to have an even stronger year in 2016, which could land him squarely in the AL MVP conversation with the likes of Los Angeles Angels outfielder Mike Trout and Toronto Blue Jays third baseman Josh Donaldson, who are the last two winners of the prestigious award.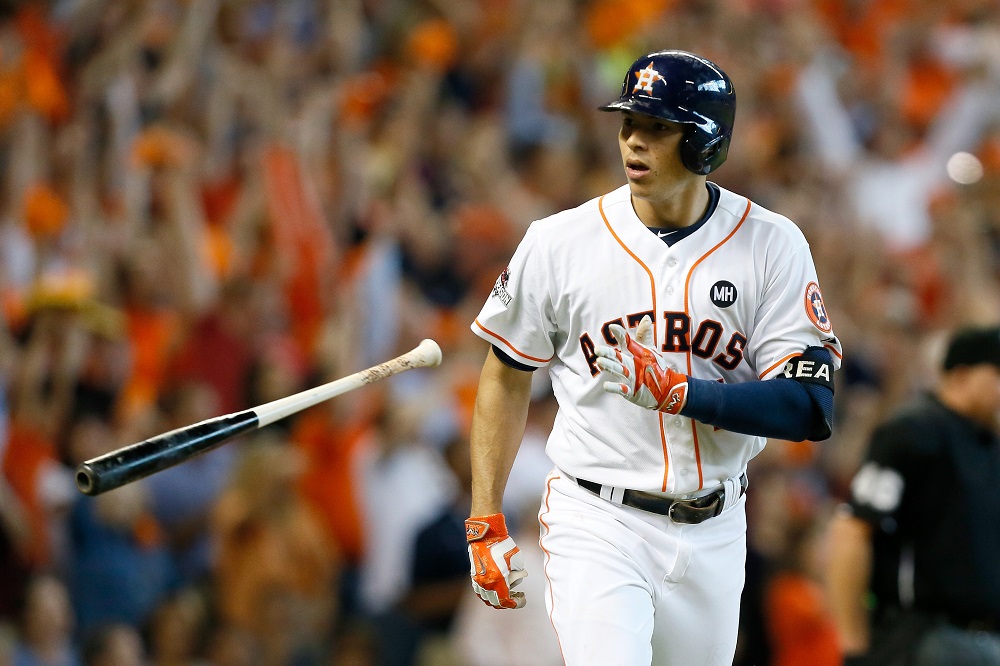 Donaldson is coming off his best campaign, hitting .297 with 41 home runs and an AL-leading 123 RBIs, as well as an MLB-best 122 runs scored. He played a critical part in helping the Blue Jays end the longest active postseason drought for a North American professional sports team, snapping a 22-year absence with the franchise's sixth AL East division title. As for Trout, he set the league ablaze in his first four seasons, finishing either first or second for the AL MVP award while setting numerous MLB and Angels' records along the way.
After winning the AL MVP in 2014, he responded with another phenomenal year, batting .299 with a career-high 41 home runs, 90 RBIs, and 104 runs scored. Trout also led the league with a 9.4 WAR (Wins Above Replacement), a .590 slugging percentage, and a .991 OPS (On-Base Plus Slugging). Although he saw a slight drop in his RBI totals, Trout nearly carried the Angels to the playoffs despite a mostly unstable batting order and shaky pitching staff.
Another viable candidate is former two-time AL MVP Detroit Tigers first baseman Miguel Cabrera, who had a step back year in 2015 due to injuries that placed on the disabled list for the first time in his career, forcing him to miss an extended period of time. Even with that, he returned and batted a league-leading .338 while earning his sixth career Silver Slugger award that only demonstrates the caliber of hitter he is. Keep in mind, prior to the injuries Cabrera was regarded as arguably the best offensive talent in the league, having notched 30 or more in nine seasons and knocked in over 100 runs for 11 consecutive years.
With a full offseason to recover, the 32-year-old could return to elite form and capture the award for the third time. All of this makes it quite obvious that Correa has plenty of competition for the 2016 AL MVP, but if he can build off his impressive rookie campaign, there's a strong chance that he becomes just the second player in franchise history behind potential Hall of Famer Jeff Bagwell to win the award. The 21-year-old is a rare talent and has an extremely promising future ahead of him that could result in multiple accolades that far exceed just winning the AL MVP award.
Statistics courtesy of ESPN.com and Baseball-Reference.com.