MLB: Can Jake Arrieta Repeat as the NL Cy Young Award Winner?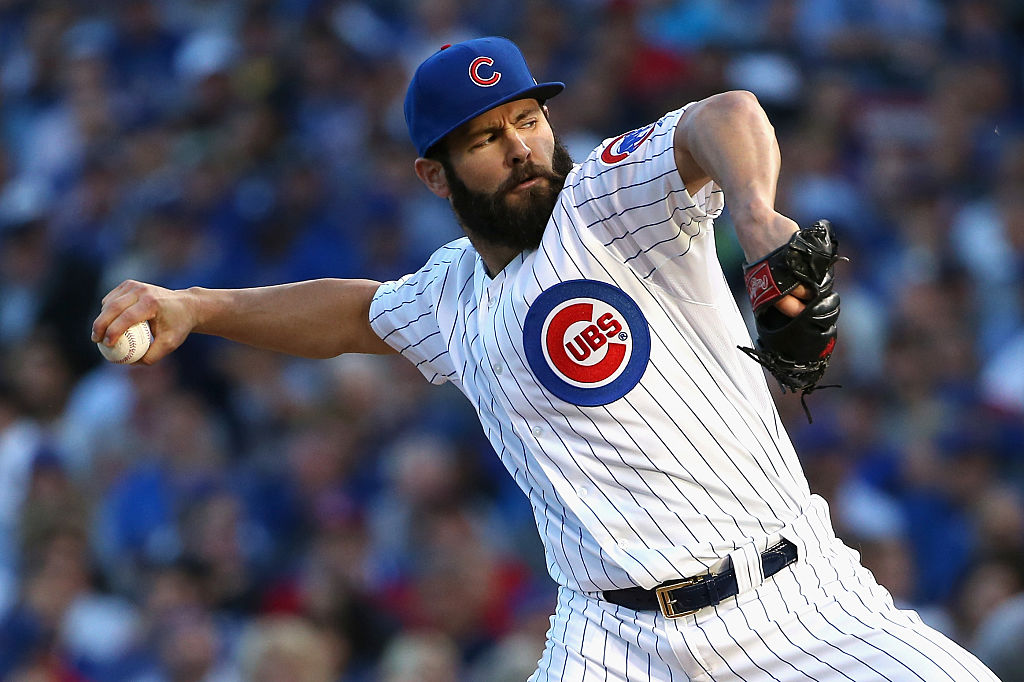 When the Chicago Cubs acquired pitcher Jake Arrieta from the Baltimore Orioles in July 2013, the club hoped that the young right-hander could become a reliable arm at the back end of the rotation. At the time of the deal, Arrieta was a 27-year-old pitcher struggling with consistency at the major-league level through his time with the Orioles. He held a disappointing 5.46 ERA in 358 innings pitched.
His lack of production made trading him more of a footnote rather than front page news. In fact, Arrieta experienced the worst stretch of his career just prior to the deal, holding a 1-2 record with a 7.23 ERA, 17 walks, 25 hits allowed, and 19 runs given up in just 23.2 innings pitched over five starts.
The change of scenery worked wonders for Arrieta as he has progressively improved in each campaign with Chicago, capping it all off by earning the NL Cy Young award in 2015. His impressive season ended with a 22-6 record, 1.77 ERA, 0.86 WHIP, 236 strikeouts, four complete games with three shutouts, and an 8.6 WAR (Wins Above Replacement) in 33 starts.
During his historic second half of the season, Arrieta truly became the frontrunner for the award. He had a 12-1 record and an eye-popping 0.75 ERA in 107.1 innings over 15 starts — the lowest ERA in MLB history for a full-time starter over that span. His 0.41 ERA from August 4 through the end of the season was the lowest mark of a season since ERA became an official stat.
Arrieta became the definition of dominance during that stretch, which helped him become the first Cubs pitcher to win the NL Cy Young Award since Hall of Famer Greg Maddux did so in 1992. He is also just the fifth pitcher in club history to accomplish that feat, joining a pair of Hall of Famers in Fergie Jenkins (1971) and Bruce Sutter (1979), as well as Rick Sutcliffe (1984).
Arrieta carried that momentum into this season, as he currently holds a 4-0 record with a 0.87 ERA, 26 strikeouts, and a 0.68 WHIP in 31.0 innings pitched. He's coming off his second career no-hitter — and he is 15th in franchise history — in a dominating 16-0 win over the Cincinnati Reds on Thursday night. It makes him just the fourth reigning Cy Young Award winner to toss a no-hitter, joining the likes of Sandy Koufax, (1964), Bob Gibson (1971), and Clayton Kershaw (2014).
Arrieta became the Cubs' first starting pitcher to win his first four starts of the season since Maddux in 2006. His no-hitter extends his scoreless streak to 18.2 innings with his last earned run coming on April 10 against the Arizona Diamondbacks.
However, Arrieta's utter dominance extends past this season as he has not lost a game in his last 17 regular-season starts while holding a 15-0 record with a 0.65 ERA, making him just the second pitcher in league history to go undefeated between no-hitters. He joins former Reds great Johnny Vander Meer, who tossed consecutive no-hitters during the 1938 season.
Over the last year, Arrieta pitched the best baseball of his career, reaching the rarified air that few pitchers in MLB history have ever experienced. At this moment, he makes a strong case for being the best pitcher in the majors.
Kershaw has had a tight grip on that prestigious title over five years with three Cy Young awards, an NL MVP, five All-Star game selections, a Gold Glove (2011), and a Triple Crown (2011). He led the NL in ERA four times, led the NL in strikeouts three times, and has thrown a no-hitter. In essence, Kershaw has become the gold standard among starting pitchers — and Arrieta is the clear challenger.
Keep in mind, the Dodgers ace isn't too far behind Arrieta's impressive start; they currently hold a 2-0 record with a 1.50 ERA, 30 strikeouts, and a 0.77 WHIP in 30.0 innings pitched over his first four starts.
A few other pitchers have been lights out, too, such as Dodgers offseason acquisition Kenta Maeda, who has an NL-best 0.47 ERA and a 2-0 record in his first three starts; Washington Nationals' Joe Ross, who has a 0.54  and a 2-0 record with a 0.84 WHIP in his first three starts; and New York Mets' Noah Syndergaard, who has a 0.90 ERA with a 2-0 record in three starts.
These pitchers have been ridiculously effective on the mound through the early portion of the season, but Arrieta is still a notch above them all. His biggest challenge for the NL Cy Young Award will be Kershaw, who has put up five consecutive seasons worthy of the honor. That said, if the Cubs' ace can continue performing at this incredible level, it's hard to imagine anybody stopping him from earning the NL Cy Young Award again.
Statistics courtesy of ESPN.com and Baseball-Reference.com.