MLB: Can Kansas City Fend Off a Royal Collapse?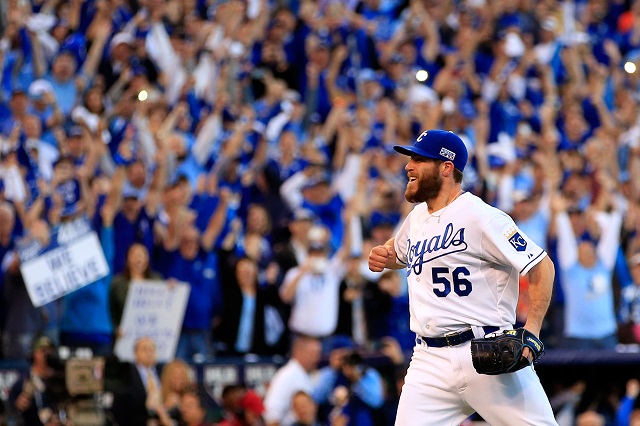 One of the more amazing qualities of the baseball season is just how immune we are to its massive length, which features nearly double the number of regular season games as any other major sport. That total alone suggests that deficits within a division or a wild card chase are more easily made up in baseball than in other sports – there are more opportunities for teams to rise and fall.
What's even more amazing is how much ground can be made up or lost in almost no time at all. If you have a bad week, while a team chasing you has a great one, it's conceivable that you could give back four or five games in the standings. There aren't any days off to have closed-door meetings or soul searching sessions to find the reasons why things have gone off the rails. They just can and there's little to be done about it.
Right around this time of year if not a little earlier, almost without fail, there's a first-place team that's way out in front of its nearest competitor. Typically, the division (and playoff spot that goes with winning it) are sewn up. However, there have been seasons – more of them in recent times – where that presumptive champion has gone woefully, hopelessly off track down the stretch.  
Before the last decade, the 1964 Phillies set the unceremonious standard for late collapses with an epic implosion known as "The Phold." It included a 6.5 game lead with 12 to play and a 10 game losing streak to close the season and in that year, the Phils had a pair of teams hot on their heels: the Reds and the eventual World Series champion Cardinals.
It can be impossible to pinpoint exactly what goes wrong, because there's no specific recipe for a disaster; sometimes your pitchers start getting rocked routinely; other times, your lineup can hardly put balls in play. And it can be different every single day. The 2007 New York Mets, a team that gave away a 7 game lead with only 17 to play and lost the National League East to the upstart Phillies won the penultimate game of their season 13-0, before falling 8-1 to the Marlins on the final day.
That Phillies team was an offensive machine that led the National League in runs, but so too were the 2009 Minnesota Twins, who engineered a comeback against the Tigers from 3 games back with only 4 to play. The 2011 Cardinals (there they are again) were a run producing team, as they sliced through an 8.5 game September deficit to the Braves, but their AL comeback counterparts, the Tampa Bay Rays, relied more on their pitching to famously drop the Red Sox out of the wild card chase after a 9 game Labor Day deficit.
Of course, the most recent example of a team profoundly giving it all away is last season's Oakland Athletics club. In their case, however, they weren't running away with their division so much as the entire league, followed closely by the Angels. That they relinquished their small 2 game divisional lead over the Angels shortly after the Deadline — where they "went for it" with trades for Jon Lester and Jeff Samardzija – wasn't terribly surprising. That they fell all the way to the second wild card spot was.
Somewhat fittingly, the A's blew a 7-3 lead in that Wild Card Game and fell to the eventual AL Champion Royals 9-8 in 12 innings.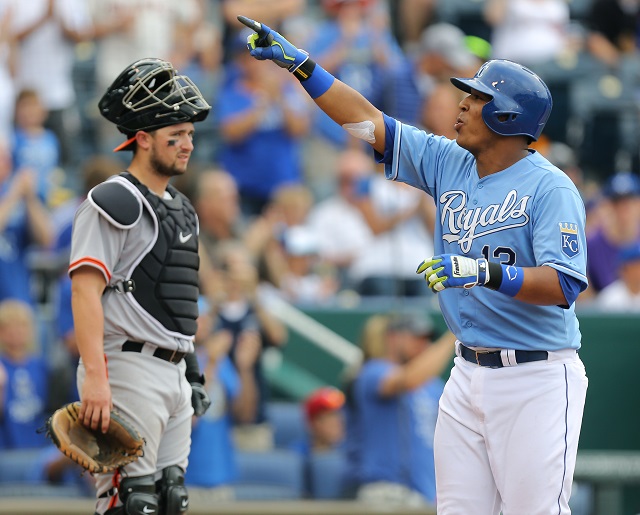 Which all brings us to Kansas City. After finishing just one game short of their second World Series title in 2014, the Royals have comfortably romped through the regular season and currently hold a 9.5 game lead over the Twins in the AL Central. They once again have almost no power, ranking 27th in the majors in home runs, but they come in a respectable 10th in runs scored.
Moreover, their 3.54 team ERA is good for 8th, but that doesn't mean their pitching isn't something of a concern. Their bullpen is propping up that number with a 2.31 mark – good for 2nd — while their rotation sports a 4.30 (for 22nd) and is giving the team only 5.58 innings per start, the 2nd worst mark in the league. Their rotation woes have been enough to make them deal for a bona fide ace in Johnny Cueto. It's always a disconcerting proposition when a team this good needs a Deadline deal to address that.
So will pitching be Kansas City's undoing? It's difficult to say. The young Twins, for their part, have done little as of yet to seize the moment. And in the unlikely scenario that they'd have to fight for a wild card spot, the only team in that race looking legitimately fearsome at the moment is the much-better-than-their-record Blue Jays.
Still, it would be ironic if the club that ultimately bounced Oakland last year suffered a similar fate and had a royal collapse of their own.
Statistics and Information provided by ESPN.
Connect with Tamer on Twitter @iamtamerbouras