MLB: Can Padres' Matt Kemp Return to Being an MVP-Caliber Player?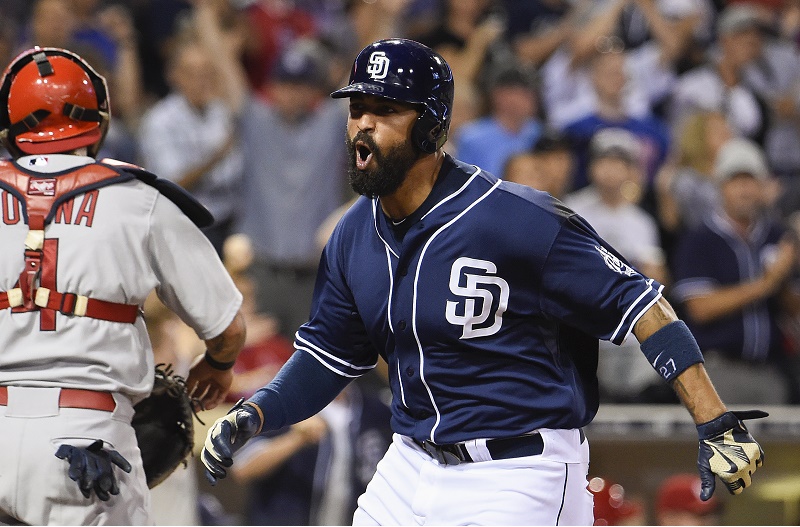 In the 2011 season, Matt Kemp was at the top of his game. He put together the best campaign of his career, batting .324 with 39 home runs and 126 RBIs, which led the league in both categories and made him just the first Dodger to accomplish that feat since Dolph Camilli in the 1941 season. Kemp was also the first player in club history to lead the National League in homer runs, RBIs, and runs scored.
His impressive season helped him earn the title of Baseball America Major League Player of the Year, as well as Gold Glove Award, a Silver Slugger Award, and his first All-Star Game selection. Kemp placed second for the NL MVP award to Milwaukee Brewers outfielder Ryan Braun, who has since been connected with the biogenesis scandal, causing many to believe that Kemp would have won the award.
More importantly, Kemp's breakout year helped him sign a huge contract with the Dodgers for eight years and $180 million. In the following season, Kemp had a strong first half of the season, which helped him earn his second straight All-Star Game nod. However, everything came tumbling down in late August when he injured both his knee and his shoulder after crashing into the wall at Coors Field while attempting to catch a fly ball. He finished the season playing 106 games while dealing with a nagging hamstring injury.
After the season, Kemp underwent left shoulder surgery to repair a torn labrum and some minor damage to his rotator cuff. The injury bug continued to bite in the 2013 season as he was limited to just 73 games due to hamstring and ankle problems. Kemp once again went under the knife in the following offseason, undergoing ankle surgery along with minor surgery to clean up debris in his left shoulder from the previous operation.
All of this resulted in the two-time All-Star playing like a shadow of himself, although he bounced back slightly in 2014, playing 150 games and batting .289 with 25 home runs and 89 RBIs. However, it wasn't all smooth sailing for Kemp as he went through his fair share of disagreements with manager Don Mattingly, which stemmed from Mattingly moving him from center field to left field due to his obvious decline in performance at the position.
Kemp was later moved to right field for the latter portion of the season. He continued to be the subject of change as the Dodgers' new management made the tough decision to trade him to their divisional rival San Diego Padres in exchange for catcher Yasmani Grandal, pitcher Joe Wieland, and prospect right-hander Zach Eflin. Los Angeles also sent $32 million to the Padres in order to help cover the remaining $107 million on Kemp's deal.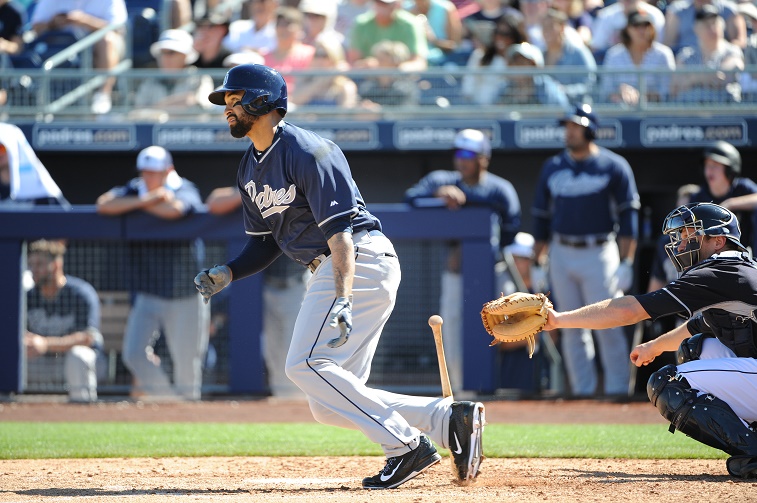 It was a difficult decision, but Kemp's declining production, health concerns, and reported locker room problems made him expendable in the eyes of the new front office despite his massive contract. In any case, the deal meant a fresh start to help reboot his career with the Padres. The 31-year-old responded with a productive season, hitting .265 with 23 home runs and 100 RBIs. However, Kemp struggled in right field, committing eight errors, which was tied for the most among all right fielder and held a minus 2.4 defensive WAR (Wins Above Replacement).
It has been a difficult process for Kemp to return to the form he had prior to the slew of injuries and surgeries, but the nine-year veteran knows that there still is plenty room for improvement. "The past two or three years I've had a couple major surgeries," Kemp said Tuesday, according to Foxsports.com. "Bouncing back from that is tough, but as years go on it gets better and better. Mobility gets better in the ankle. The shoulder is good. I've just got to keep going and keep grinding it out."
If Kemp has any hope of returning to his 2011 MVP form, it falls directly on his health. His body is feeling better the further removed from the major surgeries, but he will need to regain the same athleticism and speed that he had prior to the injuries. He's still working to get his body back to the physical shape it was a few seasons ago.
There are encouraging signs in this regard in this year's Spring Training as he's batting .346 with two home runs, two RBIs with five walks, and just one strikeout in 26 at-bats in 10 games played. He has also committed zero errors in 50 innings played in the outfield. What also may help Kemp return to elite status at the plate could him reuniting with former Dodgers' hitting coach Mark McGwire, who was the hitting coach in his final two years with the team.
He had a strong second half of the 2014 season, which he accredits much to the guidance of McGwire. "He helped me a lot, especially in 2014, coming off my ankle injury," said Kemp, according to San Diego Union-Tribune. "We tried to figure out how to generate some power and just get my swing back. We grinded for the whole first half and finally figured it out. He definitely helped me out, and he's still helping me out to this day."
All in all, his first season with San Diego was a step in the right direction and with his body continuing to feel better and the addition of McGwire as the hitting coach it could help him once again become one of the game's most feared hitters.
Statistics courtesy of ESPN.com and Baseball-Reference.com.