MLB: Why the Early Contract Extensions of Mike Trout and Nolan Arenado are bad for Baseball
It's no secret that Major League Baseball players traditionally don't get massive contracts and huge paydays until they've been in the league for a few years because they are under team control for approximately the first six years of their careers. A recent trend, however, has teams signing players — rookies and veterans alike — to big-money contract extensions before they hit free agency, and it might be hurting baseball. This is why superagent Scott Boras thinks big-money extensions are a bad idea for MLB players.

Mike Trout, Nolan Arenado lead the way with extensions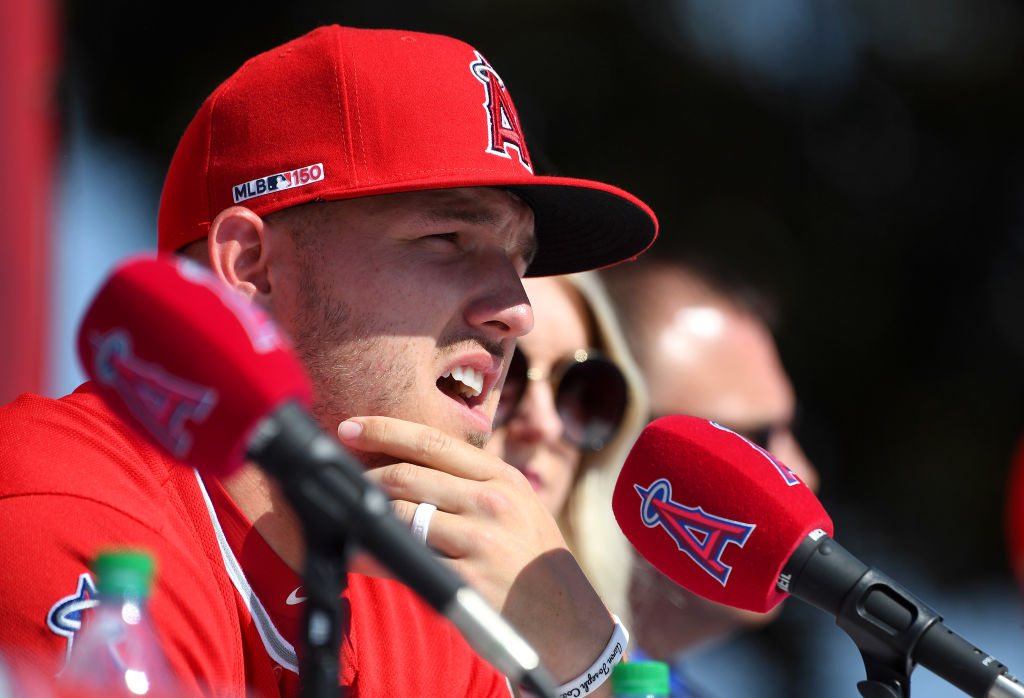 Since the start of spring training, several top players who were not yet eligible for free agency signed contract extensions with their teams.
The two biggest went to Angels outfielders Mike Trout, who signed a $10-year, $360 million extension with the Angels, and Rockies 3B Nolan Arenado, who agreed to an extension worth $234 million. The deals are great for the players, who get financial security, as well as the teams, who know they'll have their stars locked up for the foreseeable future. But Boras seems to think this new trend is bad for the sport.

Why are extensions becoming more common?
Contract extensions are becoming more common because the free agent market in the last couple of years has cooled off for players who aren't at the top of the market. While Manny Machado and Bryce Harper both signed deals this year worth $300 million or more, veteran pitchers Dallas Keuchel and Craig Kimbrel remain unsigned more than two weeks into the regular season.

Teams are hesitant to give veteran players — especially those in their 30s — long-term contracts because of advanced statistics that show such deals typically don't work out for the teams. This is scaring free-agents-to-be and leading them to sign extensions early, often agreeing to team-friendly contracts.

Boras thinks teams are trying to "snuff out the market"
Boras — who, as a representative of many top-tier players, has a vested interest in players reaching free agency — warns that these "snuff contracts," as he calls them, are bad for the league.
Speaking to the Los Angeles Times' Andy McCullough, Boras says teams are trying to "snuff out the market" by going to young MLB players and signing them to extensions years before they hit free agency. Those deals limit the players' "ability to move, to go anywhere, to do anything" by locking them up before they hit the open market and can get multiple teams to pursue them.

Boras makes valid points
While Boras has business reasons to want players to stop signing extensions, he does make some valid points in his arguments. With MLB players having to wait several years before potentially getting their nine-figure contracts — especially with teams often manipulating players' service time — and teams not giving veterans long-term deals in free agency, teams are essentially curbing players' earning potential on both ends of their careers. While teams are taking risks signing young players with just one year — if that — of service time at the major league level, they're also keeping those players from reaching their potential before they enter free agency, keeping costs down and possibly locking the future stars up at discounted rates. That is what Boras refers to when talking about teams snuffing out the market.

Who are the top free agents for the upcoming offseason?
With the extensions being signed, the number of top-tier free agents for upcoming offseasons is dwindling. The top of this winter's free agent class is slated to include: SP Gerrit Cole, DH Khris Davis, OFs Yasiel Puig and Marcell Ozuna, 3Bs Anthony Rendon and Josh Donaldson, and SS Didi Gregorius. The question is which of those players — if any — will sign extensions before the end of the season and become the latest players in the growing trend of avoiding the uncertainty of free agency in exchange for a guaranteed extension?