MLB: Could Josh Donaldson Win AL MVP Again?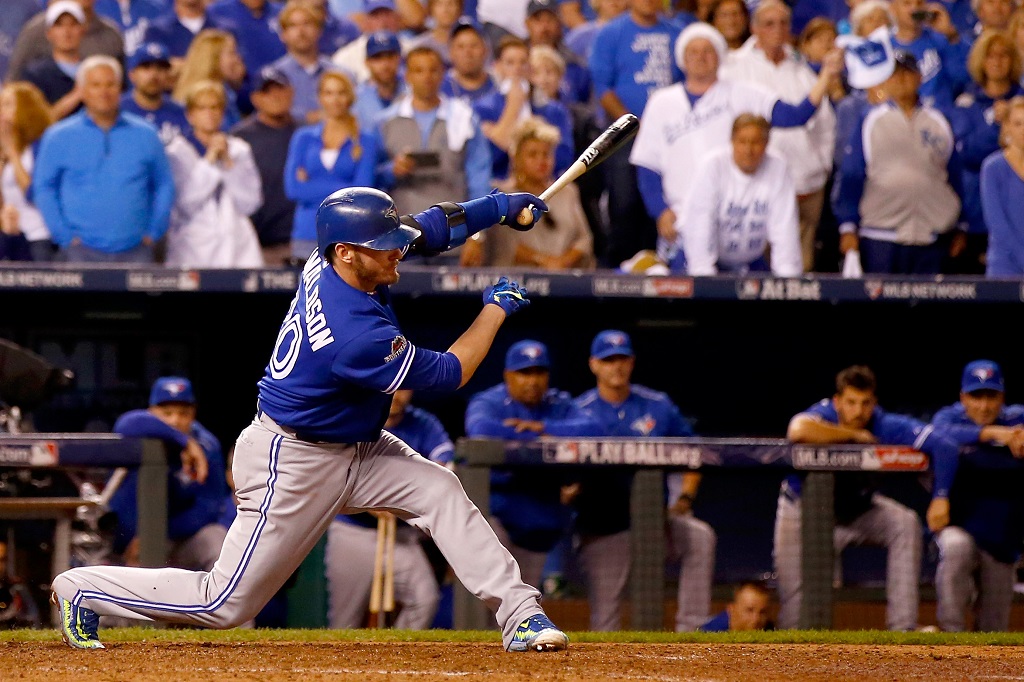 Toronto Blue Jays third baseman Josh Donaldson earned his first AL MVP award last year. This season, he has quickly returned to the conversation. If he earns the award again, he'd be just the 15th player in MLB history to haul in back-to-back MVPs.
Through the first 14 games of the season, Donaldson is batting .309 (tied for an AL-best five home runs), leads the AL with 13 RBIs, and leads the league with 14 runs scored. This hot start has him on a torrid pace to hit 50 home runs, knock in 150 RBIs, and hit 46 doubles. Although he'll likely fall short in regards to home runs and RBIs, it's clear that Donaldson has another MVP-caliber season in him.
The 30-year-old is coming off a breakout year that saw him post career-best numbers, hitting .297 with 41 home runs and an AL-leading 123 RBIs, as well as an MLB-best 122 runs scored. In the last decade, the only other players to match this production have been Albert Pujols and Alex Rodriguez, who each won three MVP awards.
Donaldson was a key part of the Blue Jays' explosive offense, which led the majors in several offensive categories including runs scored (891), home runs (232), doubles (308), total bases (2,518) and RBIs (852). More importantly, the third baseman's production played a major part in helping the Blue Jays end the longest active postseason drought for a North American professional sports team, snapping a 22-year absence with the franchise's sixth AL East division title. Donaldson also became just the second player in franchise history to win the AL MVP award, joining George Bell, who earned it in 1987.
In the first two weeks of the season, his biggest competition hasn't been the usual suspects like Los Angeles Angels outfielder Mike Trout, who is off to a slow start (hitting just .234 with one home run and four RBIs), or Detroit Tigers third baseman Miguel Cabrera, who is batting .262 with one home run and four RBIs.
Instead, his competitor for the award is Orioles offseason addition outfielder Mark Trumbo, who is currently leading the league with a .386 batting average, tying the AL lead with five home runs, and placing second in the AL with 11 RBIs. Texas Rangers third baseman Adrian Beltre is also putting up strong numbers, batting .292 with two home runs and tying for second in the AL with 11 RBIs.
The Blue Jays are not having the type of start they hoped for as they came off one of their best regular seasons in franchise history. They are currently 2.5 games behind the division-leading Baltimore Orioles and have a 7-7 record — certainly not due to a lack of production from Donaldson.
His impressive start to the season allows Donaldson to surge ahead as an early favorite, but the honor will ultimately be determined in how he finishes the second part of the season. It's vitally important for his team to make another playoff bid, but if Donaldson doesn't put together a productive final 2.5 months of the season, the prestigious award could wind up elsewhere.
This is how he edged Trout in the MVP voting last season; Donaldson took his numbers up a notch following the All-Star break as he hit .302 with 20 home runs and led the league 63 RBIs, 57 runs scored, 19 doubles, and 80 hits over that span. Meanwhile, Trout didn't produce at nearly the same level, hitting .283 with 15 home runs, 35 RBIs, and 73 strikeouts in 71 games played. In August, Trout only belted one home run with seven RBIs while batting .218 and holding a meager .337 slugging percentage.
This only proves that the last couple months of the season are highly important as the time of year when voters start to pay close attention to a player's impact and production. With that in mind, there is still plenty of time for the likes of Trout and Cabrera to pick it up and put themselves squarely in the conversation of 2016 AL MVP.
These two players are among the best all-around in the league and they should both string together strong campaigns. Trout is coming off another outstanding season, batting .299 with a career-high 41 home runs, 90 RBIs, and 104 runs scored. He also led the league with a 9.4 WAR (Wins Above Replacement), a .590 slugging percentage, and a .991 OPS (On-Base Plus Slugging).
Although Cabrera's 2015 season was plagued by injury, he still led the MLB with a .338 batting average and posted an AL-best .440 on-base percentage while hitting 18 home runs and driving in 76 RBIs. It's still a long road to this year's AL MVP, but it's also clear that the reigning recipient is hedging his way toward adding another one to his mantel.
Statistics courtesy of ESPN.com and Baseball-Reference.com.