MLB: 'Crap' Red Sox Pitching Is Showing Signs of Life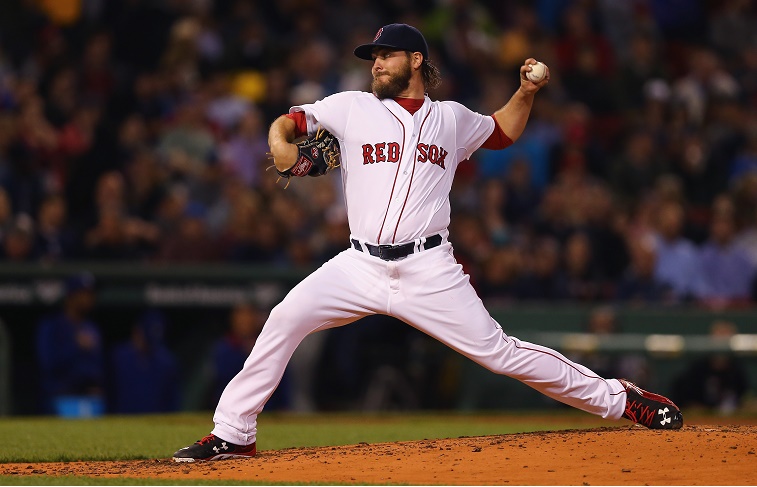 It would be an understatement to say people expected little of the Boston rotation in 2015, but things looked especially desperate when the Red Sox landed in last place with the worst ERA in the American League. At that point, "crap" seemed a generous assessment of the staff. One new pitching coach and two full turns through the rotation later, the maligned group has shown signs of life, enough to provide encouragement for a team picked to win the AL East.
Over the team's 10 games between May 10 and May 21, Boston pitching allowed 31 earned runs, roughly a 3.00 ERA. That stretch included a flameout by Justin Masterson (2.1IP, 6 ER) on his way to the disabled list. Tossing that start and the spot start by Steven Wright aside, Boston starters allowed 14 ER in 53 IP over eight games — barely over two runs per nine innings. A look at the starters' performances over that run tells the story in detail.
Joe Kelly: 2 GS, 13.1 IP, 3 ER, 9 K
Wade Miley: 2 GS, 13.2 IP, 2 ER, 8 K
Rick Porcello 2 GS, 11.2 IP, 5 ER, 9 K
Clay Buchholz: 2 GS, 14.1 IP, 4 ER, 14 K
Despite some awful outings that are keeping their ERAs high, members of the rotation have been working hard to get their earned-run count and WHIPs down over this span. Even greasy Clay Buchholz, the No. 1 starter at the beginning of the season, has pitched like one with two impressive outings, notching 8 IP with 1 ER and 11 K in his last turn in Seattle. Whether you credit the new voice of pitching coach Carl Willis or better execution by the starters themselves, Boston had been strong on the mound while team posted a 6-4 record. It could have been much better.
After losing 2-1 twice and winning 2-1 as well as 2-0 over the 10-game span, Boston's offense started to shoulder the scrutiny for a team that hasn't put together both sides of the game for much of 2015.  During the stretch where Boston allowed 31 runs over 10 games, the offense only managed to score 27 runs, fewer than three per game. (The club maintains an AL-worst minus-33 run differential.)
As a team, the Red Sox rank 19th of 30 MLB teams in runs scored and 28th in batting average. Ugly marks exist up and down the lineup, but Mike Napoli (.184), Mookie Betts (.233) and David Ortiz (.241) are not helping much outside of their adequate run production. Clutch numbers are abysmal across the board.  Only Cincinnati (.189) has a worse average than the Red Sox (.203) with runners in scoring position.
On the bright side, the Red Sox rotation has begun to crawl its way out of the hole where it took the team in the first month of the season. Despite the poor performance in the clutch, it's hard to believe Boston hitters will continue to stay cold. With some runs on the board and better starting pitching, the team has a fighting chance in a weak AL East.
Stats, current as of May 21, are courtesy of ESPN.