MLB: Was Dallas Keuchel Just a Flash in the Pan?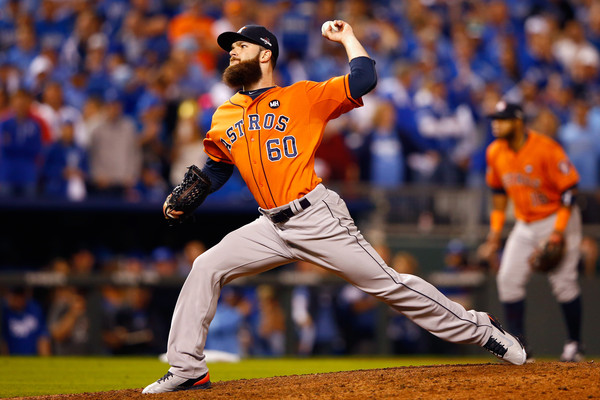 Houston Astros southpaw Dallas Keuchel enters his scheduled Tuesday start against the Chicago White Sox in desperate need of a win. No, scratch that. Keuchel enters the gig in dire need of just a quality start. Let's take some baby steps here. Last season's AL Cy Young award winner is off to a brutal start in 2016 and people are starting to whisper.
Is the lefty just a one-hit wonder a la Pat Hentgen, Brandon Webb, or R.A. Dickey? That is, will Keuchel's magical 2015 campaign be the only truly dominant one in his career? Yes, it's still just mid-May, but Houston is starting to get impatient with their supposed ace. The early returns this spring for the 28-year-old are staggering.
Entering Tuesday night, Keuchel was 2-5 with an unsightly 5.58 earned run average. He's allowed a league-high 58 hits in his 50 innings of work and his strikeout to walk ratio is worse than 2:1 (42 SO, 22 BB). His walks and hits per inning stands at 1.60, which would be the worst figure in his five-year career, and his 10.4 hits and 4.0 walks per nine innings are well above his career averages. Over in the National League by the way, last season's Cy Young award winner is doing pretty well for himself. 
So the big question is, has Keuchel regressed back to his 2012-2013 form, or can he still turn things around and be at least reminiscent of his 2014–15 self? The good news for the Okla. native is that he still only has eight starts under his belt in 2016. That's about one-quarter the amount of games started for what is typically expected for a top-line starter in a given year.
So yes, there is plenty of time. To figure out what exactly is plaguing the hurler (assuming that he isn't pitching through an injury), let's take a look inside each of his eight starts thus far.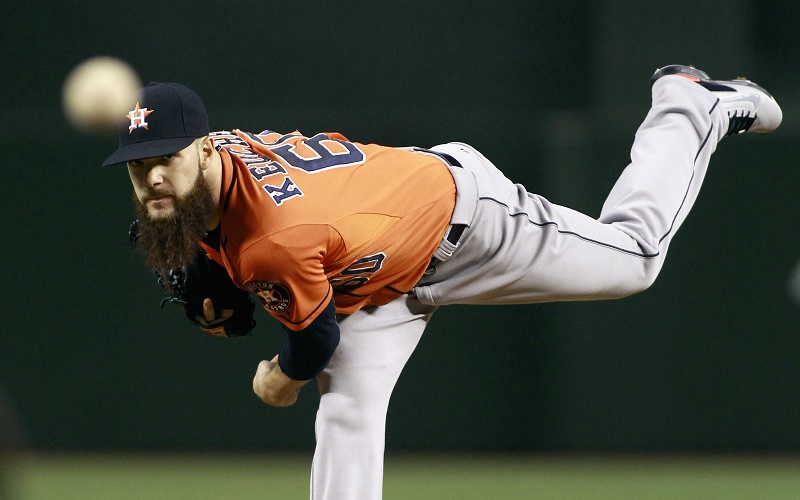 Keuchel has actually had three strong outings so far, including one excellent outing on April 15 against the Detroit Tigers. He's allowed at least five earned runs in four games though (something he did only three times all of last year), including eight last time out against the red-hot Boston Red Sox offense on May 12.
Up until his outing against Boston though, Keuchel could not use the quality of opponent as an excuse, as he had faced the likes of the offensive-inept New York Yankees, the pitiful Milwaukee Brewers, and the AL-worst Minnesota Twins. Including the eight innings of shutout ball against Detroit, Keuchel has produced a game score of at least 50 in three outings. He's also had three starts with game scores below 30 though (something he did just once in 2015), showing his vast inconsistency this spring.
Aside from a tough game against Minnesota on May 2 when he only lasted 4 1/3 innings, Keuchel has recorded at least two outs into the sixth in each outing, so durability hasn't been much of an issue.
Causes for concern, however, include some control problems and surrendering many hard-hit balls. In his first two games this season, Keuchel issued 10 free passes, then he allowed just three over his next three, and now he's gone back to nine over his past three outings. Simply put, the walks need to come down, because no matter how good you may be, you're going to get beat if you allow too many free baserunners.
The number of fly balls and line drives allowed by No. 60 is also a bit of a red flag. He's induced at least eight fly balls in six of his games started so far, which leads us to believe that he is leaving his fastball up on too many occasions. In each of his final three starts in April, Keuchel surrendered six line drives, which is almost always a bad thing for a starter. Though the former University of Arkansas Razorback pitcher has truly been mostly horrible this season, it hasn't come without a bit of bad luck.
First off, Keuchel is only getting 2.25 runs of support per game, which includes three times where the offense only produced one run and three times where they had two runs. With Jose Altuve, Carlos Correa, George Springer, and company, Keuchel's luck is bound to change, and his 2-5 record should improve.
Additionally, Keuchel's .351 batting average allowed on balls in play constitutes some misfortune, but a lot of the blame has to go to him, due to the high number of fly balls and line drives. Lastly, if there were any negatives at all to take away from the southpaw's masterful 2015, it would be the significant discrepancy in success between his home and road starts. Most recall that Keuchel went a perfect 15-0 with a 1.46 ERA and 0.88 WHIP in Houston a year ago, but he dropped to 5-8 with a 3.77 ERA and 1.17 WHIP outside of his home park.
It's been more of the same so far in 2016, as he holds a 1-1 mark with a 3.26 ERA and 1.39 WHIP at Minute Maid Park, while going 1-4 at 7.04 and 1.72 respectively on the road. To begin the journey back to stardom, Keuchel needs to starting performing better away from his home park.
Follow Victor on Twitter @vbarbosa1127
Statistics courtesy of Baseball-Reference.com.