MLB: Did the Mets Pete Alonso Have the Best Rookie Seasons Ever?
Few players set the league on fire the way Pete Alonso of the New York Mets did this season. His rookie campaign was record-setting, leaving Mets fans believing that the sky's the limit for the young first baseman. But how does Alonso's banner year compare to other great rookie seasons? Did he have the best ever? 

Pete Alonso's journey to stardom
The Mets drafted Alonso in the second round of the 2016 MLB Draft out of the University of Florida. Alonso's ascension through the minors was rather quick, taking him only three years (2016-2018) before he'd get the call-up to the big club. In 2018, Alonso was selected for a spot in the MLB Futures Game while playing for the Las Vegas 51s of the Pacific Coast League. 

Alonso's sensational rookie season
Alonso was no guarantee to make the big league roster out of spring training this season. He did, however, and a great April turned into a season-long massacre of opposing pitchers. Alonso had a season for the ages – not just for a rookie, but for any player. Take a look at what he accomplished in only one year: 
53 home runs
120 RBIs
103 runs scored
Wins Above Replacement (WAR) level of 5.0
On-base percentage of .358
.941 OPS 
Winner of the 2019 Home Run Derby
Selected to the NL All-Star team
Three-time NL Rookie of the Month (April, June, September) 
Set rookie record for home runs in a season
Pete Alonso has yet to be named NL Rookie of the Year but is certainly a shoo-in for the award. He's also likely to gather significant MVP votes, though the Mets' failure to qualify for the playoffs will surely cost him (through no fault of his own).
Alonso's impact has extended well beyond the diamond. His ridiculous season caused Jerry Seinfeld, renowned Mets fan and co-creator of the greatest sitcom of all time, to say he'd bring the show back if Alonso agreed to appear. 

Did Pete Alonso have the best rookie season ever?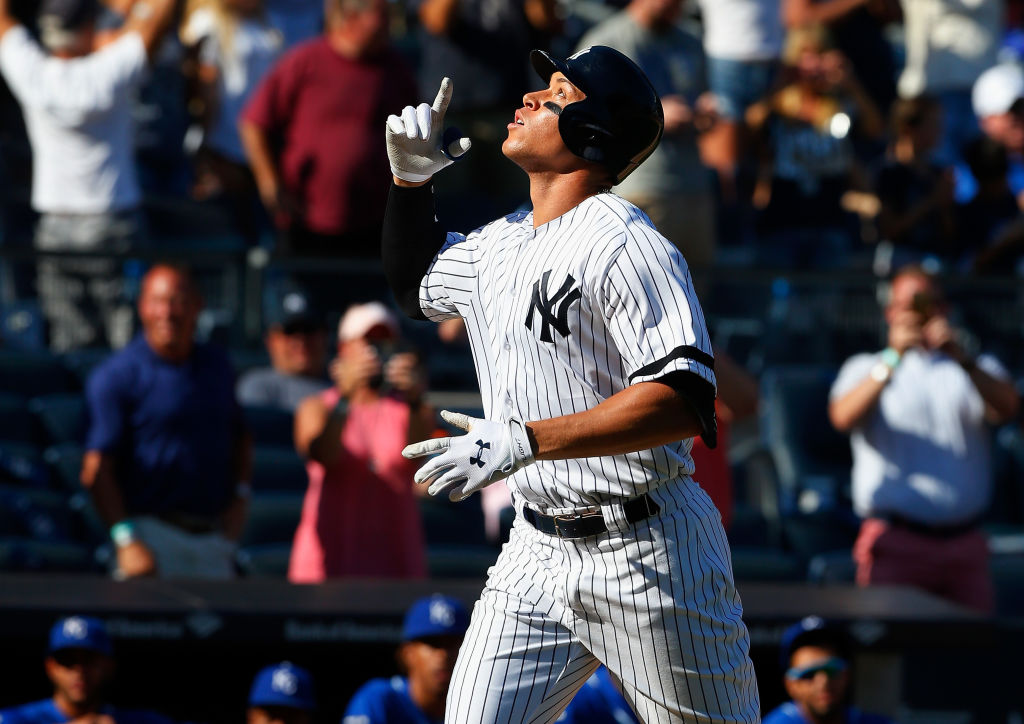 It's difficult to compare every great rookie season mainly because of the various rookies playing in different eras. Bleacher Report took a look at some of the greatest rookie seasons of all time. The top five (compiled before Alonso's season concluded) included:
Fred Lynn, 1975 Boston Red Sox: 145 games, .331 average, .401 on-base percentage, .566 slugging percentage, 21 home runs, 105 RBIs, 103 runs scored, 10 stolen bases, the first rookie to ever win the league MVP 
Dwight Gooden, 1984 New York Mets: 31 starts, 17-9 record, 2.60 ERA, 1.07 WHIP, 73 walks, 276 strikeouts
Ichiro Suzuki, 2001 Seattle Mariners: 157 games, .350 average, .381 on-base percentage, .457 slugging percentage, 242 hits, 50 extra-base hits, 69 RBIs, 127 runs scored, 56 stolen bases, AL batting title, an MVP Award, Gold Glove
Aaron Judge, 2017 New York Yankees: 155 games, .284 average, .422 on-base percentage, .627 slugging percentage, 52 home runs, 114 RBIs, 128 runs scored 
Mike Trout, 2012 Los Angeles Angels:  139 games, .326 average, .399 on-base percentage, .564 slugging percentage, 65 extra-base hits with 30 HR, 83 RBIs, 129 runs scored, 49 stolen bases 
As difficult as it is to compare players across disparate eras, the best tool available to do so is WAR. It shows how valuable a player is compared to the other players of his specific era, providing a fair measuring stick.
In that respect, Alonso's rookie season isn't the best of all time. His 5.0 WAR puts him well behind others on the list of best rookies, including Trout (10.5) and Judge (8.1). A great comparison? Mark McGwire's 1987 season in which he set the (then) rookie record for home runs with 49 and achieved a WAR of 5.1. 

Pete Alonso may not have had the greatest rookie season of all time, but here's a scary prospect for opposing NL East pitchers: he may have only scratched the surface of what he's capable of. Expect great things from Alonso in 2020 and beyond.