MLB: Did Yankees Win the Trade Deadline by Keeping Severino?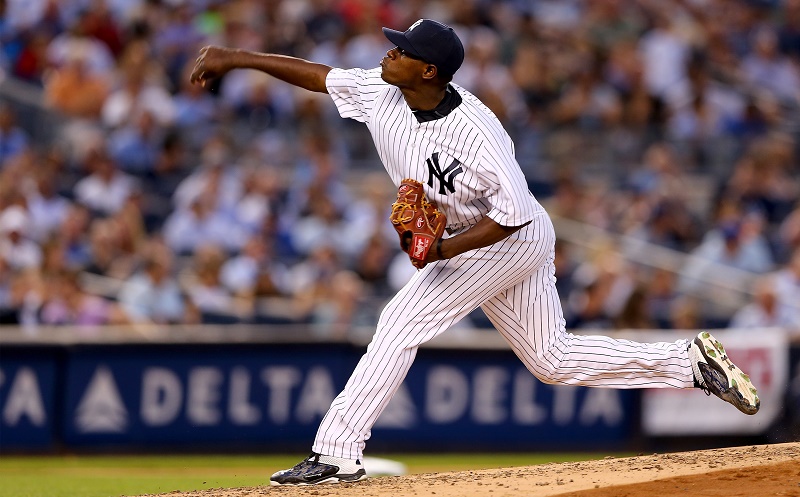 We're all familiar with the knee-jerk assessments of how MLB teams handled the trade deadline, and we're not above such articles ourselves, on occasion. Either you went big and got a superstar (Toronto, Kansas City, Texas) or you sat back and twiddled your thumbs while your roster went sideways (Yankees, Red Sox, Orioles). But what if a protected prospect suddenly starts contributing to the team after the trade deadline? In the case of No. 1 prospect Luis Severino and the Yankees, this formula could represent a big win for an organization by filling a club's biggest need internally.
Yankees GM Brian Cashman said he planned to hold his ground when clubs inquired about top prospects, and he did just that with his hottest commodities: Aaron Judge, Greg Bird, and Severino. On August 5 versus Boston, New York gave the nod to Severino for his first career start, and the results were impressive: 5 IP, 2 H, 1 ER, 0 BB, 7 SO. The right-hander's fastball topped out at 98 miles per hour and he became the first American League pitcher to ever strike out seven batters while walking none and allowing just two hits in his debut.
Granted, Boston is not exactly showcasing the next Murderers' Row one through nine, but for an opening salvo in the Major Leagues, Severino's poise and control hinted at why scouts rate him so highly. (Even though he only lasted five innings, the 0 BB stat is especially unusual for a first time on the hill at Yankee Stadium.)
As we have noted in recent posts, the Yankees rotation is in a shambles with Michael Pineda on the DL, Sabathia ineffective, Eovaldi erratic, and Nova coming back from Tommy John surgery. Masahiro Tanaka, the type of pitcher you'd expect to fill the void and take the team on his back, has been slightly better than average — no better — in recent starts. For all Severino's success in the minors, there is no substitute for performance on the game's biggest stage.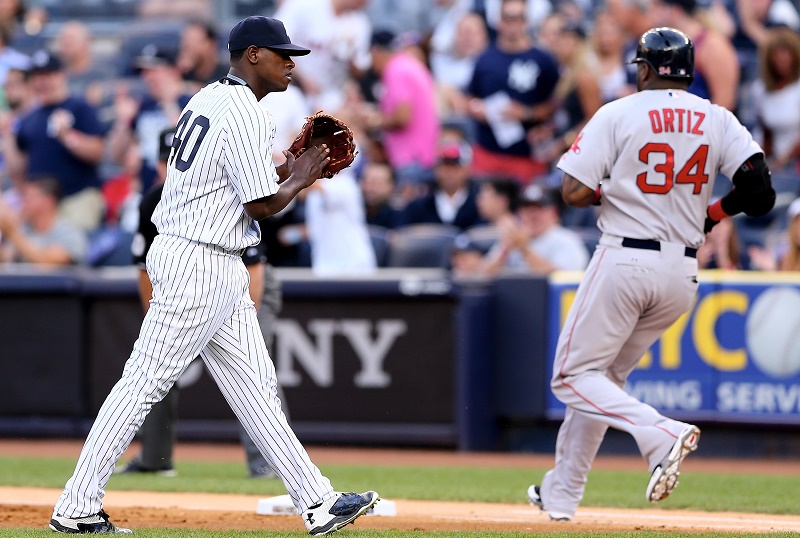 A lack of confidence in minor leaguers' ability has plagued the Yankees organization for years. Rather than trusting in a youngster's ability and testing the patience of a privileged fan base, management has tended to deal minor league talent in exchange for proven (i.e., older) veterans. That's how you build a creaky roster, but it's also a way to avoid flameouts from supposedly cant-miss prospects (see: Austin Jackson, Jesus Montero, Phil Hughes).
Brian Cashman has been relentless in his pursuit of youth in the last calendar year. From trades for Didi Gregorius (25) and Eovaldi (25) to the acquisitions of Tanaka (26) and Andrew Miller (30), Cashman has tried to get younger or hold the line up and down the roster. Internal promotions of players like Dellin Betances, Adam Warren, and Chasen Shreve have filled holes in the rotation and bullpen on the cheap.
Yet nothing guarantees their success until they arrive in the Bronx and perform. Severino made Cashman look awfully good in his opening start for the Yankees, and you will see the GM's stock rising if there are similar performances to come in the final stretch.
Cashman's plan to keep his top prospects appeared overly confident when appraising the state of the current roster, but the Yankees GM may have sensed a rare time to play with the house's money. Few expected New York to have control of the AL East in August, let alone with a cushion better than five games (six in the loss column) at this late date.
Is Cashman forcing a transition on a fan base that already got more than it presumably deserved in 2015? That might be one way to look at it. The other view was he won the trade deadline by keeping young stars who can actually perform at the Big League level.
All statistics courtesy of Baseball-Reference (current as of August 6).