MLB
MLB: Dodgers Would Be Foolish to Consider Aroldis Chapman Again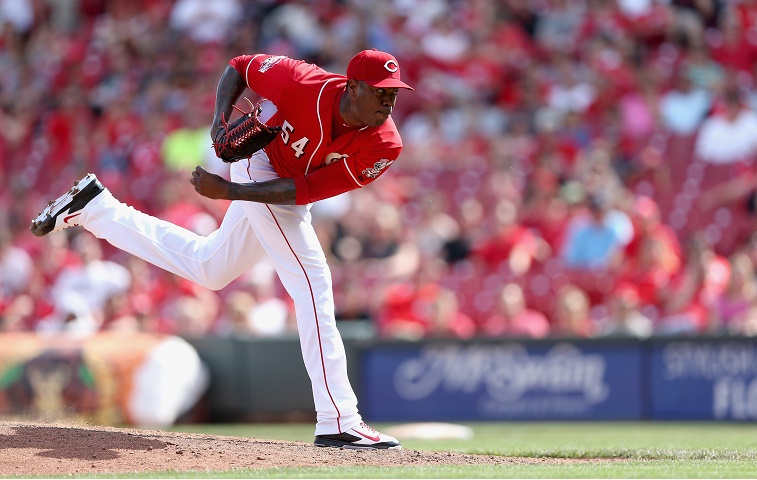 Last week, the Los Angeles Dodgers were set to acquire Cincinnati Reds All-Star closer, Aroldis Chapman, for a pair of minor-league prospect pitchers, but the deal was put on a complete hold by the league office after news broke that the 27-year-old was under investigation for a domestic violence incident back in November.
Since then, there have been no mentions of the Dodgers reopening talks with the Reds about Chapman. The Washington Nationals also stated that they won't pursue a trade while his domestic violence case is pending. This will probably continue to be the case around the league for the time being. Along those same lines, the league will likely prevent any team from acquiring him in a trade until this matter is fully resolved.
No matter what the court's final verdict is, Los Angeles should avoid pursuing Chapman for a variety of reasons. First and foremost, his acquisition would bring unnecessary attention to the team — a step back from the Dodgers' new management, who cleaned up the locker room issues two offseasons ago by letting go of several prominent players on the roster. Yes, Chapman is an extremely talented player, but his off-field troubles would go against what the organization wants around their team.
Another large reason is that the Dodgers already have a highly productive closer in place with Kenley Jansen, who posted an ERA below 3.00 in each of his first five seasons in the league and has over 35 saves in each of the last two years. In many ways, Jansen has been the sole source of reliability in the bullpen over his short career. The addition of Chapman would bring another top-notch arm to the back of the bullpen, but it could also add controversy as both players have solidified themselves as top closers in the game.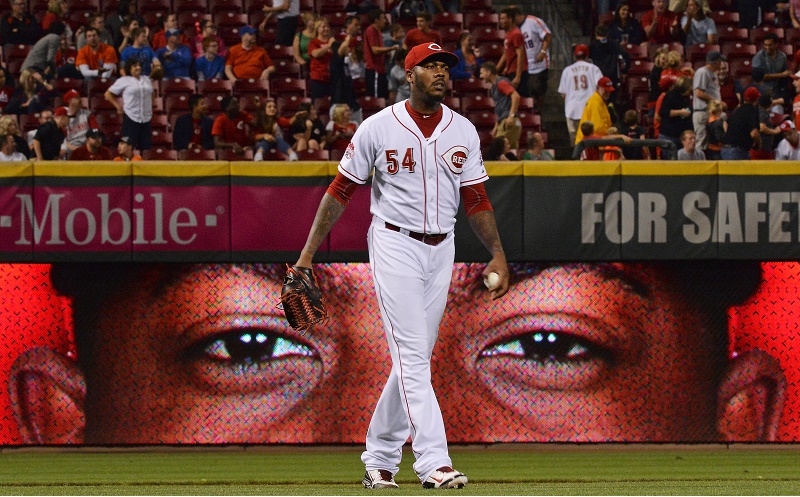 Chapman has been absolutely dominant for the Reds in the last four seasons. He's earned four straight All-Star game appearances by posting an ERA below 2.60 ERA, including holding an ERA lower than 2.00 twice over that span. Additionally, he has recorded 30-plus saves, over 100 strikeouts, and under a 1.20 WHIP in each campaign. This makes it extremely hard to believe that he would relinquish his role as a closer after that much success in the position.
In that same regard, Jansen was reportedly "crushed" by the potential trade, which was a clear indication that he believed the team no longer had faith in him as their long-term closer. What could have also played a huge part in the matter is the fact that both players are entering the final year of their contracts.
This could potentially put the Dodgers in a precarious position with each player able to test the free-agent market. This allows other teams to swoop in and offer larger contracts to either players. If both players see themselves as the closer, the Dodgers may lose out on one them. Even if they don't revisit a trade for Chapman, there's the possibility that Jansen could still choose to bolt, leaving them without a closer, period.
It's a dangerous line to walk for the Dodgers, so they're better off sticking with what they have with Jansen. Yes, it would be great to add another reliable arm in the bullpen, but there is a decent chance that Chapman will sign with another team next offseason, so he can once again being a full-time closer.
That said, there are plenty of other opportunities for the Dodgers to explore if they want bullpen help. They could add more relievers via free agency or through the trade market. There's no arguing that Chapman is a talented pitcher who would bolster the Dodgers' bullpen, but the potential ripple effect it could have on the team isn't worth the risk of losing Jansen.
Statistics courtesy of Baseball-Reference.com.
Want more great content like this? Sign up here to receive the best of Cheat Sheet delivered daily. No spam; just tailored content straight to your inbox.