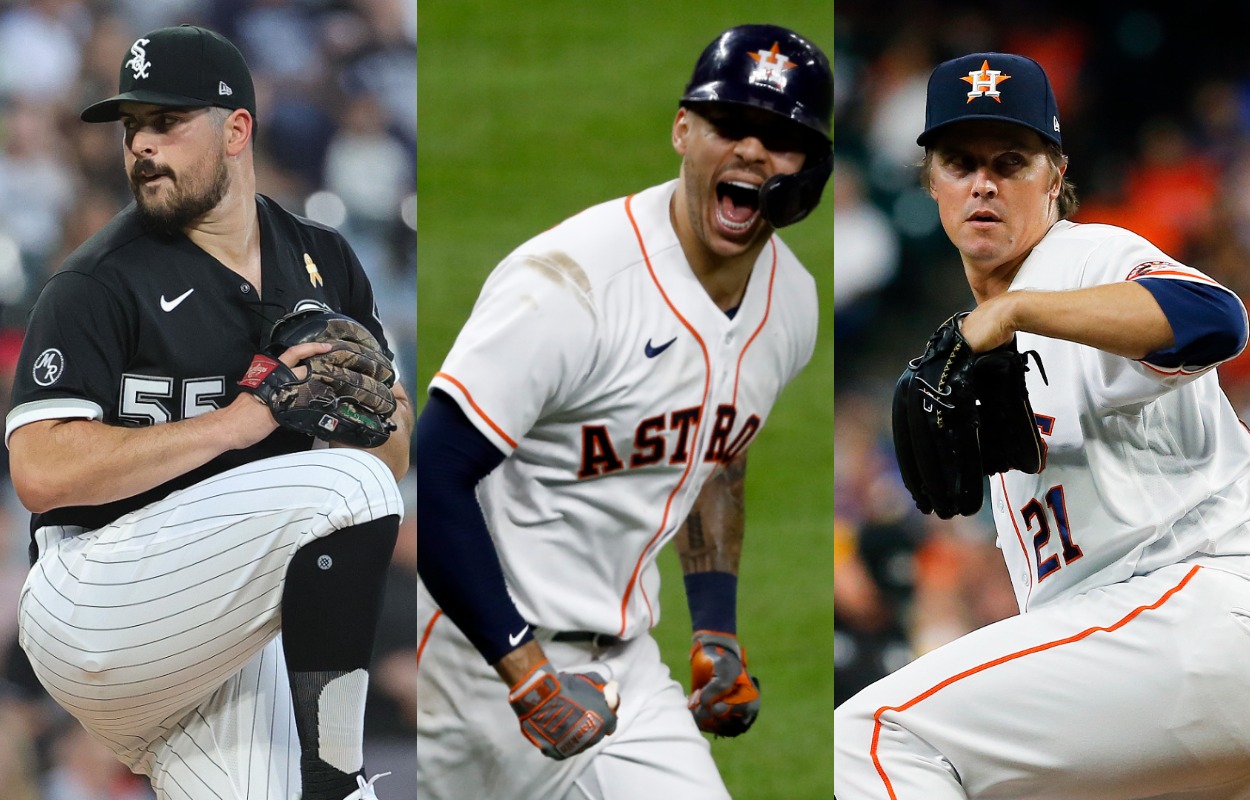 MLB Free Agency: Ranking the 5 Players the New York Yankees Must Target
The New York Yankees must finally address some lingering holes, including the outfield and the starting rotation, following the lockout's conclusion.
Baseball is back, and with it will likely come another disappointing, frustrating, and outright insulting year for New York Yankees fans.
The impending end to the 99-day MLB lockout should have only reminded the Yankees' faithful of what lies ahead next season. As has been the case over the last decade, the Bronx Bombers will likely barely reach the playoffs — or even miss it entirely — despite boasting several highly-paid players, including ace Gerrit Cole and outfielder/designated hitter Giancarlo Stanton.
But, everyone can change, and the Yankees could begin the post-lockout period by finally adding some free agents. Unlike the likes of the crosstown Mets and the Texas Rangers, the 27-time World Series did nothing before baseball shut down in December. If general manager Brian Cashman is wise, he won't repeat that strategy in the coming days.
For this list, we tried focusing on the Yankees' most significant needs and eyeing players who best fit those holes. This list only includes players who were free agents when the lockout began; trade targets, potential cuts, and players who were on the Yankees last season, such as first baseman Anthony Rizzo and outfielder Brett Gardner, were not eligible for this list.
Based on consideration of the aforementioned prerequisites, the best potential free agents for the Yankees rank as follows:
5. Carlos Correa, SS, Houston Astros
Some Yankees fans might prefer Colorado Rockies star Trevor Story, and that's fine. The odds should be against the Yankees signing either player regardless.
With that said, it'd be silly to leave Correa off this list, even after the Astros' cheating scandal. If Cashman could sign the self-proclaimed "idiot" and then-Boston Red Sox fan favorite Johnny Damon after the 2005 season, he should have no reason to avoid convincing owner Hal Steinbrenner to break out the big banks for Correa, a two-time All-Star shortstop who hit .279 with 26 home runs and 92 RBI in 148 games last season. 
The 2015 AL Rookie of the Year winner will play most of the 2022 season at 27 years old and would allow the Yankees to play Gleyber Torres at second base. Veteran second baseman D.J. LeMahieu could move to third base or spend his time at first base if the Yankees don't bring Rizzo back.
4. Joc Pederson, OF, Atlanta Braves
At this stage in his career, Pederson is a power-hitting, strikeout-prone outfielder. If the Yankees already have that in Stanton and Aaron Judge, why should they bother adding the two-time World Series champion?
Easy: Pederson is a left-handed bat, something the Yankees are desperately missing in their lineup.
If Pederson is cheap, and he likely will be, the Yankees could do far worse than bringing the veteran outfielder in on a one-year deal. The 2015 All-Star selection will play almost the entire 2022 campaign at 30 years old and played an essential role in the Atlanta Braves' World Series run last year.
3. Michael Conforto, OF, New York Mets
Players don't usually directly trade a Mets uniform for the Yankees' pinstripes, but there's no reason why Conforto shouldn't consider a change of borough. Although the 2017 All-Star selection only hit .232 with 14 home runs and 55 RBI in 125 games last year, that could work in the Yankees' favor.
Conforto might need to seek a one-year deal to restart his value ahead of a more normal 2022-23 offseason, and he's already familiar with playing in New York. His left-handed power bat — he hit a combined 88 home runs from 2017-19 — and outfield versatility makes him a perfect fit for Yankee Stadium.
2. Zack Greinke, SP, Houston Astros
Even if the Yankees show less than zero interest in targeting Correa, they'd be wise to pursue Greinke, a six-time All-Star and the shortstop's teammate since the summer of 2019. The 2009 AL Cy Young Award winner is extremely familiar with the Yankees, dating back to his days as a young pitcher on the Kansas City Royals, and is 4-5 with a 4.99 ERA in 17 career games against the Bronx Bombers.
Although Greinke turns 39 in October, he'd be an excellent veteran presence on a Yankees team clearly needing leadership. He's already familiar with Cole, his teammate in 2019, and has experience pitching for contenders. Even if he's not the stellar ace he was a decade ago, Greinke might not need to be for the 2022 Yankees.
1. Carlos Rodon, SP, Chicago White Sox
The White Sox didn't re-sign Rodon before the lockout, a perplexing decision considering he went 13-5 with a 2.37 ERA in 24 starts last season. The veteran left-hander even struck out 185 hitters in 132.2 innings and recorded a no-hitter in April. 
Whether or not the Yankees will pay significant money for a pitcher who only broke out in his contract year is another conversation, one likely answered with a one-word answer that represents the opposite to "yes." Yankees fans shouldn't be surprised when Rodon lands with the Red Sox or Toronto Blue Jays and goes 5-0 with a 1.70 ERA against them next season because Cashman didn't want to pursue the 29-year-old pitcher.
But Yankees fans can dream, right? And when the team goes 83-79 this season in large part because of an inconsistent offense and underwhelming pitching staff, we don't want to hear it when we tried to help.
Like Sportscasting on Facebook. Follow us on Twitter @sportscasting19.